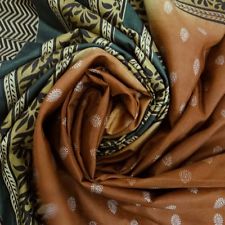 Calico Fabric
Calico cloth is unbleached and half-processed cotton, and is less coarse than denim. It has an unfinished appearance and was originally discovered and coined by the British during their reign and influence in India. It is a simple and cheap quality of cotton; however, it is one of the oldest material forms in India. The word 'Calico' comes from Calicut, which was a European term for the Indian city Kozhikode.
Origin and History
While the British may have had a pivotal role in discovering the uniqueness of this fabric, it was the Dutch traders who, in the 17th century, were greatly impressed with this material due to its simple, yet sturdy form. Cotton was a rarity for the Europeans, and this was another reason that they saw immense value in the Calico cloth. In 1680, millions of pieces were imported into France, Holland and England. A special term was coined for this fabric by the Europeans – 'Indienne ordinaire'.
Sources of Inspiration
It was all due to European utilization that the popularity in this fabric reached greater heights. Traditional European dresses, waistcoats, home furnishings, and other objects made the most of this fabric. While it was strong and sturdy, it also displayed uniqueness in style.
Faces Behind the Fabric
There are several weaving units in Malabar where this fabric is produced on a large scale. The weavers who work towards keeping the uniqueness of this age-old fabric alive are known as 'chaliyas', and they come from communities in Tamil Nadu and Andhra Pradesh.
Varieties
The hard quality of this fabric makes it suitable for all kinds of products, such as sturdy bags, quilts with patchwork, curtains, pillowcases and duvets.
Present Day Scenario
Perhaps the most interesting use of this fabric is when fashion designers use it for creating dummy or unfinished designs. They use the calico cloth as a rough canvas for their experiments since it helps them save money over buying expensive material. It is also a sturdy fabric for all kinds of embroidery. It is also utilized for home décor items and arts and crafts.
Calico is a fabric that is extremely versatile and can be used in a wide range of products – skirts, dresses, bags, to a backdrop canvas for painting. It is perhaps one of the few fabrics that can be exploited according to one's needs, and does not have to be used only in one specific way.
Global Wearability
Since Calico has more of a European influence, it is a well-recognized fabric all over the world. Even though it may not be renowned as one of the most fashionable fabrics, or perhaps the most luxurious, it has made a tremendous mark for itself in the simple and low-maintenance fashion sector, and in particular in the realm of arts and crafts.
Calico, as a fabric for the more fashionable, may not be of great popularity or significance since it does not come across as an item of luxury. However, it is a fabric that we cannot disregard due to its sturdy and flexible appeal. More so, it is a material that is always in demand for different craft projects, for example, paintings, background for stitching or weaving.
Wearing Calico
Calico is best suited for the summers, and is the best fabric to keep the heat of the harsh and prickly Indian summer at bay. Unlike delicate fabrics like silk and chiffon, rough wear-and-tear would not ruin this fabric, so one does not have to be overly cautious while adorning it.If one opts for a flower-printed Calico shirt, it can brighten up the look while, at the same time, maintaining a casual appeal. However, this material may not be best-suited for elaborate and fancy occasions.
Due to its flexibility in style, Calico fabric can be used to make accessories as well, for example, lamp shades, quilts, bed spreads and even earrings. However, if you would like to accessorize Calico while wearing it, simple and effortless would be the way to go.
Maintenance
Since it is an unfinished version of cotton, Calico can be an easy and fuss-free fabric to maintain. Regular hand or machine wash would be the ideal way to keep it clean and sturdy.
Interesting Facts and Comparisons
The most common color combinations used in India for Calico fabrics were orange-red, black-cream
The usual prints found on Calico cloth are of floral motifs and designs
Back in the 17th and 18th century, clothes made out of Calico fabric were considered a sign of nobility, quite contrary to how it was seen in India.
References
Categories: Textiles