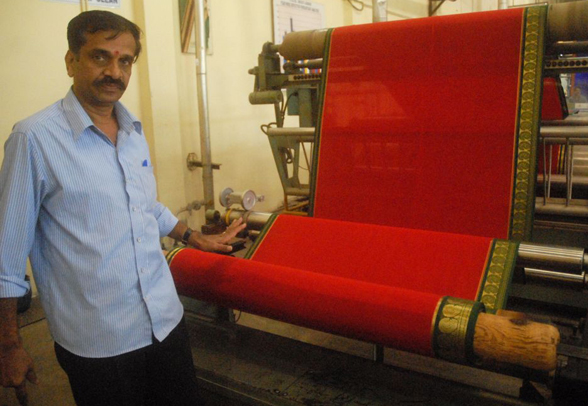 Mysore Silk Crepe
The Mysore silk crepe is woven from hardspun silk yarn and is one of the most widely used form of silk across India. The Mysore silk comes from the city of Mysore in Karnataka, India.
The earliest mentions of the silken crepe fabric can be traced back to 1785 AD. This was the time when the first silk cocoons where imported to Mysore. It was Tipu Sultan, a great Indian warrior, who in the pursuit of making Mysore a great land, first imported cocoons of silk from China. During Tipu Sultan's regime, sericulture was formally introduced to Mysore. Thereafter, sericulture became one of the most important industries of Karnataka.
Sources of Inspiration
Since Mysore silk crepe belongs to an era of ancient India, it traditionally is made of pure silk with gold Zari. Inspired by the natural ambiance and customs of the time, the Mysore silk crepe saree got a face that preserves the heritage of India.
Faces Behind the Fabric
The shift today in the Karnataka Silk industry is apparently towards modernization. The Karnataka Silk Industries Corporation (KSIC) is the only factory that produces authentic silk. At present, the factory deploys over 200 looms and enough human capital to utilize all the looms. People deployed in the Mysore silk crepe production industry make use of over 300 designs that were imported from Switzerland (way back at the time of Tipu Sultan) to create innumerable patterns vivid in style, color and appeal.
Varieties
There is an inimitable range of fashionable apparel made out of Mysore silk crepe. The range is an interesting mix of new and old. Improvisations that have been introduced in the Mysore silk have led to the creation of a new variety. From the heavily bordered Mysore silk sarees, the industry has now moved on to create crepe sarees that are lightly embroidered and can be worn to work as well as to occasions and festivals.
Present Day Scenario
The demand of a Mysore Silk saree is unbeatable. An exhibition held in 2011 of the Mysore silk and crepe Sarees saw a tremendous influx of interested and prospective buyers. Till date the Mysore silk crepe that has been sold, was made purely of silk. Newer versions of the fabric are being introduced because of the altering industry trends.
The Future 
The future of Mysore crepe weaves vivid patterns comprising its usage in not just apparel, but also in the sphere of interiors. Some interesting creations out of Mysore crepe could be luggage, wallpapers etc.
Wearing the attire
Nothing could match crepe better than ornate jewelry. From gold, silver to even simple pearl set looks beautiful with a Mysore crepe saree.
Suitability
Mysore crepes have a royal vibe that suits ceremonial occasions. However, it should be avoided during the monsoons. As far as the fashion quotient is concerned, Mysore crepe attire should preferably be reserved for occasional dressing, such as, Indian weddings and festivals.
Maintenance
Maintaining Mysore crepe apparel is easy, until it is a sari heavily embellished with zari. For keeping your crepe fresh and new, getting it dry cleaned is a good option. If it's an embroidered crepe suit, tending in reverse is the right thing to do.
Interesting Facts
Mysore crepe celebrated 100 years of its existence in 2013.
Silk worms produced in India are actually cocoons imported from elsewhere, which are bred in climatic conditions of India.
Reference
Categories: Textiles