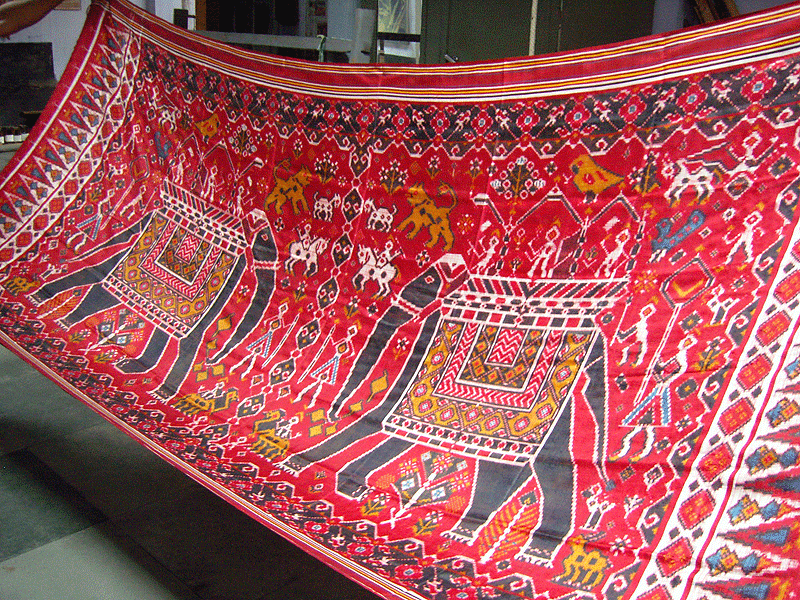 Gujarati Saree
Almost every state in India has its own type of sari which has some unique features that makes it different from the others available across the country. Gujarat is one state that has not one but many kinds of saris which are a pivotal part of its rich culture. Sari is a significant symbol of Indian tradition that has spread its fame and glory all across the globe. Indian saris are known for their sensuality, elegance, colorful designs and fabric. The saris you'll find in Gujarat have everything one expects from a traditional Indian sari and much more when it comes to the various ways in which, a Saree can be worn.
Origin and History
Patola saris from Gujarat are one of the most popular kinds that are available in the market. The origin and history of these saris can be traced back to the 12th century when Salvi weavers hailing from Maharashtra and Karnataka came to Gujarat. They settled in Gujarat under the approval of some of the most affluent people of the state and the Solanki Rajputs. Apart from Patola silk saris, the Bandhani saris from Gujarat are also equally famous, and the art of bandhani came into being some 5000 years ago in India. The very first bandhani sari was donned at the occasion of a royal marriage in Bana Bhatt's time.
Sources of Inspiration
The patola sarees have always been an important part of joyous rituals and occasions of Gujarat and this tradition has been around since the time they first got manufactured. They symbolize the tradition of Gujarat and patola silk is often referred to as the 'queen of silks. Back in the days, the Bandhani saris were considered very lucky for the bride to be.
Faces Behind the Fabric
Rajkot and Patan in Northern Gujarat happen to be the main centers for the manufacturing of patola silk saris. The bandhani work, on the other hand, is the trademark of Khatri community located in Kutch. Mandvi and Bhuj situated in Kutch district are indeed the main centers for the production of Bandhani saris of Gujarat.
Varieties
When we take into account patola silk saris from Gujarat then one can find that there are two kinds of patola saris namely Rajkot patola and Patan patola. The Rajkot patola saris are vertically resist dyed which is also known as single Ikat. The Patan patola saris are horizontally resist dyed which is called double Ikat. When it comes to bandhani saris then there are many kinds available in Gujarat such as Gharchola and Pantera.
Present Day Scenario
Both patola silk and bandhani saris from Gujarat are as famous today as they were in the past. In fact, their popularity has increased with time and women not only from Gujarat but from all over India wants these saris in their wardrobe.
Innovations
The patola silk saris are made from patola silk and the colors used in their manufacturing process are totally organic and natural. The dyes used in the saris are so long lasting that the sari may tear with time but the colors will never fade. It has to be noted that every sari has a different design and modern day patola saris are made as per the choices expressed by the women of today. The bandhani saris can be made from many kinds of fabrics such as handloom, muslin, and silk. Natural dyes were used traditionally but today chemical dyes have also entered the picture.
Personalization
One unique quality about saris from Gujarat is their style of draping. The style famous is known as Seedha Pallu style and whenever one pictures a Gujarati sari it is of the unique pallu draping style, which is worn in the front rather than at the back. Patola silk saris are ideal for formal occasions such as weddings. The bandhani saris too are considered excellent choices for functions such as weddings and they are also quite popular around the festival Teej.
Accessorizing
Gujarati Sarees are simple to drape and carry, hence meant for both casual and formal occasions depending upon the sari that you pick. The adornment can vary from wearing simple silver jewelry to heavy black metal pieces.
Suitability
Both patola saris and bandhani saris can be worn all year round as they are comfortable to don.
Maintenance
Patola and bandhani saris are easy to maintain and quite durable in nature, therefore the maintenance is fuss-free, and a simple hand or machine wash is sufficed.
Interesting facts and comparisons
The number of squares in bandhani saris such as gharchola is multiples of 9, 12 or else 52.

Each patola sari requires a time span of four to six months to be completed.

Red, green, yellow and pink are the dominant color options for bandhani saris.

The designs in patola saris vary from geometrical to designs that are remindful of Islamic architecture.
References
Categories: Attires, Clothing Styles & Drapes