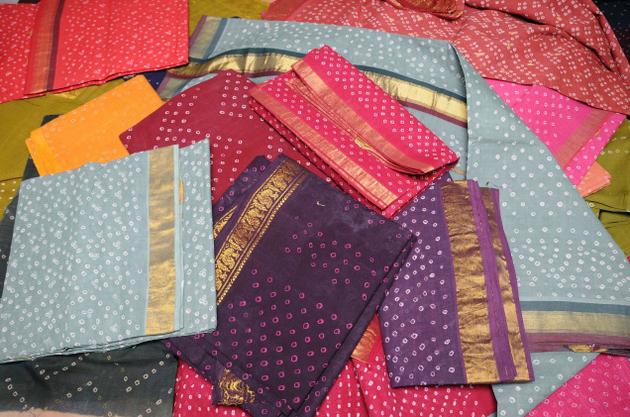 Sungudi Saree or Chinnalapattu
Sungudi Sarees are traditional cotton sarees from the village Chinnalapatti, Tamil Nadu, defined by the patterns of block prints and tie & dye designs. Also, known as Chinnalapattu sarees. These are known by the names of 'Sungudi saree', Madhurai Saree, and Chinnalapattu.
Origin & History
The history and origin of Sungudi sarees can be traced back to the Sourashtrians (Gujarat) who along with their migration brought this art to Southern India. While the entire village ardently spends their days on weaving this beautiful textile, Sungudi sarees are the major source of livelihood for more than 10,000 people in Chinnalapatti. With its main manufacturing unit and establishment in Madurai, Tamil Nadu, the Madurai Sungudi community belongs to the Sourashtrian community from Gujarat.
The Making
The making of Sungudi Saree or Chinnalapattu involves looming, weaving, dyeing and printing. Practiced as hand art, this textile requires a lot of patience and creativity in designing single dot patterns in two different shades. Mostly, the dyes used were natural dyes extracted from plants but  with emerging industrialization, the same is dyed in chemical dyes as well.
Varieties
The Sungudi saris are usually made from pure cotton fabric and the saris are dyed in natural colors. Since, it involves manual labor, the designs and patterns vary across each piece.The designs and colors of the sari may vary, but the fabric is pure cotton.The main feature of Sungudi saris is that they have bright colors along with contrasting borders, mostly in gold.
Present Day scenario
These are exported to countries like Singapore, Malaysia, Sri Lanka and South Africa, with growing demand in other countries as well.
Innovations
Since the drive of going eco-friendly is on a rise these days, the handloom industry and particularly the manufacturers making Sungudi saris are making a note of the situation and shifting their focus on organic dyes. The Sungudi prints that are made from organic dyes are indeed very popular not only in India but on a global level.
Wearing the Attire
The women folk love to flaunt the duel-dyed Sungudi saree in weddings and other traditional festivals. Since, these sarees are low-cost, they are also treated as supplements for expensive sarees. Looks classy when teamed with gold jewelry.
Maintenance
Sungudi print saris are durable in nature and easy to maintain. They can be washed either by hand or in a washing machine and it is recommended to dry them in a shady area rather than tumble drying.
Interesting Facts and Comparisons
The Sungudi saris are usually longer than the other kinds of saris available in the market.
One of the unique features of Sungudi saris is that they have Bandhani pattern or print on the whole sari.
The Sungudi print saris are very light weight and comfortable wear.
References
Categories: Textiles