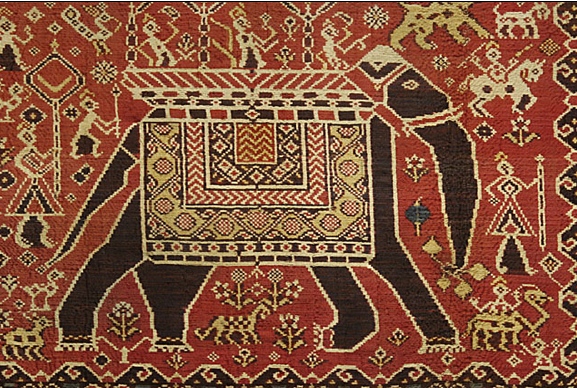 Patola Silk Saree
Patolas are hand-woven silk sarees that are created in Patan, Gujarat. The name Patola is derived from the Sanskrit word Pattakulla. Manufactured by the resist-dyeing process using the warp & weft technique, Patolas are double ikat sarees. Almost three people would take four to six months to weave a Patola, which makes it extremely expensive and time-consuming. The sarees are painted with motifs and patterns inspired from animals and other elements of nature. The craft of weaving them rests exclusively with the Salvi family in Patan who manufacture Patolas for royalty and aristocracy.
Origin & History
Even though the Patola fabric is said to be of Gujarati origin, its earliest mentions can be found in religious texts mentioning that they were a part of the South Indian culture too. In fact, till date the Patola silk sarees are quite a rage in the Southern part of India. The religious text, Narsinha Puran, also mentions that this fabric being worn by women during ceremonies and holy occasions.
Speaking of its Gujarat connection, the earliest mentions of Pattakulla (as it was called in Sanskrit) appear only after the eleventh century. Something to take pride in is the fact that the fabric also finds its place in Premchand's poetry and that of several others too.
Sources of Inspiration
The facade of Patola is heavily influenced by the weavers of Patola in Patan, Gujarat. The Salvis, who are a class of Jains, were the very first people to manufacture Patola silk. Like various other Silk fabrics manufactured in umpteen parts of India, Patola designs take a cue from the natural surroundings. Motifs and patterns inspired from animals and food items can be found painted on a Patola Silk.
Faces Behind the fabric
Patola silk as a craft comprising weft and warp techniques is found in its best avatar in the state of Gujarat. The Patan Patola is an inimitable creation of the communities that reside in this part of Gujarat. The artisans, who contribute to this art today, however are only a fistful in number. There are only 3 families in Patan today who are involved in the creation of Patola. At a point of time, Patola weaving was also a part of the Indonesian culture. The variations in the fabric can be attributed to the diverse number of places that work on innovating and improvising this fabric and the saris that are manufactured from it.
Varieties
Most variety in the Patola fabric can be attributed to the state in which it is being manufactured. Therefore, a Patola of Gujarat is bound to differ from a Patola of Orissa. Another aspect that brings in variation is the process and technique of manufacture. A Patola silk saree can either be manufactured using single ikat technique or a double Ikkat technique.
Innovations
The affordability factor brought in a sea of change for Patola fabric. Earlier, a Patola Saree used to cost anywhere between Rs 1 lacs to Rs 7 lacs. Owing to the changing market trends, cheaper substitutes of Patola have given it a mass appeal. One reason why cheaper substitutes gained demand was due to the high prices of production, the demand of the fabric dipped extremely down. With the influx of cheaper substitutes, the tradition of Patola picked up again.
Interesting Facts
A pure Patola saree costs no less than Rs. 1,00,000
Patola finds its earliest mentions in the religious text of Ramayana.
References
Categories: Textiles