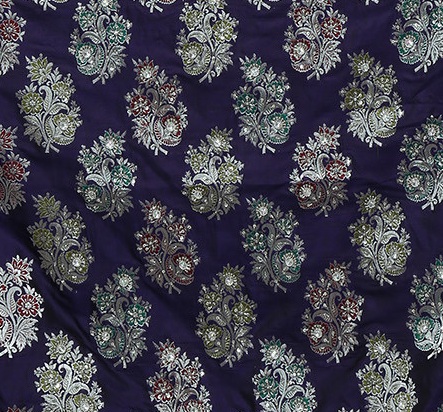 Katan Silk Fabric
Silk is considered to be one of the most luxurious fabrics and is also extremely versatile as it can be successfully incorporated into any look. Katan silk is a type of silk that is created by twisting together filaments to create a sturdier and more durable fabric.
Due to the nature of its creation, it also makes an interesting textured background for any work that is to be done on the fabric to make it unique. Katan silk is one of the most easily identified fabrics as it has a unique look that helps it stand out from other forms of silk.
Origin and history
Katan silk, as a concept, originates from Persia and came to India during the rise of the Mughal Empire. Women belonging to the royal families indulged in silk purchased from China, Persia and even parts of India, such as Benares, in order to weave stylish and elegant garments. As recorded by Inayat Khan in
As recorded by Inayat Khan in Shah Jahan Nama, the royal women were known for wearing elaborately designed clothes in fabrics like Katan silk, satin, tasser, ambary and kimkhab. Furthermore, they were known for wearing at least 2-3 different outfits in a day and clothes, once worn, were handed to the servants for their use. Through this practice, fabrics such as katan silk were filtered down all the way to the subjects of the empire and were popularized due to their sturdy nature.
Women like Nur Jahan Begum were also known for designing and popularizing new fashions and designs, which made these fabrics all the more desirable amongst the subjects of the empire.
Sources of inspiration
Originally, when it came to the kinds of colors and motifs to be used, Mughal women displayed a penchant for white along with floral patterns. Another popular color was red along with spots of sundry colors on this background. However, with recent innovations in the fabric and styles of garments, almost any color or motif can be used on katan silk.
Making of Katan
Creating katan silk requires a series of meticulous steps to be followed to ensure that the highest quality of the fabric can be achieved.
To start with, the silk yarns are first prepared. Tough and, more often than not, yellowed yarns of silk are first steamed and then treated with chemicals in order to make them soft and malleable. On doing so, three or four plies of the treated yarn are then spun together on a spinning wheel where they are twisted and made ready for the loom.
This process of twisting was originally handled by artisans known as Naqqads. Katan silk is created by twisting together two threads only while other forms of silk may require different numbers of yarn.
Once this is done, the weft and warp are dyed through the Bandhana method (similar to tie-dye). This process is one of the most intricate processes as it requires the designer to visualize the desired pattern and dye the pattern with mathematical precision. These yarns are then arranged in separate frames and are marked with charcoal to indicate the dyeing process. They are then taken to the Pathabanda, the artisan responsible for tying the yarns together, who uses wax to tie the yarns together. Every time the fabric is dyed, it is tied by the Pathabanda, until the desired shades are created. Once that is done, the knots are then opened to create the fabric.
Style and variety
The varieties of Katan silk include:
Katan Butidar: This fabric has resham or gold butis (patterns or design( on it.
Katan Butidar Mina: The design work on this fabric is made out of zari threads.
Katan Butidar Paga: This type has a weft made of resham and contains buti work that is spaced 4 inches apart all over the body of the garment. When used for saris, this fabric has a 12 to 22 inch wide pallu (or drape) which is wider than most saris along with a 2 inch wide border.
Katan Brocade: Figures or patterns on this garment are made with gold thread and both, the warp and weft are made of katan.
Present day scenario
Indian designers love experimenting with different fabrics and looks and katan silk is one of the most preferred fabrics as it is not only sturdy but also provides a touch of regality to the look. Mostly, this fabric has been seen on the runway in the form of wedding attire as it tends to be a little heavy.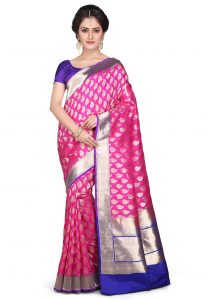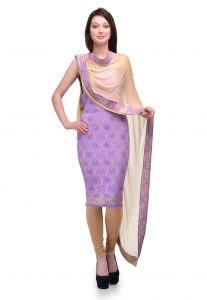 The most popular forms of katan these days are the katan stripes and katan checks as they add a little bit of modernity to the design. In terms of pop cultural references, relatively plainer katan silk sarees with checks on the borders are used to depict Bengali housewives to provide an interesting twist on the traditional look. This type of sari is also extremely popular in Bangladesh.
Innovations
These days, some of the most widely used forms of katan silk include the following:
Katan Jal Set: Also known as Jangla, this type has floral motifs or patterns all over the fabric.
Katan Buti Zari Resham: Katan Butidar has now evolved to create Katan Buti Zari Resham, which is the same fabric with a few style innovations to give it a more modern look. These innovations are mostly aesthetic and can vary from garment to garment.
Other popular variants used these days are katan stripes and checks, which have been seen recently on the runway.
Wearing the attire
When it comes to wearing saris, no matter what the fabric is, heels are a must as they compliment the fall and drape of the sari, making the wearer look more elegant and regal. Both, Indian jewelry such as kundan necklaces and earrings along with western jewelry such as diamond sets or gold sets can look great with a katan silk sari as long as they've been matched well. Using an ethnic handbag or clutch such as cutdana bags or moti work bags can add an extra dash of ethnicity to the overall look, although you can also go in for westernized handbags as well.
Maintenance
In order to ensure that the quality of the fabric or the work done on it does not decrease, the following steps can be taken to maintain it:
Wrap the sari in a muslin cloth or soft cotton cloth
Avoid washing or dry cleaning a silk sari as much as possible as it may deteriorate the yarns. However, if it must be washed, then a mild soapy solution should be used followed by a cold rinse
Wet saris should not be dried in sunlight as it may lead to a faded look
Silk is referred to as the queen of all fabrics
Practicing silk culture is an art that is almost 5,000 years old in China
A silk worm's diet only consists of mulberry leaves
Silk is the strongest natural fabric
Apart from clothes, silk can also be used to make parachutes, prosthetic arteries, sutures and rugs.
Interesting facts
Silk is referred to as the queen of all fabrics
Practicing silk culture is an art that is almost 5,000 years old in China
A silk worm's diet only consists of mulberry leaves
Silk is the strongest natural fabric
Apart from clothes, silk can also be used to make parachutes, prosthetic arteries, sutures and rugs.
Categories: Textiles