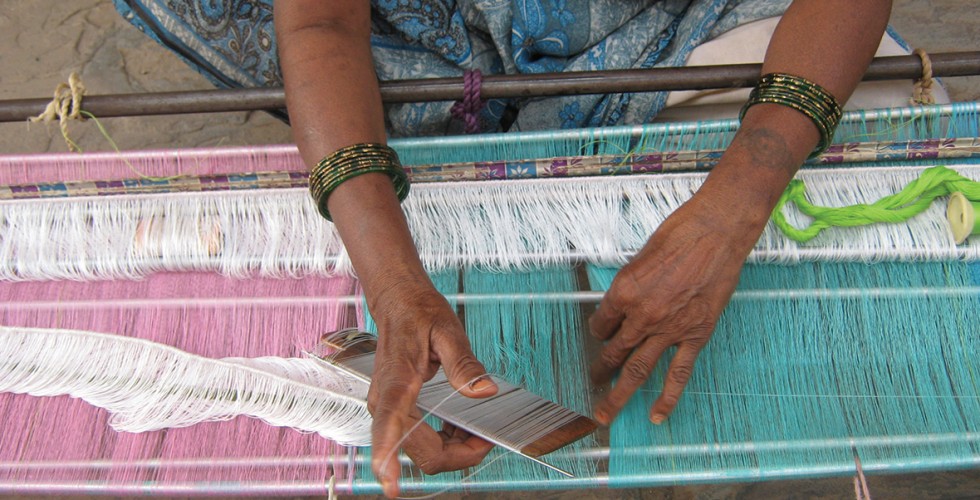 Chanderi Fabric
Chanderi is a traditional ethnic fabric characterized by its lightweight, sheer texture and fine luxurious feel. Chanderi fabric is produced by weaving in silk and golden Zari in the traditional cotton yarn that results in the creation of the shimmering texture. The fabric borrowed its name from the small town Chanderi in Madhya Pradesh where traditional weavers practice the art of producing textured sarees in cotton and silk decorated with fine zari work.
This fabric can be classified into three types – Chanderi silk cotton, pure silk and Chanderi cotton. Traditionally, Chanderi fabric was primarily used in weaving Sarees and Salwar Kameez material.
Nowadays, young women prefer wearing Chanderi sarees. It is one of the must-have items for every saree connoisseur and has emerged as the most understated Indian ethnic attire. Chanderi sarees are an impeccable choice for summer wear as well as for ceremonial dressing such as a weddings or pujas.
History
Since ancient times, Chanderi town is popularly known as one of the best handloom clusters in India where Chanderi fabric was woven using handspun cotton warps and wefts. But the evolution of the fabric began in the 1890's when weavers in the town of Chanderi replaced hand spun yarns with mill mad yarns. But if epics are to be believed, Chanderi fabric is known to have its origin way back in the Vedic Period and was founded by Lord Krishna's cousin – Shishupal.
In the year 1910, Chanderi sarees were patronized by the royal family of Scindia and it was during that period when golden thread motif made its presence in the cotton muslin saree for the first time. But during the Mughal reign, popularity of this fabric reached new heights and was the most favored choice of queens in India. In the 1930s, Chanderi weavers in Madhya Pradesh discovered Japanese silk. They began replacing the warps of cotton sarees with it and that's how the Chanderi silk variety came into existence.
Characteristic of Chanderi
Creation of unique buttis or motifs and the transparent or sheer texture of Chanderi fabric are the two prime characteristics that distinguishes it from other handloom fabrics.
Motifs or Buttis
The buttis or motifs on Chanderi fabric are primarily hand woven on handloom, with the use of needles. Separate needles are used to create different motifs. Weavers coat these motifs with gold, silver as well as copper. Motifs created using chanderi weaving are inspired from nature and include Swans, gold coins, fruits, and heavenly bodies.
From traditional motifs of flowers, peacock, lotus to modern geometric patterns, today one can find strikingly beautiful motifs like 'Nalferma, 'Dandidar, 'Chatai', 'Jangla', Mehndi wale haath' etc. adorning the Chanderi fabrics. Color palette of Chanderi sarees are predominately ruled by soft pastel hues, however with changing times, vibrant combinations of red and black, turquoise and navy blue, fuchsia and white also exist.
Transparency
Transparency or sheer texture is a unique feature of Chanderi fabric that differentiates it from other textiles produced across India. The transparency of this fabric is because of the use of single Flature quality of yarn. When glue of a raw yarn is not separated from it, the non-degumming renders a shine and transparency to the finished fabric which produces a Flature yarn.
Fashion Connect
Since ancient times, Chanderi fabric holds a special position in the Indian handloom industry. Traditionally, this fabric was used to weave the nine yard drapes. But now, with fusion of traditional and modern weaving techniques, Chanderi fabric is extensively used by fashion designers to create Indo-western dresses, tunics and tops.
In the recent years, fashion designers have worked closely with Chanderi weavers to design fashionable closet essentials. The sheer texture, fineness and glossiness of the fabric has fascinated many creative minds of the fashion industry. Eminent designer like Rahul Mishra and Sanjay Garg have added a stylish twist to this fabric with their creations. Now, one can find contemporary designs like dresses, jackets, shrugs and trench coats woven in this handloom fabric with traditional motifs. Creative imaginations doesn't settle here because designer Vijay Balhara's fancy for this fabric led him to showcased a line of resort wear woven in Chanderi, at Lakme Fashion Week 2011.
In Bollywood, actresses like Mini Mathur, Vidya Balan and Kareena Kapoor are often sported draped in this handloom fabric. In the movie English Vinglish, Sridevi's look in Chanderi cotton sarees was well appreciated.
Maintenance
The sheer texture of Chanderi fabric needs special care. It's advisable to dry clean Chanderi fabric protect the fine Zari work. Dry in shade, avoid drying in direct sunlight.
References
Categories: Textiles