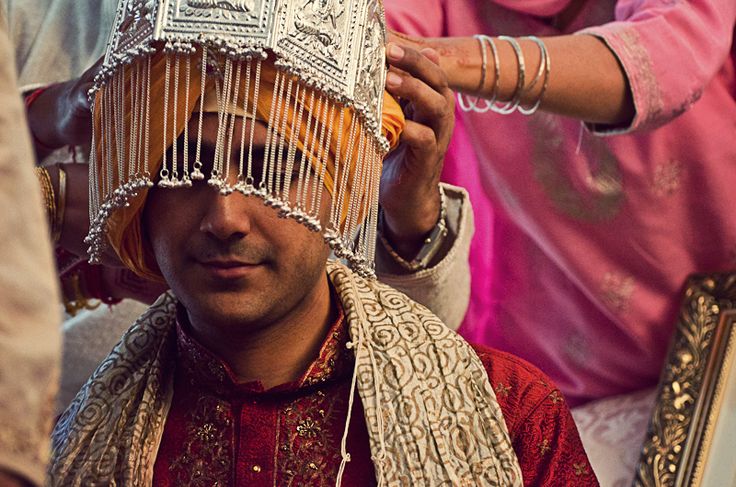 Sehra: A Traditional Head Dress For Indian Grooms
Sehra is a traditional headdress worn by Indian grooms on their weddings. It typically comprises a head adornment that has garlands hanging covering the groom's face.  This decorative groom's veil, so to speak, can be made either out of flowers or beads and is tied to the groom's turban or Pagdi.  However, the Sehra can come stitched on to the groom's turban for convenience, which is the current hot favorite of Indian grooms.
Sources of Inspiration
Wearing a Sehra adds royal splendor to the groom's overall look and it also adds an element of mystery as his face is veiled much like the bride's face.  Furthermore, the other main purpose of the Sehra is originaly to protect the groom from the evil eye.  They are more prominently worn in North India than in other parts of the country.
With time, the Indian head dress or Sehra has changed in terms of size, dimension, shape and composition.  In fact, a lot of grooms these days tend to sport the 'Pagdi' and do away with the Sehra component as the 'veil' seems inconsequential these days.  Nevertheless, there are a lot of grooms, particularly Sikh grooms, who have kept this culture alive by sporting Sehras made up of either flowers or beads- which is the latest trend.
History & Origin
It originates from North India wherein white flower strings were tied to the turban or Pagdi and suspended to cover the groom's face, just like the bridal 'Ghoonghat' or veil. Dating back to the Vedic era in Hinduism, for the Sikh grooms, this tradition dates back to the times of Guru Govind Singh who added flower strands to the Pagdi or turban which added an element of pride and prestige. Similarly, amongst Muslims the sehra has been patronized and imbibed in the Islamic culture since the Mughal era where kings wore elaborate looking head gears encrusted with precious pearls and stones during their weddings. In fact, the word 'Sehra' literally means a poem sung during a 'nikah' or in other words the wedding ceremony in the Islamic culture.
Styles & Variety of Sehra
North India:
Modern Indian grooms these days prefer to match the color of their Sehra with their wedding outfits to give it a well-coordinated look.  A lot of Rajasthani grooms prefer teaming up their elaborate Pagdis with a Sehra made out of pearls or semi-precious stones for that royal Rajputana look.
South India:
It is worn in South India is again a veil that is made out of flowers intertwined with silver and gold strings which is used to cover the entire face.  The groom is however not allowed to remove it until the wedding is over.
The Making of Sehra
It can either come in a detachable form wherein flowers or beads are attached to a band or in the form of a turban with the Sehra stitched on to it.  A lot of grooms prefer to wear lightweight beaded Sehras which are easy to manage and the groom is spared from a lot of inconveniences as opposed to handling floral Sehras.
There are a lot of facts that a groom needs to take into account while finalizing a Sehra.  Firstly, a floral one needs to be selected carefully as it is not advisable for pollen-sensitive grooms.  Furthermore, the overpowering fragrance of certain flowers might create dizziness. Moreover, it is important to ensure that the flowers are fresh and are not wilted.  A Sehra is woven together with a help of a cotton or silk band that can either be embroidered or embellished with stones.  Another aspect to take into account would be the density and the size of the Sehra. Bulky or oversized sehras do not look graceful, and therefore one must go for the perfect fit while selecting a Sehra.
Sehra as Trendsetter
The recent big fat Bollywood weddings of Abhishek-Aishwarya and Riteish-Genelia have brought out the Sehra trend once again.  Abhishek chose to sport a typical Punjabi Sehra that was dense and elaborately made out of mogra flowers, whereas Riteish chose to stay true to his Marathi roots by sporting the Marathi Sehra called 'Pheta' which is made out of pearls.
Sehras are a part of our rich heritage and these days it is trendy to wear ethnic accessories to give a different look.  A lot of the modern grooms take cues from Bollywood stars and their real-life marriages in order to make their own style statement.
Innovations
The latest innovations in Sehras are turbans with plastic flower strands affixed to them that are customized to match the groom's outfit.  Beaded Sehras made out of lightweight beads are also very trendy. Bandhani style sehras are also in vogue and add a vibrant appeal to the groom. Some grooms prefer to go in for Sehras that are single colored and come with an adorning jewel in the shape of a peacock, flower, or an ornate design. Additional embellishments include feathers, pearls, beads and synthetic flowers.
Global Influence
Apart from India, it is widely worn by grooms in Bangladesh and Pakistan as well.  With the passage of time, it has gone through several innovations in terms of design and style. These days the market is flooded with different varieties to cater to each individual. From ornate headpieces to strings of pearls and gold, to flower motifs in fine zari work, there is a large pool of choice that one can choose from.
Wearing the Sehra
The groom can enhance the look of a detachable Sehra by choosing an embellished satin band that is encrusted with gems.  This enhances the look and also does away with the need of a Sarpench that is a gem-encrusted brooch which is affixed to the groom's turban.  On the other hand, if you want that perfect regal Maharaja Look, then team up a beaded Sehra with an elaborate Sarpench and Morpankh to exude royalty.
Maintenance
Floral Sehras need to be freshly put together, as wilted flowers on the wedding day would spoil the entire look of the groom.  Ensure that the flowers are fresh and stringed properly so that it doesn't get spoilt during the course of the long wedding rituals.
References:
Categories: Attires, Costume Accessories