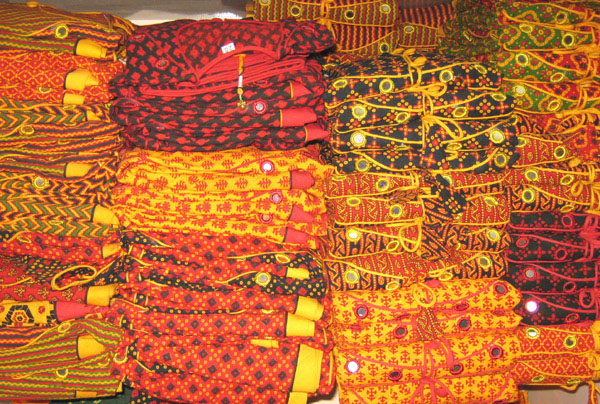 Booti Work
Booti work on garments basically refers to the delicate designing and decoration with different elements. This intricate design work is delicately woven onto the borders of saris and other garments, which gives it a blend of tradition, culture, and ethnicity in layers of trend and fashion. Multicolored cotton threads are put to use while executing this artwork, making the garment look apt for individuals of all age groups and sizes. Generally, copper threads are extensively used, making the garments look more appealing and elegant.
Origin and History
During the Mughal era, the interest for fine textured materials came into existence. But as the years and ruling periods advanced, this interest soon got transformed into an interest for embroideries and different varieties of threadwork which also included this work in its category. Muslim societies in particular, considered Booti work garments as a status symbol, uplifting their class onto higher and superior levels. The period of 1800s marked the beginning of garment industries embracing this Artwork in their popularity list.
Present Day scenario
In today's world, fashion trends and designs have also taken the transformational route suiting the tastes and preferences of today's generation. Booti work of today has become more technology oriented as well as the procedures which have become more mechanized, thus redefining the artwork in a much more stylish and elegant way. Be it Pashmina Shawls, Georgette, Chiffon, Silk or Cotton saris, it has managed to imprint a long lasting essence of beauty and radiance onto these fabrics.
The Making
It began with a simple embroidery work of delicate small flowers onto fine fabrics, which just filled the ends of the fabric, giving it a simple look of richness and radiance. The stitches of the Booti work gradually spread onto the pallu of the sari making its work more prominent and visible in a fuller sense. Originally the copper threads were stitched to the sari which gave out a glaze at the time of finishing.
Faces behind the fabric
Right from the time of the medieval Islamic era, Muslim households began weaving delicate designs and motifs with the use of different shades of threads, which were initially meant for the higher class of people. The hemming stitches of the Booti work were dependent on the creative use of multi-colored threads and hand work. Traditional folkways were depicted through this Artwork which preserved the ethnicity of the Indian culture.
Style & Patterns
Booti work linked to today's day and age, are designed in multiple variations ranging from stitches, textures, decorating materials and different types of laces. Booti work also involves a lot of light embroidery which highlights the specified design printed on the sari. For instance, high standard flowers and petals belonging to the modern age is imprinted using different colored threads, thus making the garment look more fashionable and remarkable.
Innovations
Booti work embroidery can now be found even on products like bags, purses, shawls, scarves, cloth sandals, cushion, bed and curtain covers. Apart from saris, it is used on T-shirts and formal shirts as well.
Global Wearability
Not only India but also countries like Pakistan, Russia as well as countries in the Middle East are getting attracted towards these this artwork.
Chronicles of the Future Untold
Not only women, but even men flaunt outfits adorned with Booti work. It  has not only enhanced the look of Indian women garments, but has also spread beauty over kurtas, formal wears, Sherwin's, and different other men outfits and other men outfits.
Accessorizing
Silver, Gold and Oxidized Jewelry can go well with Booti work outfits. As Indian outfits mostly display this Artwork, it is recommended to go in for Indian ethnic jewelry.
Suitability
Booti work fabrics generally complement the wearer during the season of spring. But with the revamped textures imprinted with Booti work, every season can benefit from these outfits. Generally lighter shades of colors and threads are used for Booti work, thus enabling the opportunity to be worn in any season of the year.
Maintenance
Dry cleaning washes and hand washing methods are generally recommended for Booti work garments. It is also suggested to iron these garments as gently as possible, in order to retain the intrinsic Booti work on the garment.
Often it  is compared to different other machine dominated thread works. But the quality and 'feel' of the fabric imprinted with Booti work stands apart from the rest.
Interesting Facts and Comparisons
Booti work industries cottaged over 800 craftsmen.
Even royal robes and leather belts showcased in many movies of the 60s, had Booti work on them.
Categories: Motifs & Embroideries