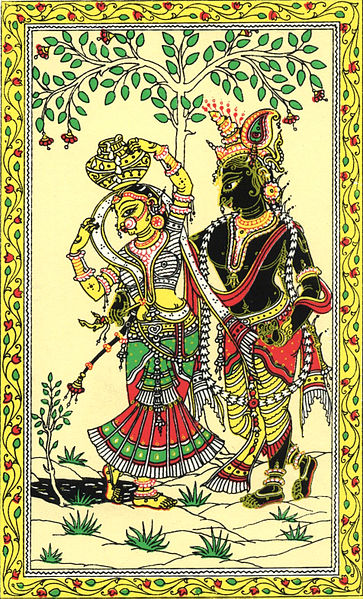 Pattachitra
One of the oldest forms of artwork found in Orissa, Patachitra (also spelled as Pattachitra) art is fascinating, depicts Hindu mythological tales and wonders. Primarily based on these stories from the past, Patachitra art is vibrant, unique and is a fine display of dexterous Indian craftsmanship at its best. This kind of artwork has a traditional appeal and is intrinsic with Indian values, customs and rituals, which are a part and parcel of the Hindu faith and religion. What started off as different forms of paintings has however evolved to become an immense facet of Indian accessories and other forms of traditional fashion as well.
Origin & History
In Sanskrit, Pattachitra literally means cloth painting; 'pata' (cloth), and 'chitra' (painting). This form of artwork was first conceptualized in Orissa and dates back to the 5th century. According to historical evidence, the first forms of Patachitra art originated in the village of 'Puri, where this artwork is still quite popular. The artists who practiced this craft were known as Mohapatras or Maharanas, although no clear distinction was given between the two. The astounding temples and architecture in Orissa is what lent its inspiration to all these creative craftsmen who narrated pictorial stories through their paintings and detailed work.
The two cults who greatly patronized this craft were the Jagannath's and Vaishnava's. The basic Patachitra tales revolved around their beliefs and ideologies. Hindu gods such as Krishna, Vishnu, Shiva, Hanuman, and Hindu goddesses such as Radha, , Parvati and Sita were the main images used to depict tales and stories which were related to Hindu scriptures and texts. Apart from Orissa, this artwork is also widely practiced in West Bengal. The only difference is that in Orissa, patachitra art is done on Cotton fabric, whereas Silk is mostly used in Bengal.
Style
Patachitra style of painting is a unique blend of classical and folk elemen but is more bent towards a folk style in the larger sense. What is even more interesting is that this artwork has Mughal influences as well when it comes to the character's apparel and fashion sense. Features of each character are defined with clear dark lines which give a definite shape and appeal. Natural dyes and colors are used, all of which are derived from fruits and vegetables.
The background or landscape of each narrative is simple and not too detailed since the main focus lies on the characters and their actions. Flower and leaf motifs are the common styling elements used to give a more aesthetic appeal to the artwork. Traditional colors such as red, green, yellow, dark blue, white, and orange are used to define each section of the painting. The one common element found in all patachitra art is the use of detailed borders which may or may not be in relation to the rest of the painting since they are used to give uniformity to the entire painting. The craftsman usually uses Cotton for this artwork, and apart from paint, no additional embellishments are used.
Innovations
Apart from paintings, patachitra artwork is also widely used on Cotton, Silk and Georgette saris. Quirky, unique and a refreshing appeal from the traditional saris, patachitra artwork lends a different sense of ethnic fashion to the 9-yard apparel. Bright hues such as red, pink, purple, yellow, green and white are used to adorn classic saris which add a vibrant twist to the epic tales that are narrated on the sari pallus or borders.
Apart from saris, patachitra art has become rampant with household accessories as well which includes ceramic bowls, pens, coasters, plates, wall hangings, key chains, and boxes as well. Currently, several designers and craftsman have come up with quirky ways of introducing this artwork on large handbags and totes, t-shirts, skirts, jeans, belts and even on stationary!
References
Categories: Motifs & Embroideries