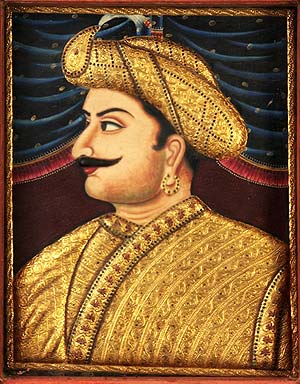 Tipu Sultan
He was known as the 'Tiger of Mysore' for a reason. Exceptional military genius, a powerful leader and a profound scholar as well, Tipu Sultan is still a name which holds great importance in Indian history and what shapes it with extreme pride and prestige. While Tipu Sultan may have been a brave warrior who won several conquests and battles, he was also known for his shrewd attitude and ruthlessness towards certain sections of society which always place his name in a topic worthy of a debate. But what is hard to miss beneath all that historical grandeur is the exquisite taste in clothes that always pique the interest of many historians and scholars across the globe, centuries after his demise.
Origin and History
Tipu Sultan, the name itself carries so much weight, that one may safely assume how powerful and majestic his presence may have been during pre historic times. He ruled Mysore from 1782-1799 and during his reign several military and administrative innovations and policies were implemented, which carved a tremendous mark in the state and beyond.
Royal Style
Other than his military achievements, the one thing that stood out when we speak of Tipu Sultan was his immaculate and tasteful approach towards clothing. The very famous Mysore Peta', which is a round head dress worn even today for religious or cultural events was Tipu Sultan's trademark as well. The White and Saffron covered turban was his mark of nobility and valour, which is of immense value amongst the people of Mysore even in today's day and age.
During Tipu Sultan's reign, the turban was referred to as 'Burhanpur Turban' and this was worn with a crisp white Kurta which was adorned with a brooch made out of either Copper or Gold. In addition to this, he also wore Pyjamas that contained pockets in which he kept his special European watch. But what really completed his royal garb was a pair of leather shoes that had sharp iron extensions in the front.
What is interesting is that Tipu Sultan changed his clothes during the day for each and every ritual or event. Right after his breakfast, he changed his turban to more elaborate and rich colors of red, purple, green or orange. The sleeves of his Kurta were always tied around the breast area with a button made out of rare diamonds, which were cut to perfection just for the royal highness.
Tipu Sultan loved his royal stature and settled for nothing but the exquisite and grand when it came to adorning or dressing, even for his day to day routine. He usually wore a coat which was made out of gold, and had tiger stripes in red across it. The tiger stripes known as 'Bubri' were his royal trademarks and went onto justify his title of being the 'Tiger'.
Royal Frills
Being the meticulous and ostentatious dresser that he was, Tipu Sultan was not very fond of jewelry and only had the brooch or buttons made out of precious gems or stones, which added to the charm of his royal outfits. However, he had an inclination towards astrology and due to his beliefs wore a few rings on his fingers. The one thing that he was always seen wearing was an intricately embroidered gold handkerchief which was always perfectly spread across his Kurta.
Global Appeal
Today people associate Tipu Sultan's name with grandeur and royal perfection. There are several museums including the V&A and private collectors where clothes and accessories worn by the Sultan are showcased as important things related to Indian heritage and value.
Interesting Facts and Comparisons
Recently, historians came across what they believe is the dress worn by Tipu Sultan on the last day of fighting before his death. The kurta is made out of Silk and had faded blood stains on it as well. This exquisite find is said to be worth 30 crores. 

Srirangapatna, where Tipu Sultan died, was his capital

The great discovery of finding Tipu Sultan's last worn outfit is under extreme care and preservation since it is centuries old and is in a very brittle condition

The one accessory that Tipu Sultan carried with him at all times was his sword, which was yet another symbol of his bravery and his skill in military
Reference
Categories: Fashion Cults, Royalty