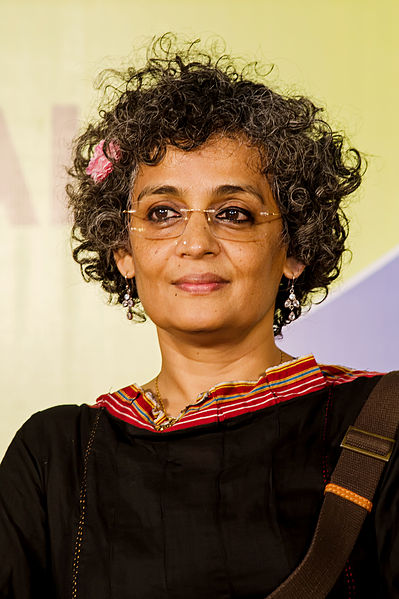 Suzanna Arundhati Roy
Suzanna Arundhati Roy is an author and winner of the Man Booker Prize. Her novel 'The God of Small Things' became her first most admired and commended literary works, and made her a famous novelist, not only in India, but throughout the world. Other than writing being her forte, Arundhati Roy has been actively involved in several human rights activities, which have made her a global face and personality on political as well as social levels. Roy was featured in the 2014 list of Time 100 – the 100 most influential people in the world. She has been the face of the Narmada Sarovar project movement.
Childhood & Career
A Bengali Hindu hailing from Shillong, Meghalaya, Arundhati was born on November 24th, 1961 to Ranjit Roy, a Bengali tea planter and Malayali social activist Mary Roy. A large part of her childhood was spent in Kerela, and after completing her high school studies, she went onto pursue a degree in architecture from School of planning and Architecture in Delhi, where she met her first husband Gerard De Cunha, who is a well-known architect. In 1984, Roy got married again to filmmaker Pradip Krishen, and even acted in one of his award winning movies Massey Sahib.
Style and Attire
Arundhati Roy's sense of style is well-versed with Indian ethnic fashion sensibilities and exudes simplicity and effortlessness. Simple cotton and raw silk kurtas, cotton sarees, and long flowy dresses with floral prints on pastel backgrounds comprises her basic dressing sense and taste in fashion. She tends to wear monotone kurtis or shirts with loose pants or skirts. As far as Arundhati Roy's taste in saris is concerned, she loves basic Cotton saris with simple blouse designs.
One mostly spots her wearing solid colors of black, red, mustard yellow, green, blue or gray. Occasionally, she throws on a bright colored dupatta, or scarf, which adds vibrancy to her ethnic apparel. In addition to that, she tends to mix the colors and plays around with contrasting shades of orange on pink, or red with pink, and does not follow a strict practice when it comes to matching blouse colors with that of the saris.
Trendsetter & Global Appeal
Cotton Kurtas are the most ever-lived attire in Indian ethnic fashion and have always been in vogue in India and across Indian borders as well. Young college students opt for loose Cotton kurtas in solid colors, with less intricate designs, which they pair with jeans or flowy salwars. Oxidized silver and copper jewelry has always been inherently Indian in style, and young women love flaunting chunky bracelets, earrings, toe rings, anklets and necklaces. Arundhati Roy's approach towards jewelry has always been short and classy. The way in which she wears skirts with kurtas, saris, and long flowy scarfs around her neck have become a hot trend in countries like U.S, U.K, Europe and Australia.
Personalization
A Cotton sari or Kurta with basic borders and designs look best with silver or gold jewelry. Currently, the 'intellectual' look is extremely in vogue with young Indian women, who love to team up the kurta with a large tote bag, and heavy bracelets or earrings. Thick rimmed glasses in different colors, much like Arundhati Roy's have become the latest style statement for many women as well.
Accessorizing
She doesn't wear too many accessories to complete her outfit. Her preference sticks to small silver earrings or bangles. However, she does have a penchant for simple chains and necklaces which are either beaded, or have a chunky looking pendant hanging off a silver chain or black thread.
Her hairdo is usually ruffled, short, or hangs loose around her shoulders in a half-tied manner. Her curly hair look has become her trademark over the last several years, along with her glasses that enhance her intellectual look. Arundhati Roy also wears a little bit of kohl adding sensuality to her overall appeal.
Reference
Categories: Fashion Cults, Popular Faces