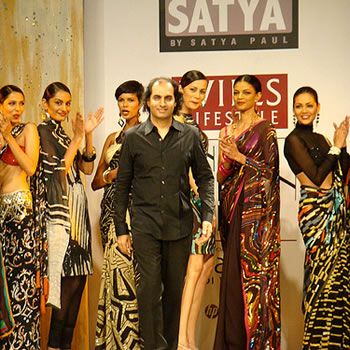 Satya Paul
What Satya Paul has done to reinvent saris is what most fashion designers would be hesitant of. Playing with various color combinations, unusual style of motifs and prints that are a bit peculiar yet appealing is what makes one of India's renowned fashion designers Satya Paul a cut above the rest. Experimentation and a sense of what is current and modern, yet traditional is what makes his fashion remarkable on the Indian as well as global platform.
Career Growth

Satya Paul was born in a city called Leigha, which is located in Pakistan. He arrived in India during the tumultuous period of partition. His initiation in the world of fashion was marked when he launched his brand name in the year 1985. Ever since then his name has been attached to some of the most premier designs in sarees, kurtas, and accessories that lend a surfeit of creativity to the world of Indian fashion and glamor. He is the pioneering head behind 2 of the most prestigious fashion stores in the country, Heritage and L'affaire. Since the 80's they have been the vanguard of dealing and selling in Indian creations with a modern twist that has taken Indian fashion from being ordinary to revolutionary.
In addition to catering to some of the crème la crème of Indian society, Satya Paul has also been a great supporter of weavers and craftsman all over the country and has taken inspiration from them to weave his own designs.

Style and Attire

Satya Paul, the name is more than enough for any fashionista to know the value of the attire, since this brand name has been an equivalent to class and style while being true to what Indian traditional wear is all about. From saris to scarves, ties, clutches, handbags and women's accessories, Satya Paul has made a distinct mark in originality and creativity which have lured women and men alike from all over the world.
Satya Paul's creations are very fluid in their overall appeal and the colors seem to be splashed onto a large canvas of fabric. The prints are by no means ordinary or mundane. One of his saris, for example, has a large 'Om' motif in the color white with hues of yellow and blue in the background. The motif is only in one place, and that is the pallu. Another example of his unique creation is a signature style sari made with the faces of iconic Indian actresses spread all over the fabric. Quirky yet elegant is a skill that no one has mastered quite like Satya Paul, which is the sole reason that he has been such a significant name in the world of Indian fashion and continues to reign in spite of the changing trends. He experiments with a large array of fabrics. From Cotton and Crepe to Silk and Chiffon, his saris and kurtas have the finest threads of fabric and use colors that are rich and vibrant. It is the same vibrancy and modernistic approach that makes his creations the most sought after, especially by the younger generation.
Several Indian celebrities like Mandira Bedi, Aishwarya Rai, Shruti Hassan, Dia Mirza and Sonam Kapoor have flaunted various Satya Paul creations and have made head-turning style statements.
Innovations
The best thing about Satya Paul's designs is that they change with the current style, which is why the name has lasted and reigned for as long as it has. He designs saris like an artist who does not hesitate to play with colors. But saris are not his only area of expertise. His creative brilliance has spread onto other accessories as well, including long and flowing Kaftans, scarves, ties, cufflinks, wallets, hand bags and clutches as well. Another upcoming Indian fashion designer, Masaba Gupta who is the daughter of the famous Indian actress Nina Gupta, has joined hands with Satya Paul's creations and is working on one of his upcoming collections.
From the very traditional peacock feathers or cheetah stripes spread out across glitzy colors of hot pink, red, yellow and greens, to the imprint of web pages from Google used to adorn a traditional saree, quirky is the basic essence of all Satya Paul creations.
The usual fashion of wearing a blouse with this sari is to opt for a halter neck style since that goes in perfect sync with the inherent modern yet traditional style.
Global Wear-ability
Satya Paul is a well-known name across Indian borders as well, and there are numerous websites which sell merchandise made authentically by the designer, which are made available to Indians as well as people living in countries like U.S., U.K. and Canada. Due to their modern yet ethnic appeal, Satya Paul attires have been more than welcomed by people from different countries and of different tastes.
Accessorizing
The best accessory to go along with a Satya Paul creation is to opt for funky jewelry with a twist of ethnicity. Chunky Silver or gold bracelets, drop earrings or large cocktail rings go best with his modern Indian creations.
Suitability
Satya Paul saris are perfect for any and every occasion. If one wishes to stand out in a crowd and wants to fish for compliments without really trying too hard, then a Satya Paul sari is just what the fashion doctor ordered. Whether it's a lunch or dinner party, or any social event, then a Satya Paul sari or kurta is a wonderful pick. Likewise, for men, a Satya Paul tie is the perfect accessory to make a signature style statement while wearing a suit or formal shirt. The ties are rich in texture and color due to the fine Silk used. But other than the traditional styles, the ties made by Satya Paul have unusual motifs such as hearts, leopards, horses, and unique geometrical patterns as well.
References
Categories: Fashion Cults, Fashion Designers