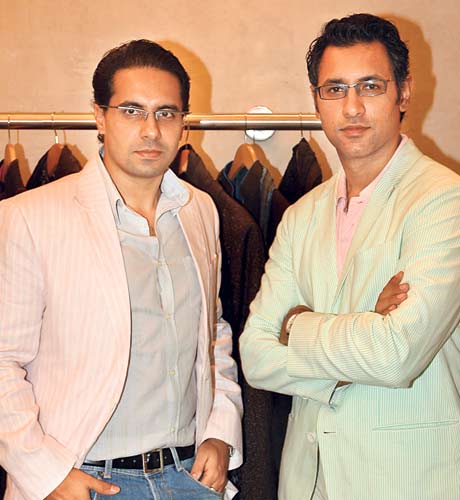 Shantanu and Nikhil Fashion Designers
Shantanu and Nikhil are definitely a winning combination of two brothers who have what it takes to make it big in the world of international fashion. Their creative bent of mind and entrepreneurial streak has placed Shantanu Mehra and Nikhil Mehra in the global fashion circuit with their label 'Shantanu and Nikhil' that was launched in 1999.
Shantanu and Nikhil creations cater to the youthfulness within a person who wishes to be stylish and trendy with its vivacious colors and graceful silhouettes. The brand targets people with varied tastes from the effervescent, to the classy and chic. Shantanu and Nikhil have made a mark with their haute couture for both men and women ranging from traditional and casual chic, to power dressing line of clothing for the urban populace that desire a perfect blend of conservative and contemporary styles.
BACKGROUND
Career Growth
Shantanu earned his MBA from the University of Toledo, Ohio, U.S. This is when he understood about the potential of the upcoming Indian fashion industry and also realized the trappings of the business. During the 90s, Indian fashion was in its nascent stage. There were a lot of creative minds, however, the industry did not function professionally. Shantanu, armed with an MBA, understood the market requirements thoroughly along with the intricate details that would help in gaining a foothold in the fashion market.
Nikhil, the other Mehra brother, was always the creative one amongst the two. He enrolled for an advanced course at the Fashion Institute of Design and Merchandising in L.A, California and also earned some scholarships and prestigious awards during his sojourn there. He gained a lot of exposure in the world of fashion while staying in L.A. and had the distinction of being the sole Indian designer to have had a show in Universal Studio, Hollywood.
In 1999, Shantanu and Nikhil decided to combine their strengths to create a formidable duo that would be equipped with creativity as well as marketing/business skills. A deadly combination to gain a foray into the Indian fashion scene and make it big. They wanted to create a style that would combine the vintage with the contemporary in order to create something sophisticated and essentially urban. They decided to target the youth and the trendy with their goal of creating futuristic fashion.
They started off with men's wear couture, and did gain many accolades in that department. In 2001, the designer duo decided to launch women's wear by displaying their signature collections 'Diffusion' and 'Couture' at the Indian Fashion Week. The brothers decided to experiment with fashion and in 2003, they ventured to reach out to more people with their classy western line that comprised of saris, chic sportswear, trousers with short kurtis, Banarasi georgettes and chiffon bustiers with skirts. They decided to focus on the rich Indian Heritage of embroideries and fabrics by using them to infuse certain richness to their garments.
Shantanu and Nikhil have achieved tremendous success over a short span of time by coming out with clothes that not only have been popular in India, but have also been admired internationally. The duo have a reputed clientele list that comprises of eminent Bollywood and cricket personalities such as Amitabh Bachchan, Glen McGrath, Stephen Fleming, Zaheer Khan, Saif Ali Khan, Leander Paes, Irfan Pathan, Hrithik Roshan, Shahrukh Khan, Neha Dhupia, Dia Mirza, A.R. Rahman, Shilpa Shetty, Kunal Kapoor, Bipasha Basu, Sushmita Sen amongst many others who swear by the brand.
Shantanu & Nikhil have two signature stores in the posh locations of New Delhi and they also feature in various other national and international couture showrooms and their label can be found in Vancouver, New York, London Jeddah, Birmingham, Tokyo Switzerland, Dubai and Kuwait.
The Making
Shantanu and Nikhil are known for creating ensembles for women that delicately combine the classic with soft femininity. The designers have been inspired by vintage India and they have merged it with modern fabrics, contemporary sensibilities and textures to help it evolve as a nouveau trend. Since they launched their label in 1999, the duo brothers have tried to cater to a mix of high quality contemporary and ethnic attire that has been exotically infused with delicate detailing, exceptional finesse and rich textures. What Shantanu and Nikhil have done is to marry western sensibilities with Indian culture to produce an enigmatic range of clothing.
Shantanu and Nikhil made their presence at the Delhi Couture Week in 2012 with their clothing line that paid a tribute to the power of Indian women. The entire look was about dark and bold colors, vintage appeal and attires that were embellished with heavy embroidery with a liberal use of metal that resulted in heavy clothes.
Another popular clothing line by Shantanu & Nikhil was inspired by the beautiful hues of the desert and was a collection titled 'The Dunes' which covered everything from Indian traditional ensembles to Western cocktail dresses. There was a lot of leather appliqué work and lace.
The designer duo have evolved as maestros in 'drapes' which is their strength as they combine it with rich details and textures. In fact, they are responsible behind redesigning Amitabh Bachchan's entire look for one season of KBC.
Innovations
Shantanu & Nikhil have gone beyond their forte by reaching out to the cricket pitch by collaborating with the sportswear giant Adidas for designing jerseys for the Pune Warriers, Delhi Daredevils and Mumbai Indians for the IPL. This strategic alliance puts them in league with designers such as Yohji Yamamoto and Stella McCartney.
The designer duo would also be designing apparel for a fashion event that highlights the negative movie characters in Hindi cinema commemorating 100 years of Indian cinema at Grey Goose IIFA Rocks. Shantanu and Nikhil will be using their creative genius to transform the erstwhile anti-heroes into their modern avatars with their signature styles of course.
Categories: Fashion Cults, Fashion Designers