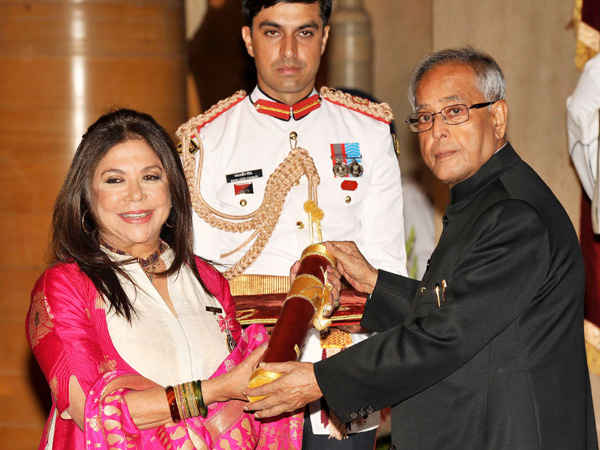 Ritu Kumar
Ritu Kumar is one of the foremost designers in the Indian fashion industry credited with boutique brands such as 'Ritu Kumar' and 'Ri' along with 'Label Ritu Kumar' which runs under the leadership of her son. Recipient of the Padma Shri Award in 2013, Ritu Kumar as a brand appeals to many patrons who are avidly interested in ancient arts and crafts molded into contemporary fashion items. Ritu Kumar's list of patrons includes the who's who of India. Her product offerings include couture as well as formal prêt accessories. Several international celebrities have also worn and praised her work. She has started a series of video campaigns called Beautiful Hands, based out of Kolkata, which garners support for indigenous craftsmen and their crafts.
Background
Born in Amritsar, Punjab, Ritu Kumar is a native of Delhi. She graduated in 1964 from Lady Irwin College in Delhi and pursued her higher education from Briarcliff College in New York. She has a background in art history and museology. Her enterprise as an Indian designer began nearly 40 years ago in Kolkata (then Calcutta) in West Bengal. Four hand-block printing craftsmen in a small village nearby served the executors of her design. From these humble beginnings, she has transcended to owning 35 high-end stores across 14 cities in the country. She is one of the pioneers of Indian fusion garments and has thus been honored with many prestigious awards and accolades.
Besides the Padma Shri award, she has also received the Achievement Award in 2012 at L'oreal Paris Femina Women's Awards and the Indira Gandhi Priyadarshini award for her role in the development of the fashion industry. Over the span of her career, she has been bestowed with many other honors.
She is also one of the founding members of the All India Artisans and Craft Workers Welfare Association (AIACA) along with four other renowned Indian fashion brands. She has been credited with the ushering of the 'boutique culture' in India.
Sources of Inspiration
Her background in art history and museology has inspired her line of clothing designs and ensembles. Preferring to work with fabrics like silk, cotton, and leather, Ritu Kumar's outfits are stunning in their richness, elegance, and intricacy of embroidery. Her clothes actively reflect the rich embroidery heritage of India, whether in their motifs, type of stitching or the elements used in the embroidery.
Her more recent line of clothing caters to the contemporary Indian woman, her inspiration draws on India's fashion heritage meeting the changing needs of the new generation. While Indian prints, embroideries, and motifs still feature heavily in these outfits, the array of silhouettes mingles Western and Indian styles.
Faces behind the Artistry of Ritu Kumar
Ritu Kumar's roots and the history of her current empire reflect her investment into preserving the traditional Indian crafts and respect for the craftsmen who have been given the knowledge of execution of these crafts. Her campaign, Beautiful Hands, encourages the purchase of garments and accessories that showcase ethnic Indian styles of embroidery. To go with this campaign, she has started a line of clothing known as 'The Revivalist'. The premise of this clothing line is to resurrect traditional Indian crafts and integrate them into mainstream fashion. The first two craft forms that have been taken up by this designer in association with grassroots social enterprises are the Kutch and Shibori forms of embroidery.
The videos catalogue the behind-the-scenes of Ritu Kumar's collections i.e. the people, the processes, and the techniques. She has been working with the craftsmen in Kolkata since the beginning. Among others, a lot of Ritu Kumar's work showcases work and textiles such as Jamdani and Tangail. The legacy of the craftsmen and their ancestors interspersed with Ritu Kumar's own legacy are made known through this campaign.
Watch Video
Style and Variety
Although Ritu Kumar is almost synonymous with Indian traditional textiles and fashion, her personal journey in fashion has evolved over the years to meet the expectations of different generations from across the globe. Her contemporary spin on traditional designs have been smartly incorporated into silhouettes that are fresh and reinvented with every season. The styling and textures of her ensembles is creative and appealing to the style quotients of consumers from across the globe. Her contribution towards making Indian ethnic fashion known and consumed by international clientele is noteworthy.
Her bridal collection is considered a show-stopper on the runway and features a lot of zari, zardozi and other forms of embroidery that make use of this precious metal.
Under the 'Ritu Kumar' banner, she has designed and sold Indian ethnic wear, including a selection of customizable garments as well as bridal outfits, such as suits, sarees, lehengas, kurtis and accessories. The 'Label Ritu Kumar' Banner however, is a collection of Western silhouettes featuring traditional Indian embellishments. To go with the outfits are several modish accessories such as sling bags which again prominently popularize Indian forms of textile crafts hewn onto leather.
Present Day Scenario and Global Influence
 As mentioned earlier, Ritu Kumar was one of the first female Indian designers credited with bringing boutiques to India along with being the face of traditional Indian textile craft forms complemented by the typical Indian color palette.
For many years, Ritu Kumar has designed and dressed the Miss India pageant winners on international pageant platforms such as Miss Universe, Miss India, and Miss Asia-Pacific. Her ensembles have been worn and admired by celebrities such as Nargis Fakhri, Lara Dutta, Priyanka Chopra, Dia Mirza and Aishwarya Rai. Ritu Kumar's international patrons include the late Princess Diana, musician, and singer Anoushka Shankar as well as actress cum model Mischa Barton.
Innovations
Innovations are a big part of Ritu Kumar's fashion dialect. Whether it is presenting traditional textile art forms in a new way on traditional garments or traditional art forms on Western clothes, Ritu Kumar has continuously refreshed her line in many ways, while keeping the cultural flavor and heritage of India alive. Another example of such innovation is the brand's accessories and the ease of their amalgamation into Indian as well as Western looks.
Interesting Facts
Narrating the history of textiles in India, Ritu Kumar published the book Costumes and Textiles of Royal India in 1999.
"Chevalier des arts et des letters" (knight of the order of arts and letters) is a prestigious award that has been bestowed on Ritu Kumar by the French Government for her revival of traditional crafts.
Her brand 'Ritu Kumar' has been actively trading in India as well as Europe since 1970.
By engaging craftsmen from a village near Kolkata, she has been credited with the resurrection of Zardozi which was a flourishing art during the Mughal period.
References
Categories: Fashion Cults, Fashion Designers