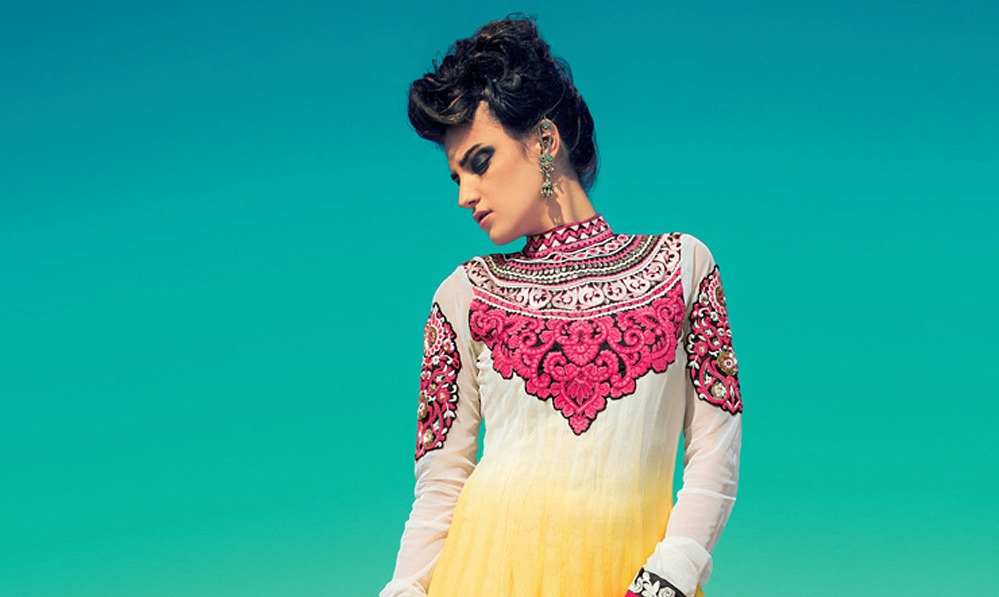 This Navratri, Blend High-Neck With Your Ethnic Attire
With festivities approaching, it's time to don your favorite colors and get all your trendy outfits out of the closet for days and nights of sartorial adventure and dollops of fun! As the boisterous Navratris and the glittering Durga Puja season come knocking, how about standing out in your ethnic élan. Here's a list of trends you will love to take on.
Ladies first! How about staying on-trend with the very stylish high collar outfits? The perfect look for the autumn festive spree is to get yourself a high neck Salwar Kameez or Anarkali. The outfit is a sure shot head turner with its over-the-top embroidered appeal. Teamed with large hoopla earrings and peep toe heels or stilettoes, you're all set to stand out with the collared appeal. High neck Kameez look great in georgette, chanderi silhouettes. The collars can be Angrakha, Chinese or Peter Pan, each could look equally spectacular!
Beyond salwar kameez which are all-time festive favorites, you could also charm the collar trend in dresses and saree blouses. They can give you a classy retro effect, especially in off-shoulder and halter avatars. The collared Nehru jacket again needs no explanation. It's the classic piece that goes in sync with both casual styles and the red carpet look. The jacket can be paired with a cotton shirt or silk kurta. Pair it with a vibrantly print tee shirt, for a sporty look.
Talking of the bandhgala jacket – those famed threads of royalty that have moved from runways to everyday closets. You can give it your own spin with colors, textures, cuts and styles, but remember to keep the look classic. Club the outfit with slim fit trousers, cuffs and scarf to make heads turn at the Navratri party.
So ladies and gentlemen, collar up this festive season.  Stay fashion forward and how!
Categories: Ethnic Alley