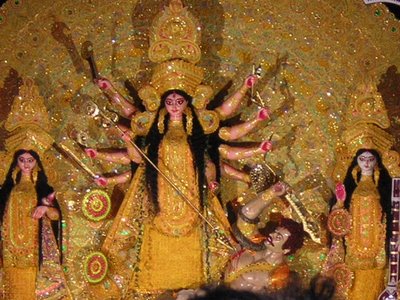 Durga Puja
Durga Puja is a festival which defines every grain of the culture in Bengal. It is a culturally rich festival with women wearing traditional sarees in Bengali style drape and men wearing Dhoti Kurta. This festival is also associated with Dussehra in states other than Bengal.
Background
According to the Bengali dialect, Durga Puja is also referred to as 'Durgotsava' and even 'Sharadostav' in certain traditional places. This originality of the festival goes way back to the mythological era which has etched the triumphant moment of Goddess Durga over the evil who blends a half demon and half buffalo, known as Mahishasura. If we trace back to the pages of history, it was during the British period that this festival got patronized. The post-independence era marked rapid increasing popularity of this festival which majorly made it one of the largest rejoiced festivals not only across the Indian Nation but also across the globe.
Style and Attire
The entire region of Bengal comes to a halt, with the whiff of Durga Puja. Basically the occasion of Mahalaya gears up the mood of the People in Bengal, as this occasion marks the oncoming arrival of Durga Puja, which is followed within a span of few days. Elaborate structures made of cloth and Bamboo are artistically built. Houses are wonderfully decorated with lights and flowers.
The traditional outfits worn during the period of Durga Puja, makes each and every person a show stopper. On this day men and women are dressed in Pure Indian costumes, which are ethnically created precisely suiting the occasion. Beautifully embroidered and zari work saree and ethnically soaked Kurta Pyjamas are donned by men and women of all ages.
Different shades, colors, and textures of saris are woven especially for this festival. The sari fabrics range from silk, Bengali tant cotton saris to exotic and vibrant Georgette sarees that are aesthetically glamorized with beads, sequins, Resham and zari. The most popular and hot selling colors during this festival are radiant shades of maroon, gold, teal, mustard yellow, red, and orange. The accessories worn on these days range from exotic gold jewelry to innovative Kundan and pearl ornament sets which enhance the appearance even more.
Present Day Scenario
Although years have glided by, this festival has retained its ethnicity among every passing generation. Even today, this festival is traditionally split in 5 enjoyable days. Each day has its own set of customs, which are ritualistically followed. Entertainment, preparations as well as the spirit of bonding is at its peak during this occasion. People enjoy the very famous 'pandal-hopping' as they get to witness creative styles and patterns of different built structures. Even today, this festival sets aside all professional schedules apart, by creating some quality time to be spent with family and friends.
References
Categories: Festivals, Weddings & Festivals