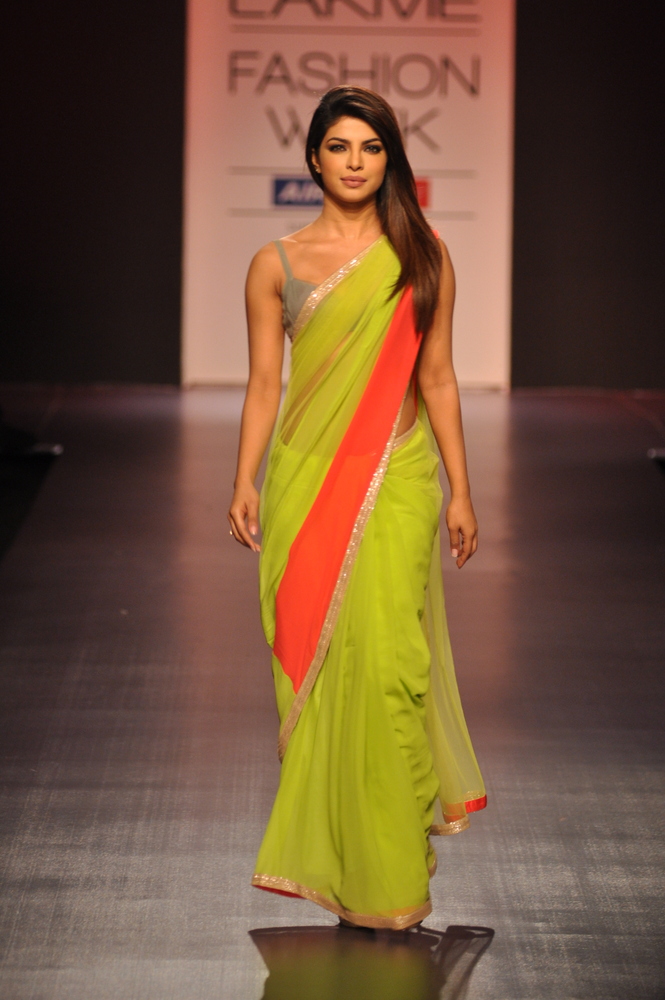 Neon Sarees
The latest hues from the color palette to have taken the Indian haute couture by storm are the use of eclectic neon colors in saris. Neon hues give sarees a fresh, peppy look, otherwise generally cast off as 'traditional' wear. As far as neon saris are concerned, some of the popular colors from the color palette include pink, lime green, yellow, blue, orange, light purple and bright poppy red. Neon saris, for the most part, look great on Chiffon fabric, though designers are experimenting with cottons and chanderi silks as well. Many celebrities have donned the neon saree to great effect on runways and social gatherings.
Background
The neon drape has ruled style charts of late. A lot of fashion events were influenced by neon colors in the showcased collections. From kaftans to shirts, sarees, all outfit styles embraced this chic color. Moreover, the current neon trend has engulfed Bollywood movies and fashion as well. And this has widely influenced the masses to incorporate the vibrant hues in their closet.
Making a Style Statement
The most popular trendsetter of the season, when it comes to the neon-hued drape, is Deepika Padukone in her lime green Arpita Mehta sari which she had sported during her Chennai Express promotion. The Vogue fashion director has largely admitted that 'neon is huge' as she styled Deepika for her promotional stints. In fact, a hint of neon is very popular in ethnic wear as well, be it a lehenga or a sari. Although neon has just caught on this season, it is, however, ironical that Marathi women in local Mumbai markets have commonly been seen wearing neon colored saris for quite a number of years.
Another fashionista who has experimented a lot with the neon sari, is Sonam Kapoor. She was the first to don Masaba Gupta's neon sari collection under Satya Paul. She was later seen sporting it during the Delhi Fashion Week this spring wearing a neon lipstick print sari and a contrasting Peter Pan collar blouse. Other popular actresses who have sported neon saris designed by Manish Malhotra with great panache are Kajol and Priyanka Chopra.
The bright neon trend has perhaps lasted the most, and has been the trending style statement throughout the festive season for the last few years. In fact, this trend started off with Manish Malhotra's '100 Years of Bollywood Collection' during the Lakme Fashion Week last year with Priyanka Chopra sporting a neon lemon green chiffon sari. This fashion statement was later styled and given a different look altogether by Masaba Gupta who added her lipstick, camera, cow prints to add on to the quirkiness of the colors, and give them an ethnic twist, unique in its own way.
Innovations
Neon saris for the most part look great on Chiffon fabric, but several designers have also used different textures and threads to bring a unique finish to bright hues such as yellow, pink, green, blue, and orange. Silk and Cotton are also popular fabrics which are used to flaunt these candy popping neon colors. Women opt for different fabrics depending on the season as well.
During winters women like to go for the rich Chanderi silk neon sari, while for Summers younger women like to flaunt the colourful chiffons which are light and easy to drape and carry as well. Cotton is also a sober choice for those who like to keep the tone of their look more neutral than bling. In fact, popular political entity Sonia Gandhi has also been seen sporting a bright lime green and pink neon sari.  As far as neon saris are concerned, some of the popular colors from the color palette include pink, lime green, yellow, blue, orange, light purple and bright poppy red.
Global Appeal
Bollywood has been besotted by the exhilarating neon shades and actresses from Madhuri Dixit to Kareena Kapoor have at least sported the 6 yards neon at least once. In fact, Kareena glorified the bright hues in her song 'Halkat Jawani'. On the other hand, Madhuri Dixit added more zing to the popular Indian dance show 'Jhalak Dikhla Jaa' with her neon saris. Sonakshi Sinha showcased a lot of neon hued saris during many events.
Besides Bollywood, the 'mango republic' has also caught on to the neon frenzy as weddings, special events, and other occasions had many women sporting neon saris. The entire range of neon has essentially been the palette of Indian fashion in the last few years and continues to reign!
References
Categories: Ethnic Innovations, Outfits