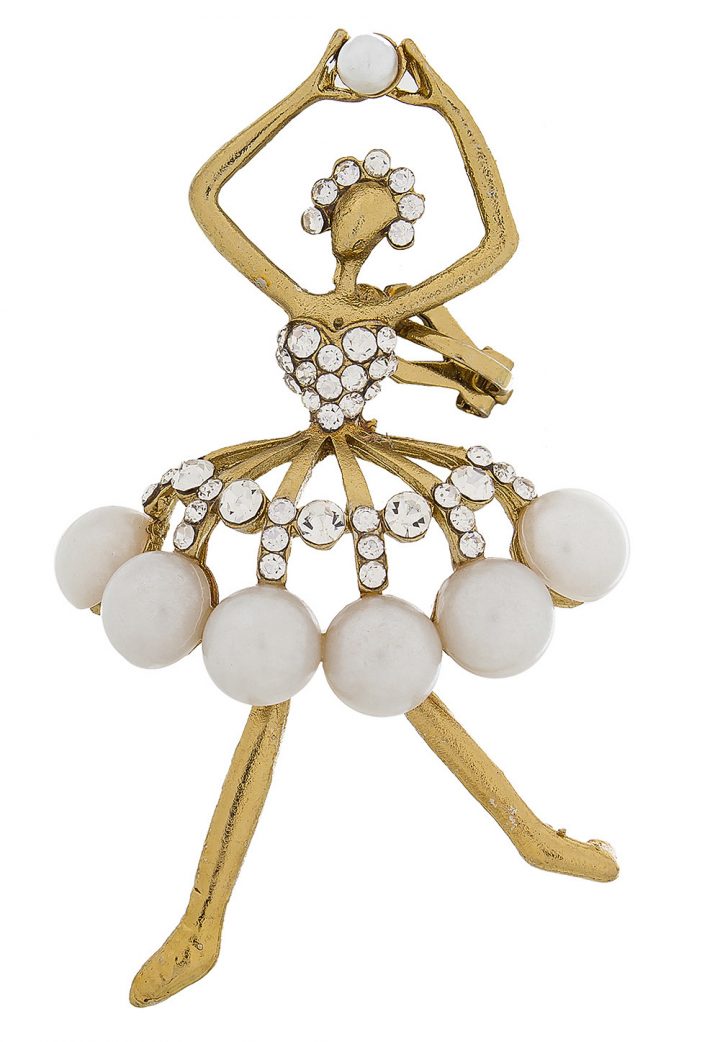 Ear Cuffs
Ear cuffs are large earrings that extend beyond the ear lobe to the upper part of the ear, usually fitting around the outer rim of the ear. They have been around for many centuries and are considered traditional jewelry pieces in many cultures. In India, they are worn to this day in a traditional context and come in many regional designs and variations. However, in the last few years, ear cuffs have become a very popular western accessory. They have been frequently worn by celebrities and fashion models and hence are associated with cutting edge, high end fashion.
History
They were called by many other names in ancient cultures, but the most popular in Asia and the Middle-East was the 'kaffa'. In India this piece of jewelry was usually quite elaborate and hence worn for weddings and festive occasions.  Expensive ear cuffs were worn mainly by upper-class and/or wealthy women since they were usually made with precious metals and fine stones and designed with intricate patterns, while other women wore simpler and unadorned varieties.  Large and heavy ones were considered a staple part of bridal sets; on the other hand, in certain regions like Kashmir and Maharashtra, ear cuffs were common even for daily wear. However, they largely fell out of fashion in India and other countries in the last century and were typically only worn for traditional occasions where ethnic dressing was compulsory.
The turnabout came with the Rodarte sisters' Spring 2013 collection, in which the models sported westernized ones are made of metal. This started the trend of ear cuffs which in a sense stayed much beyond its season, influencing a revival of the traditional and ethnic varieties and encouraging the development of funky and innovative new designs.
Style and Variety
The design varies vastly depending on the type of earring it is. In ethnic fashion itself ear cuffs can be made of all types of materials, from precious metals like gold and silver to the more affordable oxidized silver or plastic. The most distinctive looking options are the bridal cuffs, which are usually made utilizing traditional Indian work like Kundan, Thewa, Meenakari or Polki and hence are quite large and heavy.
They have a unique design, hanging from the tip of the ear too well beyond the ear lobe, or connected to the nose-ring and/or to the hair. These types of lengthy chains or connectors were required due to the weight of the pieces which made them difficult to carry just on the ear lobe or ear rim. Another distinctive variation from India is the Kashmiri earring, which consists of a chain connecting two different pieces, one on the ear lobe and the other at the tip of the ear. Indian ear cuffs also come with typically ethnic motifs of leaves, flowers, peacocks, fruits, paisley and so on.
Nowadays the design is quite different, especially in the most western style. These can be worn even by those with a single piercing since they are designed to snugly fit around the ear and do not require an extra ear piercing. They also come with simpler, stud-like designs, abstract geometric shapes, animal motifs or human figures. They are made of bronze, silver or gold and can be set with diamonds, pearls, beads and precious stones.
Present Trends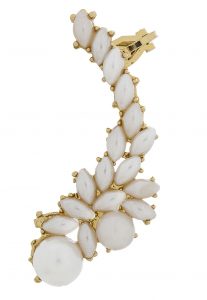 Ear cuffs have come back into prominence in a big way, with both traditional Indian designs and the modern western variations being spotted at various red carpet events and in fashion magazines. In particular, mythological animal motifs such as dragons have become very common. The more exclusive designer varieties are usually more edgy and bold, incorporating metallic spikes, twisted designs and intricate diamond patterns.
 Today, they are often worn as stand-alone pieces rather than as a part of a set. At the same time, the emphasis is on eye-catching designs and funky patterns rather than heavy set decorations of jewels and pearls.
Global Appeal
They have become immensely popular around the globe, largely due to western fashion designers and Hollywood actresses repeatedly embracing this accessory.  In fact it was the international popularity of the ear cuff that also led to an Indian resurgence of interest in the more ethnic varieties which have been around for many centuries. They are now commonly accepted western fashion accessories, which are usually worn as a part of a more edgy or funky look.
Wearing the Attire
It can be worn with almost any type of outfit, Indian or western, depending on the design. The immense demand for this product has led to the creation of different types for almost any occasion. However, when styling with ear cuffs, it is essential to keep the hair drawn back from the face, so as to ensure maximum visibility for the accessories. They can be matched with other Indian jewelry pieces like mang tikkas, bangles, rings and anklets, as well with simple western pendants or bracelets.
The diamonds and pearls varieties are best suited for more formal occasions, and the larger ones can even be worn as stand-alone jewelry, while the simple metallic chain ear cuffs or colorful beaded ear cuffs are usually worn with more casual outfits.
Trivia
Indian ear cuffs are called Kaanchan and usually come with leaf, peacock or flower designs.
Ear cuffs were very prominent in pop and punk culture in the 1980s and '90s, but those were very different in terms of design from the ear cuffs seen today.
Many celebrities from Hollywood and Bollywood have been seen wearing ear cuffs, including Blake Lively, Jennifer Lawrence, Vidya Balan and Sonam Kapoor.
Categories: Accessories, Ethnic Innovations