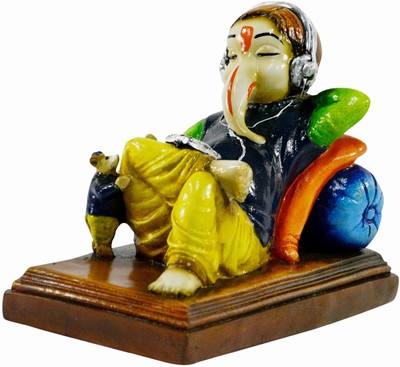 Ganpati – The Lifestyle God
Introduction
If, astonishingly enough, you are unaware of Lord Ganesha, he happens to be the Hindu deity who resembles an elephant, but, with a human body. Lord Ganesha, in his primeval Omkar form, is considered to be 'swayambhu'; literally meaning "the one who just is". Many devotees of Lord Ganesha believe that he is the one who creates himself and pervades everything, everywhere.
It is said that Lord Ganesha is omnipresent; and if you look closely, he can be found everywhere. An old trunk of a tree appears to have a bent branch, creating an elephant-head like formation and people travel miles to behold the sight of divine Lord Ganesha. In the century that we currently exist in, however, the impact that Lord Ganesha has had on the Modern World has often been over-looked. We have incorporated our beliefs in our modern and monotonous lifestyles, regardless of the fast moving pace of development around us.
Origin And History
According to Hindu mythology, Lord Ganesha was created by Goddess Parvati when she was furious at her husband Lord Shiva for having invaded her privacy when she was bathing. She took some turmeric paste (for bathing) off her body and as she breathed life into it, she created Lord Ganesha and declared him to be her own loyal son. But Lord Ganesha owes his elephant-like head to his father, Lord Shiva. One day Parvati posted Ganesha on guard duty at the door while she took a bath. In due course, Shiva came home, and found a strange boy telling him he couldn't enter his own house! An angry Lord Shiva ordered his army to kill the boy, but they all failed!
Surprised, Lord Shiva realized that he was no ordinary boy; the usually peaceful Shiva decided to fight him, and in his divine fury, severed Ganesha's head. Upon learning this, an enraged Goddess Parvati, at the blatant insult by her husband, decided to destroy the entire Creation! Lord Brahma, being the Creator, pleaded with her to reconsider her decision. She agreed, provided that two conditions were met: the first was that Ganesha be brought back to life and two, that he be forever worshiped before all other gods.
Realizing his mistake, Lord Shiva agreed to Parvati's conditions. He sent Lord Brahma out to bring back the head of the first creature he crossed lying with its head facing north. Brahma returned with the head of a strong and powerful elephant, which Shiva placed onto Ganesha's body. Shiva declared Ganesha to be his own son as well, bestowing upon him the status of being foremost among all gods, and the leader of all the ganas (classes of beings), Ganapati.
How has Lord Ganesha impacted the Modern World?
Many worshipers claim to have chanced upon a Rudraksha, some precious stone or beads, bedside rocks, coconuts and even carrots, apart from other everyday use products, with an elephant-head like shape or formation on them. Regardless of the urgency to use the product, worshipers would consider it a miracle or a blessing from their favorite god and store it as a keepsake in their house. The omnipresent Lord Ganesha has impacted the World in more ways than one. His devotees have found abstract new ways of expressing their devotion and love for Ganapati Ji.
Jewellery and Ornaments:
Women are often seen pairing printed kurtas with Lord Ganesha's imagery with churidars, or adorning themselves with Ganesha earrings while wearing an indo-western outfit to create a boho-look.
Household Items:
Many online and offline stores offer various decoration items and showpieces with Lord Ganesha's imagery; some even avail products customized according to the customer's requirements.
Clothing and Accessories:
We've all passed by someone carrying a bag or wearing a t-shirt with Lord Ganesha printed or embroidered on it. A new trend of bandanas with Hindu deities printed on them has also gained a following in recent months.
Movies:
The new trend of animated movies based on Hindu mythology is one consequence of mixing religious beliefs with modern ways of recreation. For example, the movie titled 'Bal Ganesh' is a favorite among kids, who're often found humming its songs.
Mobile Applications and Games:
Rapid advancements in modern technology has made it possible for devotees to pray on-the-go without carrying prayer beads or Ganesha ornaments – all thanks to smartphones and mobile applications. Not only would you find Ganesha prayer applications and PC video games online, but there is a wide variety of mobile and laptop covers available with Ganapati prints as well!
There used to be a time when devotion meant going on long journeys across nations or states to pray and donate food/clothes; today, people  carry their favorite God in their pockets, or wear them as they're dressing up for the day. It seems that no matter how practical we get in life, devotion always transcends technology.
Interesting Facts:
Lord Ganesha has an elder brother Kartikeya, who is better known as the God of War and Victory.
Once, while obeying his father Lord Shiva's orders to guard him from distractions, Lord Ganesha broke his tusk because Parashurama – a friend of Lord Shiva – threw an axe at him upon being stopped from entering their house.
Lord Ganesha's birthday is celebrated the world over. The name of this major festival is Ganesh Chaturthi.
References
Categories: Cultural Connections