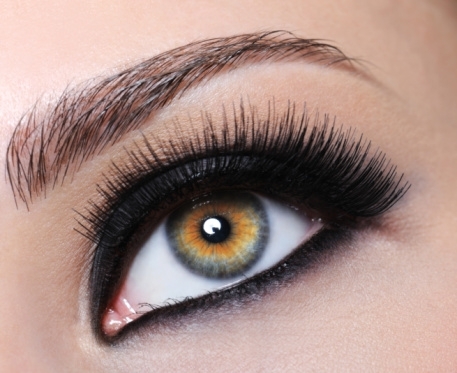 Kajal
Kajal is traditionally made by mixing galena (lead sulfide) and other ingredients, giving it the deep black color. Synonymous with beauty and mystery, Surma (Soorma) Kohl or Kajal have defined and transformed the women's makeup arena for centuries. A staple cosmetic for almost every women, Kohl or Kajal and Soorma as it is known in India, has held great importance for women of all ages and from all kinds of cultural backgrounds. Regardless of whether a woman knows how to do make up or not, a kohl pencil or kajal has always been a part of enhancing one's look. With just a few strokes it makes the eyes more charismatic.
Origin
The term kohl has been derived from the Arabic name 'Kuhl', and has Biblical references in Hebrew as well. Even though the terminology for kajal has an Arabic origin, this substance was first used in Egypt during the Protodynastic period in 3100 B.C. Kohl was used by ancient Egyptians as a form of adornment for the eyes, and also as a cure for any eye ailment. They believed that Kohl could protect the eyes from the harsh sun rays, and therefore large amounts were used to line the upper and lower lash lines. This was known as 'Galena eye paint'. Apart from being widely used in ancient Egypt, Kohl was also used by several African tribes, who used it not only for their eyes, but for drawing distinct lines around the forehead, nose and other body parts as well.
In South Asia and in particularly India, kohl has several other terms as well, depending on the region, state or language. In Punjabi and Urdu, it is known as 'Surma', in Malayalam is it called 'Kanmashi', 'Kaadige in Kannada, in Telugu it is Kaatuka, and in Tamil it is known as Kan Mai. For most Indian women, kohl or kajal is a makeup accessory used to beautify the eyes, however in some cases, it is also used as a dot around the children's neck in order to protect them from the evil eye. Apart from cultural and religious significance, kohl has always been a predominant part of various Indian dance forms and their attires. Bharatnatyam and Kathakali dancers have since time immemorial used kohl to heavily line their eyes and make them appear larger.
The Making
A lot goes into the preparation of a soorma and for centuries the same practice has been followed for the most part. A white, thin muslin cloth is first dipped into sandalwood juice, which is then left to dry in the shade. The cloth is dipped and dried in the sandalwood juice several times throughout the day. Following this procedure, a wick is made out of the cloth which is then used to light a lamp made out of mud and castor oil. A vessel made out of Brass is kept over the lamp with a little wide gap left open in between. The lamp is left burning overnight, and the following day a few drops of ghee or clarified butter are added to the soot left at the bottom of the lamp. This mixture is then placed in a clean and dry box, and is ready to be used.
In today's day and age however, kohl has been refined and redefined in several ways, and one can easily find ready-made kohl pencils in the market, which come in various styles, as well as colors. One can find kohl in the form of pencils, chubby sticks, powder, gel, and even in liquid forms. The most common form, however, is that of the pencil, which nowadays comes in two styles: the ones that can be sharpened, and the ones that can be twisted in a retractable form. The prices differ according to the brand, and the style.
Trendsetter
For Indian women, makeup is incomplete without the use of a kohl pencil or kajal, and several makeup artists have come up with new and innovative ways in which one can use kohl and make the eyes look more expressive and beautiful. Moreover, several Indian film songs have celebrated the beauty of kohl and its importance in women's beautification process. Popular Indian film actresses like Kareena Kapoor, Rani Mukherjee, Aishwarya Rai, Bipasha Basu, and Sonam Kapoor have been known for their use of Kohl pencils and dark eye makeup which has become a benchmark for Indian fashion and style.
Innovations  
Over the last decade or so, kohl eyeliners have been used for various types of eye makeup. From simple to the more dramatic kind, a kohl pencil can be used to achieve any and every kind of eye makeup technique. The most popular way of applying kohl is the tight lining effect where the eyeliner is used against the water line right underneath the lashes of the upper eyelid. Apart from this, the winged-eye technique is also very popular, especially amongst young girls who love to flaunt this look with red or neutral lip colors which give off a more vintage and retro look.
Global Appeal
Several international makeup brands like Chanel, MAC, and Bobbi Brown have popularized the term 'kohl' in their eye liners by naming them 'kohl eye pencils'. In addition to that, several international celebrities like Selena Gomez, Amanda Seyfried, Kristen Stewart, and Cameron Diaz have sported the intense kohl look on several occasions.
Accessorizing
Kohl eye makeup can be accessorized with several other embellishments like glitter or glitter particles. These days, one can buy kohl pencils which have shimmer added to them and provide a more glossy looking style for the eyes. One can also smear a little bit of kohl on the eye lids to achieve a smoky eye look.
Suitability
Kohl eye makeup looks great for weddings, parties, and even religious occasions. One can use little or more depending on one's personal preference or the event. Kohl also plays an important part in a bride's makeup routine as it is combined with rich colors of eye shadows and mascara.
References
Categories: Cultural Connections, Traditional Practices