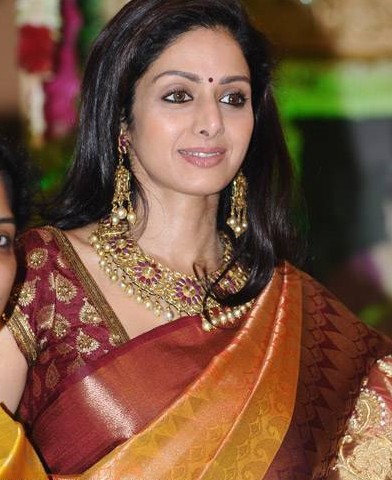 Sridevi
The hawa-hawai girl, who catapulted the centre stage of Indian sensuality with her gorgeous number in Mr. India, dressed in a sheer sari, delivering a beauty never seen or heard before! Sridevi Kapoor is tagged as one of the most gorgeous actresses of Bollywood, an icon of Indian ethnic fashion. Her panache and confidence has won many hearts. She rocked the 80s with every onscreen and off screen appearance. With her bright colour chiffon saris to western outfits, she carries it off with ease and grandeur.
Fashion Styles that Became a Statement
No star is truly a star till he or she manages to stand out. Sridevi was one actress who managed to create a following with anything that she did – be it her dance ,her expression or her outfits. While the actress definitely made a mark with her acting, what she is renowned till date is for her unmatchable sense of style.
In the 80's when Indian fashion industry was gaining momentum, Sridevi was one of the early adopters of new fashion trends. Her favourites in the early 80s were A- Line frocks, skirts and blouses, which became popular picks for the commoners looking for fashion clothing.
No one filled a chiffon sari on screen quite like Sridevi. Clad in chiffon saris, she would mesmerize the people and her audience. She brought to the fashion industry and to people alike a whole new outlook towards wearing these chiffon saris.
She wore a blue number in the popular Bollywood song 'Kaante' from the movie Mr.India, and to add to the raunchy appeal of the song, the attire clung to her hourglass figure in the romantic rain. The red chiffon sari that she wore in 'Janbaaz' gave her the Diva look.
Although she mostly wears heavily embroidered saris now, her love for Chiffon saris has not diminished. She mostly chooses to wear embroidered and heavily embellished sari's and suits by various Indian designers and carries it off effortlessly.
The Trendsetter
Anyone who has watched the movie 'chandni' would remember Sridevi for her multifaceted screen presence and her beautiful white chiffons. Sridevi's iconic 'Chandni Look' revolutionized fashion in North India. She could slip into every possible design of Indian ethnic wear whether it is a saree or a salwar kameez. She is a designer's delight.
With charm and charisma oozing from every move that she made, no doubt she was considered the 'style diva. The fashionable Lehriya Dupatta and SKD became exceedingly popular all because of the way she flaunted it on the big silver screen.
Her roles in movies short at south India carried her out well with Kanchipurams. As seen her lately in English Winglish, the simplicity of Sridevi reflected gorgeously in dual-shaded Kanchipuram Sarees.
Who else adorned it?
Popular by choice, the sari is a favourite of a number of celebrities who are born and brought up in the western lands. Those who have been amused and seduced by the beauty of the fabric have embraced it by giving it their personal touch. Out of the innumerable global celebrities a few names that have draped the sari include Angelina Jolie, Elizabeth Hurley, and Paris Hilton.
Varieties
With the kind of variety that Indian couture like saris and suits nurture, it becomes 'knotty to figure out which one stands-out. Variations in the chiffon sari arise from the kind of fabric mixed in pure chiffon to create different textures. From chiffons to silk to cotton to georgette, you name it and it is there. The designers today have created a plethora of variety when it comes to saris. From floral prints to stripes to animal prints, and then back to the basic colors of white, red, blue, green, and black, the variations in chiffons can be seen everywhere.
A drastic variation can also be seen in the way that the sari is draped. Chiffon as a fabric is also being used to manufacture long royal looking Anarkali's or the neon colored chiffon suits. The women in the country today are experimenting with it all keeping in mind that its grandeur and grace does not fade away.
Adding to the Wardrobe
Kanchipuram is coming back in trend to all the young college going crowd and could be seen as 'Dress of the Day' for all ethnic gatherings, Graduation day, etc.
Chiffon sari was patent drape for Sridevi, as seen her in Bollywood, Sandalwood, other regional films, and she definitely pushed the pulse among the Indian women to go head and chose the same for themselves. These Chiffon sarees can be worn to a light wedding, where you don't feel like overdressing or a dinner date with your husband, and could be accessorized well with pearl or silver jewelry.
Reference
Categories: Bollywood & Beyond, Indian Cinema