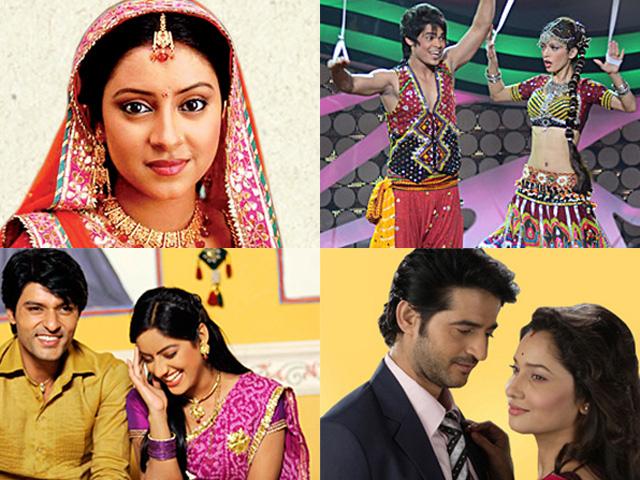 The Indian Daily Soaps
A recent Page 3 news: "Girls overcrowded Neeta Lulla's Designer Outlet to buy Drashti Dhami's Lehenga in Madhubala."
There isn't a doubt about the fact that with a cable connection and a television set, daily soaps are not just entertaining us, but also creating indelible imprints on our mind in terms of customs, traditions, and clothing. In the current times, fashion is ruled by Anandi's traditional Rajasthani Chaniya Choli, Sanaya Irani's mismatched colored suits and Jennifer Winget's mid riff baring simplistic Lehenga.
Origin and History
The whole country went hysterical when the on-screen death of 'Mihir' was portrayed in popular television soap opera, 'Kyunki Saas Bhi Kabhi Bahu Thi.' But daily soaps have impacted Indians long before this soap opera started airing on Star Plus.
It all began with 'Hum Log,' a story about a middle family and their acquaintances, which began airing on Doordarshan in the 80's. The television show, when it was aired for the first time connected millions of viewers, who in turn shared the joys and heartbreaks of the characters. Over the years, television shows like 'Ramayana' and 'Mahabharata,' managed to strike a chord with Indian audiences that reveled in their culture, customs, religions and values. Now, more than two decades later, daily soaps still rule Indian life, with dominating women who put their values, customs, traditions and ideals on display.
Present Scenario
Presently, daily soaps have ensnared Indian audiences who glue to their television sets at exactly 8 PM or even an hour earlier to watch the lives of television characters unfold. Most of them consider these daily soap characters to be a part of their lives, calling them with their 'character' names rather than original actor/actress's names and taking exceptional interests in their way of life. With almost all serials dominated by women, most of them are adjudged as 'Saas-Bahu' dramas with an ideal female protagonist, a 'vamp' or antagonist, a lowly husband and a big business empire.
Innovations
Currently, a number of daily soaps have ditched the regular sagas and transformed the image of television industry by taking in bold themes or giving a contemporary twist to romance. Such television shows are taken well by young Indian females who easily relate to the characters or inspire themselves with the ways in which these characters deal with different situations in their soap opera lives. They have also changed fashion style, bringing suits and saris back into the urban market.
Daily Soaps and Their Impact
Daily soaps definitely leave an ineffaceable imprint on the minds of the audiences, especially females who now look forward to the changes in the lives of television characters. From Tulsi to Parvati to Ballika Vadhu's Anandi, every character manages to cast impression on their minds. But perhaps, this biggest contribution of television is altering clothing styles as well. Although, in most of the countries fashion is defined by movie celebs, here fashion is defined by Neeta Lulla's designer Lehenga that Drashti Dhami wore in 'Madhubala' or the designer outfits that Sannaya Irani wears in 'Chanchan.'
In fact, people are so obsessed with what daily soap actresses and actors wear that there was a time when women only preferred long 'bindis' with elaborate designs like snakes because popular actress/dancer Sudha Chandran wore it in her television series. Suits, especially of the Anarkali kind have become quite popular now. And though most of them love the style of protagonists- their colorful saris in red, blue and pink or mismatch suits with long straight hair, females generally opt for designer sarees and low cut blouses along with stone accessories and curled hairstyles that vamps wear in these daily soaps. Zari Sarees and elaborately embroidered saris have become popular in day to day life only because daily soap protagonists wear them regularly.
Indian soap's most popular vamp Komolika from the serial 'Kasauti Zindagi Ki' brought the sensuality back in sari with her modern twist of wearing tube top, and backless blouses. Moreover, her style of wearing dramatic eyeliner and bindi also became very popular with women of the younger generations.
Global Appeal
Daily Soaps from India have been high on demand in countries like Pakistan, Bangladesh and Sri Lanka. These soaps are also popular in countries like Maldives, Malaysia and Russia. Daily soaps are also quite well known among Indian sub-continent communities in countries like USA, Canada and UK.
Interesting Facts
Daily soaps that have featured high class Gujarati families have been quite popular, including shows like 'Kyunki Saas Bhi Kabhi Bahu Thi,' and 'Sanskaar.'
Stretched and common storyline is responsible for decline of several popular television shows.
In daily soaps, the difference of dressing between protagonist and antagonist are depicted clearly. Generally, vamps have more glamorous and stylish dressing styles while protagonists are shown with simple saris, and pallus that cover their head.
References
Categories: Bollywood & Beyond, The TV Show