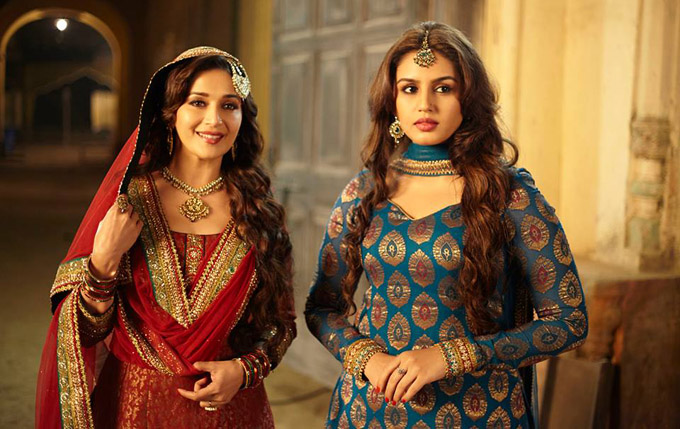 Indian Fashion Inspirations From Dedh Ishqiya
Dedh Ishqiya is a 2014 Bollywood movie starring Madhuri Dixit, Naseeruddin Shah, Arshad Warsi and Huma Qureshi, directed by Abhishek Chauhan and produced by Vishal Bharadwaj.
The movie follows the lives of two con-men as they get entangled with the fortunes of the beautiful, widowed Begum of Mahmudabad and her mysterious assistant, Munniya. The film falls in the comic thriller genre but can also be considered a costume drama because of its complete immersion in the Nawabi culture and the large amount of time and money spent in achieving the right look for the characters. It was a box office success and an instant hit with the critics. The costumes and styling in Dedh Ishqiya were widely appreciated. In particular, the costumes of the character 'Begum Para' played by Madhuri Dixit proved extremely popular and inspired many trends in the world of Indian ethnic fashion.
Background
Dedh Ishqiya is a sequel to the 2010 movie Ishqiya, and continues telling the story of Babban and his uncle, two bumbling but lovable con-men who mix their romantic adventures with daring and sometimes comic capers. Dedh Ishqiya received an overwhelmingly positive response from critics and viewers and was highly praised for its razor sharp dialogue, deft direction, smooth story-telling and authentic depiction of the Nawabi culture in India. Many critics pointed out that the styling of the film is crucial to the creation of this authentic atmosphere and many of the costumes thematically resonate with the complex emotions of the characters wearing them.
Sources of Inspiration
In Dedh Ishqiya, the costumes are just as much a part of the story as the plot and the direction. The makers of the movie wanted the costumes to be authentic representations of Nawabi culture so that viewers could be completely immersed in the royal and regal styles of the Mughals. Moreover, Dedh Ishqiya also places a lot of emphasis on creating an aesthetically pleasing dynamic for every scene and as such the costumes are also selected to fit in with the setting and elevate the atmosphere of the sequence playing out.
The Making
The costume designer for Dedh Ishqiya was Payal Saluja who has won many awards for her costume design for other films. She spent many months searching the streets of old Delhi and the boutiques of Lucknow to find authentic and beautiful Mughal influenced costumes that would resonate with the Nawabi theme of the film. According to Saluja, every costume worn by Madhuri Dixit was customized for her by expert tailors and craftsmen so that her character, the Begum, could look as authentically regal as possible. Saluja specifically selected the richest of brocades and most visually appealing jewelry to make the styling of the characters as artistic as possible.
Styles and Attires
A large portion of Dedh Ishqiya is set in the royal court of Mahmudabad and many of the principle characters are (or are pretending to be) of aristocratic lineage. Therefore various rich textiles like brocades, muslin, satins, silks and nets are used, along with rich regional embroidery styles and regal silhouettes. The women wear many traditional Islamic outfits as well as typical Indian garments, while men wear the typical costumes and accessories of wealthy Muslims. Each character in the film has a unique sense of style and certain memorable costumes that stand out.
These are some of the unique looks sported in the film:
1) Madhuri Dixit plays the character of Begum Para, the wife of a deceased Nawab who is now looking for a new husband. Her character is ornately dressed up in monotone outfits, almost always, with detailed embroidery, zari and zardozi work borders and heavy jewelry.
She is also seen wearing lesser known ethnic outfits like the sharara, a long trousers cum pants outfit worn with a longer kurta like blouse as well as the gharara, a two piece outfit consisting of a long kurta and a long skirt. She is also shown wearing a beautiful and elaborate dupatta drape over the head to befit her status as a Begum.
She has several outstanding looks in the film, including the pale pink Chikan work saree worn during the shooting competition sequence, the champagne and gold colored anarkali paired with a navratna haar (9 stone necklace) and worn in the song and dance sequence Jagaave Saari Raina, the black Chikan work kameez paired with the Banarasi brocade lehenga worn during the song Hamari Atariya Pe and the unconventional bridal gharara featuring heavy brocade fabrics in shades of green, red and gold. More often than not Begum Para is seen wearing classic cuts and complete joras or sets with matching top, bottom and dupatta.
2) Huma Qureshi plays the character of Munniya, the smart and beautiful assistant of Begum Para.  Her character is also seen dressed in heavy and beautiful royal fabrics but the style is somewhat simpler with a few modern designer elements incorporated to reflect her youth. For instance, though she wears an anarkali salwar kameez in almost every scene, Munniya often opts for layered brocade sets with thin net and tissue dupattas that allow both the brocade and her figure to be highlighted beautifully.
Both Munniya and Begum Para are seen wearing many ensembles featuring chikankari work from Lucknow which is a very delicate and feminine form of embroidery. While Begum Para incorporates it in her blouse or in the entire garment, layered over silk or satin, Munniya wears Chikan embroidered sleeves which adds an element of sensuality. Munniya is also seen wearing bolder colors like red, blue and purple with rich gold work and zarodzi borders.
3) Naseeruddin Shah plays the role of Khalujan, a conman with a heart of gold posing as a Nawab. His nawabi clothes include both simple and ornate outfits. For instance, when meeting Begum Para for the first time he wears a smart, tailored black sherwani with a high collar and a Jinnah cap.
On special occasions, the cap as well as the sherwanis worn by the male characters becomes more ornate and rich, made of luxurious Banarasi brocades and paired with Zari work stoles. Khalujan also wears a lot of beautiful shawls made of Jamawar silks and embroidered wool and decorated with Kalamkari work. The use of muted colors also adds to the quiet and mature air of wisdom around his character.
4) Arshad Warsi who plays the character of Babban wears a mix of traditional as well as modern attires. Initially he is seen wearing torn kurtas, old checkered scarves and loose trousers as part of his conman-on-the-run look. Only when he is pretending to be a Nawab, does he wear a rich, silver work brocade sherwani with a Nawabi cap.
Character Styling
Styling is crucial to the film that came to be Dedh Ishqiya, with jewelry playing as important a role as the clothes. For instance, Madhuri Dixit's classic, regal style is completed with heavy but elegant jadau jewelry, traditional jhoomars (side facing maang tikkas) and 3 to 4 piece sets consisting of necklaces, earrings, rings, bangles and/or anklets made of gold. Both Munniya and Begum Para are given a distinctive style in terms of hair and make-up, with long, structured waves and heavy eye make-up done with kohl.
In contrast to this is the character of Babban who is always seen in a dirty and unkempt state, even when wearing a regal brocade work sherwani.
The Trendsetter
In terms of fashion and style Madhuri Dixit is the star of the film. Many of the subtle details of her outfit like the presence of the conservative Mughal jhoomar created an unforgettable look that led to the popularization of Mughal costumes and jewelry amongst the masses.
Interesting Facts
•    The jhoomar or side tikka was considered highly outdated until Madhuri Dixit wore it repeatedly in this film and thus made it trendy again.
•    The traditional textiles, embroidery and embellishments like brocades, Chikan work and zari work are as much seen in the men's outfits as the women's in Dedh Ishqiya
References
Categories: Bollywood & Beyond, Indian Cinema