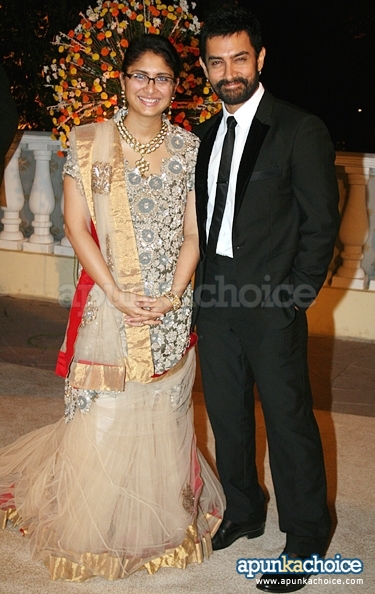 Kiran Rao And Aamir Khan Wedding
Aamir Khan is one of Bollywood's most versatile actors who lives a simple and private life. Married for five years now with Kiran Rao, the couple carries quite a simple attitude towards life.
Both of them have nurtured and enjoyed a love story so simple, engaging and devoid of the usual Bollywood glitters and glamor. They have a love story that defies all odds, a relationship that is intellectual, intriguing and helps both of them broaden their horizons. Kiran Rao, who worked as an assistant director in Lagaan, is known for being a humble, intelligent person. Aamir is a down-to-earth actor and a philanthropist who seeks perfection in everything he does.
Their match is made in heaven, as they complement each other at every step, whether it's in terms of making movies or living their life, and raising their son. Aamir and Kiran enjoy each others' company and they tied the knot half a decade ago on December 29th, 2005 with a simple, solemn ceremony, which reflected the actor's laid back personality and lifestyle.
The Love Story
The brown-eyed hero is known for working in a number of popular, super hit movies. He has shown growth in his career graph, changed his acting skills and developed himself as a method actor. But he admits that he saw the personal and professional peak of his life only when he met Kiran Rao. The actor says that since then, his life never went downhill, as Kiran has been there to support him. Kiran and Aamir started dating during the making of Oscar-nominated Hindi movie, Lagaan. They married almost four years later in a small ceremony on 29th December, 2009. The actor threw a marriage party the following day, which was attended by small, but closely related guests. Time and again, Rao and Khan have mentioned that their relationship is more on an intellectual level, where they guide each other, support and nurture each others' thoughts, feelings and ideologies.
The Wedding
Despite the fact that this couple is one of the most powerful celebrity couples in the industry, they opted for a simple marriage ceremony, which was devoid of glamor, fashion and media hype of Bollywood. The wedding was performed in traditional Bengali style, but didn't see much commotion. A day later, a private function was held at Meherbai House, which is an old Parsi Bungalow in Panchgani area of Maharashtra.
The Bride's Dress
During their wedding ceremony, Aamir and Kiran proved that one doesn't need lavish clothing and designer fashion outfits to look like celebrities. Kiran Rao wore a simple, off-white colored Saree that didn't even have any embellishments or sequins. The golden brocade on the border of the sari, however, gave it a sophisticated appearance. She wore a gajra or flower head gear on her hair bun, black frame spectacles, which are considered to be her favorite and had minimal makeup. She also wore shankha pola (bangles), a traditional Bengali accessory that symbolizes a married woman.
The Groom's Outfit
Aamir Khan, on the other hand, wore a dark grey suit, which worked for his broad physique and made him look taller. The light colored shirt and tie contrasted the dark suit well. Alike his wife, he decided to discard designer outfits and keep it simple.
The Reception Dress
For the reception and after party ceremony, the couple wore brighter but simple, minimalistic clothes. Kiran Rao wore a maroon Silk Saree, with a half sleeves blouse in golden color. The sari's golden brocade and border with maroon designs made her look quite sophisticated and stylish at the same time. Aamir wore a printed black shirt with floral design, a bright purple coat with black borders.
This is how the couple celebrated their simple yet most memorable weddings of Bollywood.
References
Categories: Bollywood & Beyond, Indian Cinema