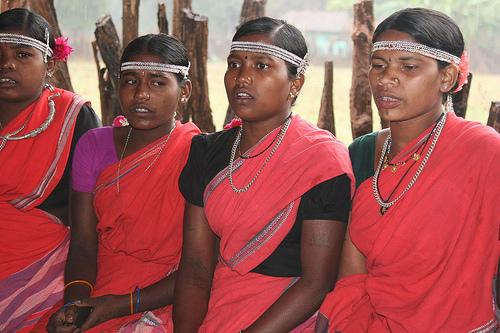 Clothing Style in Chhattisgarh
Chhattisgarh, the 10th largest state of India is rich in culture, heritage, and immense diversity of various ethnic groups. The widespread forests and distinct geographical features are some of the prime attractions inherent to this region. However, what truly adds to the cultural heritage of Chhattisgarh is the presence of several tribal and ethnic groups, especially their creative and unique take on fabrics and apparels.
Origin and History
Kachhora is a typical mannerism in which the tribal women from Chattisgarh wear their sari. This type of saree is made from fabrics like cotton, silk and linen in bright and vibrant colors. The state is well known for its tribal weaving since ancient times, a skill set that had been adopted from the different tribal cultures. It had also taken on various fabric making techniques from its parent state Madhya Pradesh.
The women of Chhattisgarh are famous for wearing `Lugda` (sari) and `Polkha` (blouse) along with attractive ornaments and jewels which was also an integral part of the culture and heritage.
Another prominent fabric making technique which is used worldwide today is Batik, a gift from the heritage of Chhattisgarh. Batik weaving and tie-dye have been one of the prominent techniques of making fabrics in this state. Cloth is tied up firmly with threads and then dipped in multi-colored dyes. This produces multi-color prints; this technique is also called Bandhani and is used to create fabrics all over the world.
The various ethnic tribes that are prevalent in the state contribute immensely in the way the people of Chhattisgarh dress. The bright and vibrant colors used in the fabric and textile of the saris the women wear, and the turbans that adorn the heads of the males are unique and diverse in style and mannerisms that are purely intrinsic to this region.
[youtube]http://www.youtube.com/watch?v=hZnYTo7KPug[/youtube]
Style
It is the tribal wear of Chhattisgarh that bequeaths the clothing of the people of this state with their exclusive identity and style. The women love to dress up and flaunt their tribal designs in their traditional as well as modern wear. There is certain uniformity in spite of the diversity in the way these women and men don their outfits, which makes their traditional attire and culture even more appealing.
Innovations
The men and women of Chhattisgarh have evolved their traditional clothing and imbibed them with the modern take on fashionable attire. The Kachhora style sari which was worn originally by the tribal women is now adorned by the younger generations. It is being printed in fabrics which are easier to handle and are less on maintenance. Batik is now being used on shirts, salwar kameez and various other types of modern clothing as well.
Accessorizing
Women of Chhattisgarh accessorize their clothing and attires extensively. They feel that their attire is incomplete without it. The use of Baandha- a type of Necklace which is made out of coins is a common embellishment. The women also adorn themselves with the following traditional accessories:
Silver necklaces such as 'suta', a 'phuli' as a nose ring and 'bali' & 'khuntis' as earrings.
Ainthi is also used as silver worn on forearm along with Patta.
Choora (bangles) and Kardhani – a belt like object made out of silver is worn around the waist.
Pounchhi, a ring worn on the upper arm
Bichhiya – traditional ring worn on the toe, which is a symbol of marriage.
It's not just the women who love to dress and accessorize their garments, but the men also take a keen interest in various kinds of ornamentation's. The men wear Koundhi which is a neckpiece made of beads and sometimes Kadhah which is a bangle worn during traditional ceremonies and festivals. These accessories and ornaments are symbolic of their culture and tradition.
Global Influence
It's the tribal costumes that attract the designers and tourists worldwide. The art of fabric making is now being used widely. Batik which is a trademark of the state is an art followed by designers. The bright and vibrant color combinations with tribal prints are now a trademark of the fashion industry, just like Batik. The turbans worn by the people of the Chattisgarh tribes is now widely used as a headgear or an accessory by various fashion experts.
Interesting Facts and Comparisons
Chhattisgarh is India's 26th state which was formed out of Madhya Pradesh on 1st Nov 2000.

Chhattisgarh is famous and well acknowledged worldwide for its tribal weaving. It was formerly known as Southern Kosal.
References
Categories: Attires, Clothing Styles & Drapes