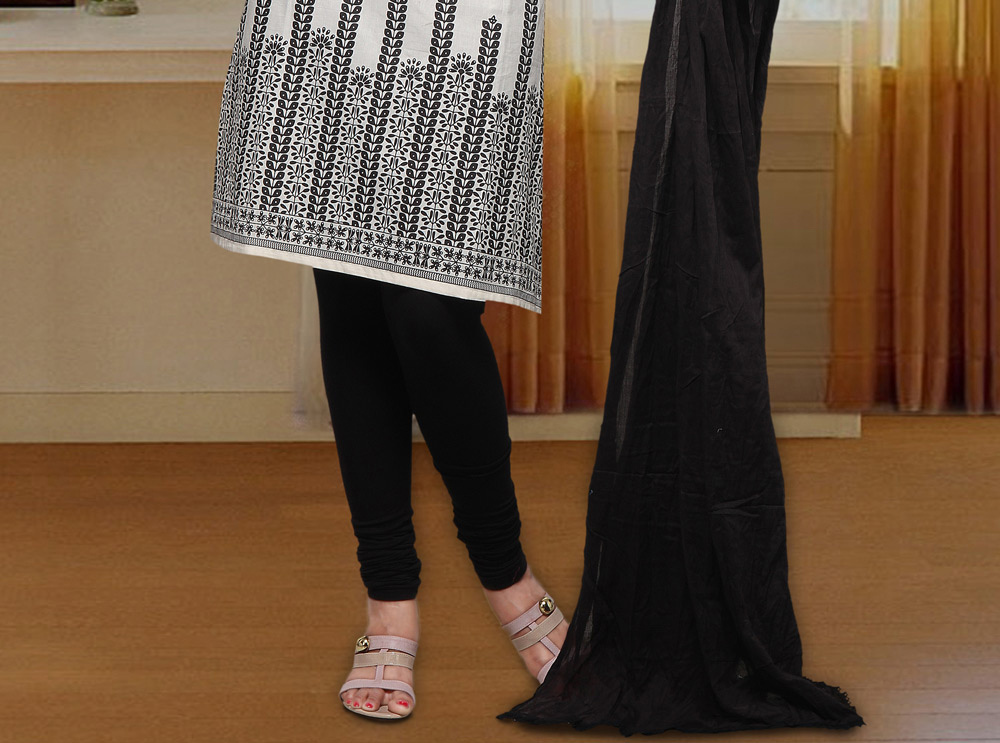 Indian Churidar Suit
Churidar (also spelled as Chudidar, Churidaar) is a tight fitting trouser worn by both men and women. Churidar Pajamas or trousers are longer than the length of leg and are usually cut on the 45 degrees angle to the grain of the fabric to give it a stretchy look. The excessive length folds at the ankles and appears as a bangle (Churi). Thus, it has been named as 'Churidar', which springs from the word 'Churi', an Indian term for bangles. It is usually worn with a Kurta or Kameez or Tunic by women, and men generally wear a kurta with this eternal piece of clothing which has graced all forms of Indian ethnic wear and fashion for centuries.
Origin & History
The word 'Churidar' is a Hindi term, which made its way into English in the 20th century. It is believed that in 19th-century Indian women used to wear a churidar with a bodice and a transparent overskirt. Churidar is a famous dress in Pakistan especially with the people of North Indian origin which includes Pakistani Punjabis and also people who migrated from India to Pakistan in 1947.
Present Day Scenario
Churidar is a common dress of Indian and Pakistani women today. It is a variant of the common salwar pant, so women of South Asia are frequently found wearing churidars with tunics or kurtas. It is also common attire for men these days. It gives a traditional look to the wearer besides being comfortable.
Style & Variety
From designer wear to casual wear, from ethnic to Anarkali Churidar there is a huge range to choose from. The churidars are available in fabrics like cotton, silk, brocade silk, and georgette. Churidars are also available in a variety of colors. One can wear them with any kind of kurta, tunic or shirt. Readymade churidars are also available in different sizes.
Wearing the Attire
Though Churidars are stretchable and close fitted at the ankles, it is one of the most comfortable attires in the world. Even when the wearer is sitting while wearing a churidar, the excessive material at the top of a churidar makes it possible for the wearer to bend legs and sit comfortably. Recalling the retro days, Churidar is perfect for a daily office wear clubbed with long or short Kurta. Usually, Pencil Heels or Flat Slip ons suit the best with Churidar.
Suitability
Though churidar is a variant of the salwar, there are some attires in which churidar cannot be replaced by any other kind of trouser. For example, one cannot wear salwar or any other pant style trouser with an Anarkali suit. The grace of some apparels is due to the churidar pajama.  Even for men, a churidar pajama adds grace to their Kurta. Churidars can be worn as casual wear at home or while going shopping, or they can be adorned to grace any occasion like parties, weddings, and formal events.
Men mostly wear churidars on formal occasions teamed with Kurta or Sherwani, but for women, it is attire that can be worn daily. There is nothing better than a cotton churidar in summers. Initially, one could only find Churidars in plain colors like White, Black or off white, but these days with fashion evolving to greater heights, printed Churidars with special embellishments have become a hot trend in several markets.
Maintenance
The maintenance of a Churidar suit depends upon the fabric used in making it. If it is made up of cotton then it can be easily washed at home but silk churidars and heavy embroidered churidars should only be dry-cleaned.
Refrences
Categories: Attires, Clothing Styles & Drapes