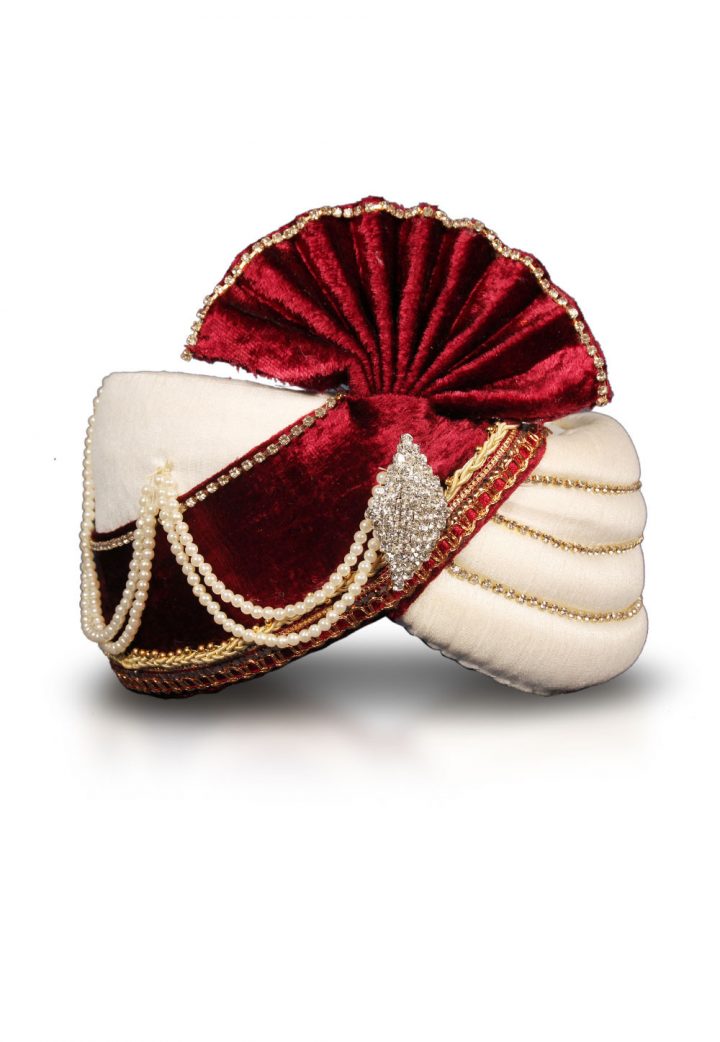 The Traditional Turban From Maharastra – Marathi Pheta
India has been a land of various cultures and traditions which all come together in a distinct, yet unified way. Different turbans and their unique styles vary from state to state and from one tradition to the next. The Marathi Pheta is a style of wearing a turban, exclusively found in Maharashtra.
This traditional turban of Maharashtra soaked in rich colors of Saffron and White captures the essence of a real Maratha. A symbol of pride and prestige, this head gear is worn as the sign of loyalty and love for the culture, especially during religious functions and wedding occasions.
Origin and History
The royals of Maharashtra since prehistoric times left behind a legacy of wearing a 'pagdi, in other words a head gear which till date plays a significant role when it comes to traditional costumes and attires for the men living in Maharashtra.
The origin of the traditional crown of Maharashtra can be traced back to the Peshwa Era which witnessed legendary warriors like Chatrapati Shivaji, Rani Lakshmibai and distinguished personalities like Sant Tukaram and many more. According to certain historical accounts, the Marathi Pheta originated under the benefaction of Shivaji's rule in a town called Kolhapur, which is today considered as the historical capital of Maharashtra.
Kolhapuri is a home to various Indian ethnic fashion statements which include the famous Kohlapuri chappals (shoes), spices, and shoes other than the Kolhapuri Pheta, which is considered a type of variety on its own.
Basically the traditional marathi Pheta was worn on auspicious and religious ceremonies, whereas during the non-festive period, a cloth turban called the Mundasa was draped around the head.
The Making of Pheta
In olden days, a traditional Pheta was basically worn by the elder men of the families as a mark of respect and a gesture of gratitude and dignity that it depicted. It was considered to be a cultural custom and a tradition which was earlier regarded mandatory for the Maharashtrian men.
The typical length of a Pheta is usually 3.5 to 6 meters long and has a width of approximately 1 meter. Colors vary depending on the occasion; however the typical ones include Saffron which exhibits valor, and White which represents peace. The fabric used to make the Pheta is mostly Cotton and has gold trimmings on the border which make it look regal.
However, with the passing years, this traditional costume took the form of trend and fashion and gradually became a fashion statement for the changing generations. The obligation was replaced by trend, which made this piece of garment more fashionable in its essence, rather than being plain ritualistic.
These days one may wear a Pheta only when there is a special event, which is contrary to the age old Marathi tradition where it was a mandatory part of the entire outfit, and was to be adorned on a day to day basis.
Varieties
Other than the traditional white and Saffron encrusted Pheta, there are two major varieties available. One is the famous Kolhapuri Pheta, which comes in a multitude of colors and has a Bandhani effect on it. The other major variety consists of the Puneri Pheta which comes in checkered patterns and has a distinct gold border.
Style
There are different styles of draping a Pheta that is determined by the nature of the place or the location and even famous personalities. For instance, if we take the example of places, there are styles like the Kolhapuri style, Mawali style, Puneri style, Lahiri style and many more.
On the other hand, style and varieties are also connected to distinguished persons like Shahi Pheta, Mahatma Gandhi Pheta, Tukaram Maharaj Pheta and many such varied and popular styles. This simple piece of fabric is draped around the head in 6 to 7 rounds with a little piece of the turban hanging loose like a tail which is called as Shemala. Some Pheta cloths are plain and single-colored, whereas few are lined and double-colored.
Innovations
In today's day and age, the traditional Phetas are given a trendier and a youthful feel which not only enchants the youth but can also be worn to flaunt a traditional style and appeal.
Today's western version of Phetas are more colorful, reversible, adjustable and come in different metallic and satin fabrics which have replaced the mundane, ear warming head gears. The vibrant nature of the turban makes it ideal for any party or occasion.
Global Appeal
Several Indian celebrities and political leaders have worn the Marathi Petha in different forms which has given this headdress a global appeal and has made an impact on several people worldwide. Several fashion designers have imitated the style of the Marathi Petha and have used it to give their collection a touch of Indian ethnicity.
Among all the different varieties of Phetas, the Puneri Pheta has been universally considered as the most auspicious one that is handed over during the nuptials of a wedding. Gradually, this age old tradition of marathi Pheta became an auspicious ritual for people, be it any culture.
Wearing Pheta
Marathi Pheta when donned gives the wearer a noble and distinct look which automatically speaks for itself without the need of any additional adornments. If we follow the traditional roots of Maharashtra, then this head gear completes the typical Marathi dress, consisting of Kurta-Pajamas along with Kolhapuri Slip ons.
Weddings, religious ceremonies or cultural events which mark a distinction for the Marathi men seem incomplete without the Marathi Petha, which only adds to the cultural and traditional charm of Maharashtra. Besides weddings and other traditional and religious ceremonies, the Mysore Phetas also enhance the ambiance during Indian festivals like Gudi Padwa, Diwali, Dussehra, etc. The latest fashionable turbans can also be worn at formal, semi-formal and casual events, crediting to its flexibility and elegance.
Maintenance
Since it is made out of Cotton, maintaining a Pheta is not difficult and a normal hand or machine wash would be fine to keep the cloth free of any adulteration.
Interesting Facts and Comparisons
Mordern headgears like caps and hats always stand as a pillar of competition against these ethnic headgears.
Majority of the Marathi movies like Netaji Palkar, Ayodhyecha Raja, Shree Pundalik, etc have the heroes sporting a Pheta in most of the scenes.
Famous Bollywood actors like Abhishekh Bachchan and Ritesh Deshmukh wore the Marathi Pheta on their wedding day. In addition to that, even Abhishekh Bachchan's father Amitabh Bachchan wore the Pheta on his son's wedding.
The Pheta is usually named after a town, for example Kohlapuri Pheta is named after the town Kolhapur
The Pheta is considered a matter of pride and honor
Another term for the Pheta is 'Pataka'
Reference
Categories: Attires, Costume Accessories