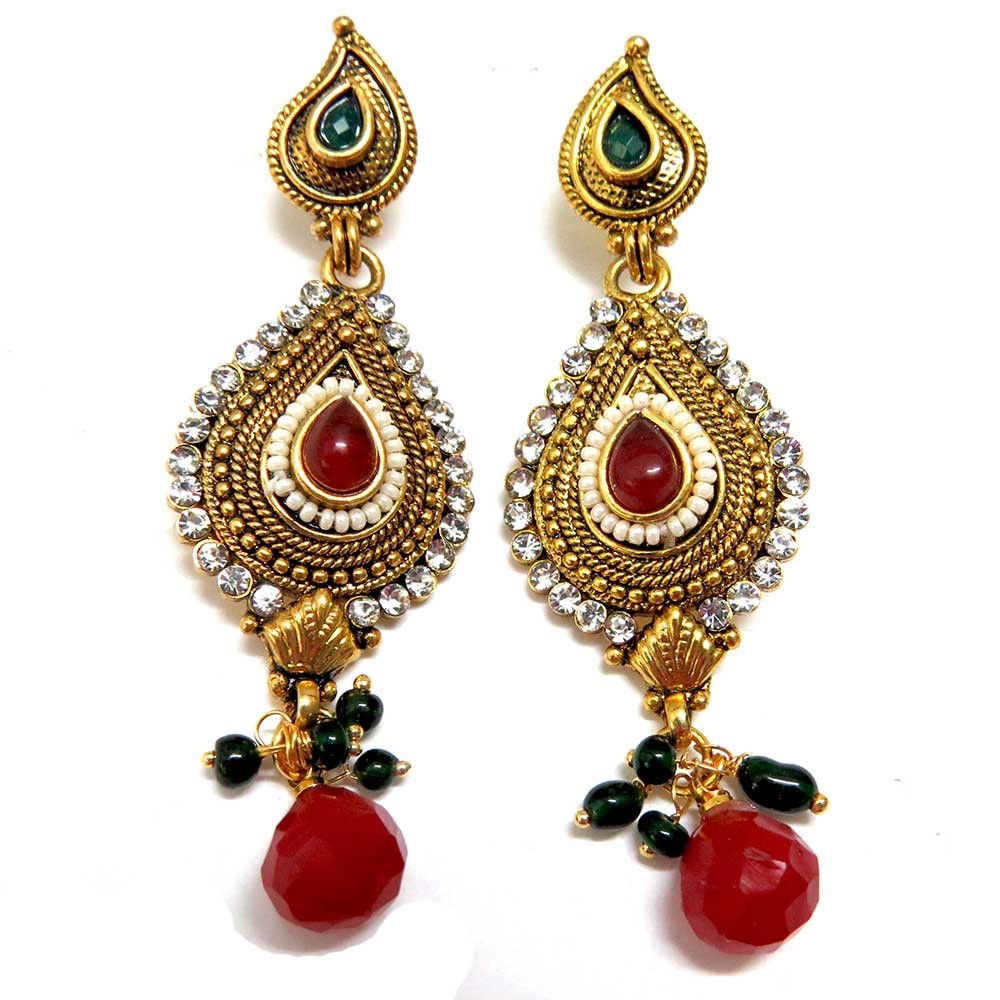 Kundan Jewelry
Kundan jewelry with its intricately crafted designs has forever fascinated fashion-enthusiasts globally. The word Kundan means 'highly refined gold', and as such the quality of gold used to create Kundan jewelry is of high purity. This type of jewelry was once worn by the Mughal royalty and the designs from that era are still a hot favorite, due to their elegant and rich appearance. Contrary to popular belief, Kundan refers to the purity of the gold and not to the stones. It is often confused with Polki work. A tribute to Indian ethnicity, Kundan transforms Indian attire and enhances a woman's festive or ceremonial look greatly.
Background
Kundan jewelry is probably the oldest form of jewelry craft in India, brought to the country and flourishing under the patronage of Mughals. The craft was then successfully adapted by the royal families in Rajasthan and Gujarat.
Meena Kundan, is a variation that has enameling done with vivid colors and patterns on the reverse and Kundan detailing on the front of the piece. In this old art form, the gem stones are set with gold foil between the stones and its mount.
Kundan jewelry usually has more detailed and intricate designs. Precious and semi-precious stones like diamonds, emeralds, sapphires, rubies and topaz, are used. It was later on copied in silver metal at places like Rajasthan, Punjab and Bihar and became available to the common man too.
(Also Read: Jamawar Textile)
The Making
The uniqueness of this jewelry lies in the manner it is set. Precious gems are placed in gold which have openings created in them beforehand. The gems to be set are carefully shaped, cut and polished and placed into a beautifully designed pure gold or faux metal base. First, a tracing of the design is taken, following which a composition of the stones is checked over this background as a trial.
The makers of Kundan jewelry are skilled artisans who first beat the gold into a thin pliable sheet. This forms the base for the setting of the jewels. The base piece is beaten and then soldered to get the desired shape. Thus, the shape has to be manipulated according to what it is going to be turned into, for example, a necklace or a bracelet. It is then chemically cleaned to remove impurities. It is finally washed and left to dry.
The gems to be set are placed in front of the sheet with paste or laakh i.e. tree sap. Parts of the gold foil are then pressed in cavities around the precious stones. Layer after layer of gold is pressed around the stone till it is filled. Sometimes mild heat is also applied to fuse the gold together. An engraver is used to even out the surface and to trim the excess gold, leaving the piece glowing. Patterns are made using an engraver on several types of materials like ivory, conch shell, agate, marble, and other stones.
The Kundan Meenakari variety is made by enameling the reverse side in hues of red, green and blue. This is both for aesthetic reasons and to ensure the metal setting doesn't get disturbed if a stone is taken out and reset. Each step in the making, is performed by a separate craftsman and finished by a group, working as a team.
The piece on which Meenakari has to be done is fixed on a lac stick. Patterns of flowers, leaves, birds etc. are etched or engraved on it. This creates grooves that hold color. The dust of enamel of a particular color is poured into this groove and then it is inserted into the fire to spread the color evenly. This technique is repeated with each color. White is the first color to be applied and red the last. Silver or gold is used as a base for the Meenakari designs. Colors like gold, blue, green and yellow can be done on silver whereas all available colors can be applied to gold.
Variety
Traditionally Kundan jewelry is created and sold in matching sets, the designs being extremely detailed. The set comprises of a necklace, earrings and bangles. Nowadays though, individual pieces can be bought separately as well. Besides ornate jewelry sets, waist belts, jewelry cases, toe rings, nose rings, anklets, hair ornaments, maang tikkas, pendants, and armbands are also popular.
The closed setting in Kundan jewelry is used for both cabochon and faceted stones. Kundan jewelry sets in alloys are available too.
Present Day Scenario
Kundan jewelry prices start at two thousand rupees to an upward of around seventy-five thousand. Kundan in silver alloy can be bought for as low as five hundred rupees up to fifteen hundred rupees.
Bridal jewelry has always been an important segment of the Kundan jewelry market. The colors available in Kundan sets provide an interesting enhancement to the bride's outfit. It is also a big hit with the divas of the Indian film industry.
The necklace is the central point in a Kundan jewelry set and can be crafted in the choker style or a closed collar one. The piece may be heavily encrusted or could be a light one combined with heavier bracelets. Nowadays, there is a preference for lighter pieces that are suitable for party wear and not meant for weddings or similar occasions. A pair of earrings in Kundan can be apt for evening-wear without any other accessory.
Bollywood films like Jodha Akhbar, Devdas and Paheli feature the exquisite Kundan jewelry heavily.
(Also Read: Aishwarya Rai in 'Hum Dil De Chuke Sanam')
Innovations
The use of bone, wood, beads, ceramic and glass in Kundan jewelry is unique. Birthstones too feature in Kundan jewelry and there is a great demand for it. Faux Kundan jewelry has also seen a boom in sales over the years and is a benefit for those who do not want to invest in heavy sets. Jewelry cases are available in traditional and modern designs locally or online.
The use of Kundan on hair pins, mobile covers, bags, barrettes, bangle boxes, gift boxes and for embellishing on shoes is the latest trend that has caught on. These are done with faux stones as well.
Accessorizing
Kundan jewelry has been known to be worn on occasions such as weddings, religious ceremonies and engagements. The trend today is to invest in individual pieces which can be worn for many different kinds of events. Kundan jewelry is best appreciated with ethnic Indian attire.
Personalization
Kundan jewelry has traditionally been worn for festive or special occasions but this is no longer the case, as pieces of the Kundan set are being worn individually for parties or similar occasions. Kundan work done on jewelry cases make great gifts for dear ones and close friends.
Suitability
Traditional Kundan jewelry conforms to the highest gold standards. The jewelry in silver alloys or other metals that are procured locally may or may not suit a person with sensitive skin.
Maintenance and Trends
Kundan jewelry is best maintained in a cool, dry place away from moisture. The jewelry should be carefully wiped with a soft cloth to remove any dirt or sweat after wearing and then stored. Also known as Bikaneri jewelry, Kundan is one of the largest contributors of market value and volume in India.
References