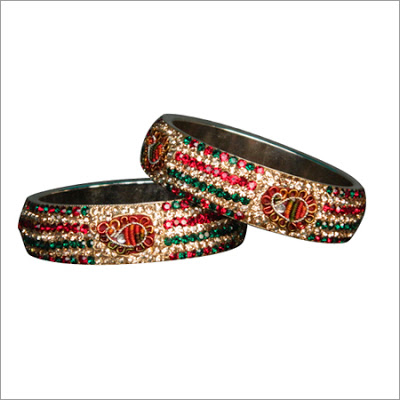 Lac Work Jewelry
Lac is a resinous substance, accumulated from an insect called kerria lacca. Amidst the rich heritage of art and crafts in India, Lac work is another popular craft that India has produced across centuries. Lac jewelry is very popular amongst the young women in India because of its exotic and colorful appearance.  Apart from jewelry, lac is also used to manufacture exclusive jewellery boxes, accessories and various decoration pieces.  Not only has it gained popularity over the past few years in India, but it has also become a sought after handicraft in the overseas markets.
Inception of Lac Work
Making Lac is an extremely tedious process and involves a lot of steps that goes into the overall production. The first thing involves cultivating resin producing insects and then collecting lac from it.  The next step is to refine the extracted lac before using it in the craft.  Cultured lac is then stored in a container and is further processed to produce sealing wax and varnishes. The skilled artisans then make use of it to create bangles, ornaments, combs, boxes and other decorative items. Artisans with eye for detailing and are precise in this skill create home décor products with lac as it is a very time-consuming job and requires more expertise.
Lac work can only be performed on a wooden base; hence, a lac craftsman must be skilled at decorating wood pieces.  Lac work, like other crafts, was initiated in a few villages and was used to decorate homes during leisure hours.  However, over the course of time, this art form was enhanced and turned into a large scale industry.  At present, there are numerous small organizations located across various Indian states that practice lac craft where each state has added their own individual element to the craft.
Influences over the years
Lac work is extensively practiced in the state of Orissa, particularly for making combs which are known as 'Lac Siredi' as well as pens. The other lac craft in Orissa is known as 'jungle lac craft'. The specialty of this craft lies in the process wherein a is box made out of bamboo which is then covered with papier mache and is later lacquered with colorful motifs of flowers, animals, folklore and birds. These boxes are used for exchanging gifts.
The lac industry in Bihar is the largest in India as it produces around a hundred tons of refuse lac.  Furthermore, a lot of the aboriginal tribes in Bihar use lac for ornamentation purposes.
The western states of Gujarat and Rajasthan are primarily known for making Lac bangles, embellished with various precious and semi-precious stones. In fact Rajasthan is also known for its lac necklaces and earrings that are highly popular across the globe. Lacquered toys and bracelets are made in the cities of Ahmedabad and Surat.
Lac is also an integral part of Bengali craft, particularly for making ornaments, bangles and table top and wall décor items. Mysore and Harpanahalli in Karnataka are popularly known for the Rajputana boxes.
These are decorated with floral motifs and geometrical prints along with the 'Chennapatna' lacquered toys. Andhra Pradesh is also renowned for its lac 'Etikopakka' toys. Lac furniture is also increasingly gaining popularity because of its biodegradable and Eco-friendly nature. Other list of lac products include walking sticks, mate, lacquered toys and home décor items.
Lac is produced in three qualities namely, light golden, brown and dark black, wherein the former is the best quality and is expensive as well.  Not only is India the largest producer of lac, but is also one of the main exporters, and has found its way in countries such as the USA, UK, China, Europe and the Middle Eastern countries.