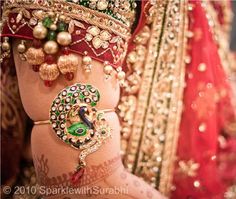 Bajuband or Armlet
An important element of 'Solah shringar'. 'Bajuband' or Armlet (also known as Ananta, Angada), it is a type of bracelet worn on the upper part of the arm. Originally, this piece of jewelry was only worn by men. A lot of Bollywood movies with a rural setting have often showcased rural men wearing a bajuband along their arms. Men and womenfolk of the rural areas wore these bajubandhs or armlets in pair, but over a period of time single armlets became more popular among women.
Armlets include a variety of shapes including those of crocodiles and snakes which make them more of an exotic wear. Plastic armlets are worn by many as well. The Rabaris are seen wearing arm bands that are made of plastic and, resemble bangles in lot many ways. Generally, armlets are carved out of metals and are more or less oxidized in fashion.
Origin & History
Archaeological discoveries reveal that armlets as an accessory, have been present across centuries. These have traveled through cultures and places before they eventually became a global piece of jewelry. In India, this culture was introduced by the Bharatnatyam dancers in the Dravidian region while it was a popular accessory amongst the rural men. It was initially meant to be adorned by men.
Armlets, in the initial stages were pure bands of metal that were used to add beauty to the arms. Most warriors are seen adorning this armlet as part of their war wear. Apart from soldiers, this jewel was also adorned by men involved in farming. In some cultures, apart from India, the armlet is worn by men during their weddings.
Style
Armlets create style statement for both men and women in present times. Besides being a wedding jewelry, armlets are also fashion jewellery.
There are various kinds of armlets that range from delicate ones to absolutely sturdy ones. The sturdy ones are especially meant for men folk while the delicate ones are meant to be worn by women.
Earlier, precious metals like gold and silver were considered perfect to style the armlet, in the present times a lot of people wear these armlets made of imitation metals including oxidized silver. The shapes also determine styles. The shapes include those of snakes and crocodiles that originate from ancient cultures. Of late, intricate designs carved by designers have started doing the rounds.
Influences Over the Years
Having being passed down various cultures, armlets as a whole have gone through several innovations. The traditional armlets of India would resemble what most temples adorn their deities with. Then there's the Greek influence that makes these perfect for costume jewelry. Some of the Greek Gods showcase various forms of armlets as well. Armlets worn by warriors are quite different from the rest of the armlets, and have a more masculine appeal to them.
Innovations
These days one can find several variations with regards to these adornments. Some are delicate looking and made out of thin silver or gold bands, while some are studded with precious stones such as diamonds, rubies, emeralds, or other embellishments. Various designs are available as well, such as shapes of peacocks and snakes, or simple round designs and square ones. Most armlets have a piece of jewel or jewels that hand off at the centre and give the accessory a more regal and dignified finish.
Occasion Dressing
Armlets are a most apt accessory for weddings, engagements, theme parties, and religious occasions. Dainty armlets look beautiful when worn with lehengas, saris, or any sleeveless traditional attire.
Global Influence
Many people in the West adorn armlets, and have created their own impressions of this age old accessory. However, they generally tend to wear simple armlets as opposed to the heavy ornate ones.
References