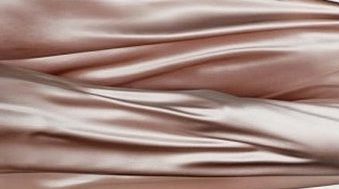 Satin Fabric
Did you know that Satin was prevalent during the Middle Ages and was actually a weave derived from silk? Satin was a very expensive fabric and therefore it was bought by the wealthy. The name 'Satin' is derived from the place it originated,- Quanzhou (a port city in China) which was also known as 'Zayton' by the Arabs.
Over the course of time, the popularity of this lustrous fabric spread across Europe, particularly in the 12th century. Such was the demand of Satin that it became the chosen fabric of the royal robes in England and is still considered a rich fabric. You can see its elegance in exquisite bed sheets and upholstery as well as sophisticated wedding gowns, for which it is considered to be a staple.
Origin & History
The Satin weave owes its origins to the city of Zayton or Zaitun in China, from where it was originally exported to different parts of the world.  The original Satin was woven out of silk threads.  Such was the luxurious effect of Satin that it immediately became a large import to Italy in the 12th and 13th centuries by the Romans for the elegance that they brought to the royal garments.  It was only after the invention of the power loom and the Industrial Revolution that this costly fabric became more accessible to the not-so-wealthy population.
Faces Behind the Fabric
Satin is essentially the name of a weave and is not the name given to a specific raw material.  It is created out of low-twist yarn by using the process of twill weaving. The weft threads, which are four horizontal yarns, are covered by a single lengthwise yarn, leading to fewer interlacings, which give satin its characteristic smoothness.  Satin can be created out of polyester, wool, cotton and silk. However the latter is the best choice, and polyester a close second.  Nevertheless, one should not confuse sateen' with satin as sateen is a fabric created when a satin weave is applied to cotton.
It is not difficult to find out whether the fabric is silk or Satin.  Satin has a very distinctive sheen which is glossy and smooth.  One side of the fabric is very smooth and shiny while the other is matte or dull.  Undoubtedly, Satin has a very luxurious feel and appearance, but it can be woefully challenging for tailors to deal with the fabric as it keeps slipping away!
Here are some of the varieties that are found in satin:
1. Baronet is a variety that has a silk appearance at the front with cotton back. It is more or less identical to georgette.
2. Duchess is a Satin that is heavy and looks very luxurious. It is used primarily in gowns.
3. Charmeuse Satin is very light.
4. Faconne Satin has a jacquard weave.
5. Gattar Satin is a mix with a cotton weft and a silk warp
6. Farmer's Satin is created out of mercerized cotton.
7. Messaline is again light and is loosely woven.
8. Sultan Satin is a fabric that is worsted.
9. Slipper Satin is heavy and stiff.
10. Surf Satin is like taffeta, which is a material used for manufacturing swimming costumes.
Present Day Scenario
Satin has gained a lot of prominence over the centuries and has been used in products ranging from garments to footwear.  One cannot replace the luxurious feel of the Satin fabric, no matter which weave it is in.  However, the one thing that has considerably changed about Satin over the years is the fact that it has become more affordable due to the innovative manufacturing of the fabric as well as the introduction of Satin created with synthetic threads.
Suitability 
Satin is perhaps the most popular fabric when it comes to stylish and elegant dressing for women in particular.  It is very comfortable and can be worn throughout the year in dozens of ways.  The fabric has a high durability value and is also used for sports apparel like athletic tracks and jackets, shorts as well as ballet shoes.  It is a hot favorite in the bridal gown industry as the graceful Satin is what gowns are primarily made out of.  The sheer elegance of the fabric and the fall of the pleats of the gown make satin 'the fabric' that dream gowns are made out of.
Maintenance
Satin is a delicate fabric and needs to be properly maintained in order to increase the life of the garment.  Dry-cleaning is normally preferred for Satin fabrics with a silk weave. However, polyester Satin can be washed delicately with a mild detergent.  Never wring your Satin garments for drying. Simply hang them.  While ironing Satin garments, make sure that you iron on the reverse side with a temperature that is on low heat.
Global wearability
A lot of daily wear apparel such as blouses, shirts,scarves, shirts and ties which are termed 'delicate', are also made out of satin and are widely used.   The lingerie industry is also heavily dependent on Satin for its gowns and lingerie.  Upholstery for beddings, curtains and drapes made out of satin lend a characteristic richness to the environment.
Accessorizing
A lot of accessories are being made out of the rich Satin fabric.  Purses, clutches and shoes made out of Satin are particularly in vogue.  Sashes, scarves and headgear made out of Satin are great for accessorizing outfits and make them look more sophisticated.
Chronicles of the future foretold
A lot of modifications and innovations are happening to the beautiful Satin fabric.  From stretch Satin fabric to the latest digital prints, a lot of experimentation is being done with this timeless and exquisite fabric.
Interesting Facts & Comparisons 
Satin was first woven by the Silk weavers in China.
Modern Satin has many different weaves, even the affordable variety with synthetic thread.
Centuries ago, Satin was only used by the rich, for royal robes.
Satin is a fabric blend and not the name of a fabric.
References

Categories: Textiles