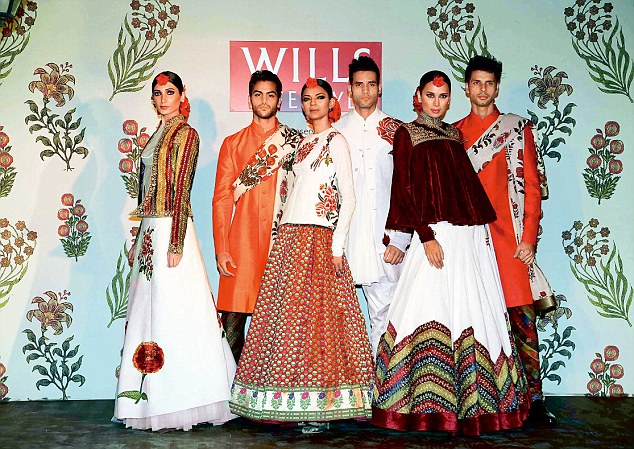 Indian Hand Prints
The earliest known form of printing on textiles is hand-printing, which involves decorating a cloth or outfit with a print pattern with hands, generally using natural dyes.  In India, several hand-printing techniques flourished down the centuries. Popular hand-printing techniques include Tie-Dye, Batik, Sanganeri prints, besides others.
Background & Making

India's expertise in natural and vegetable dyes dates back to ancient times. The finding of dyed cotton fabric pieces dated to the Indus Valley Civilization proves the existence of hand-printing as an art form in India more than five millennia ago. India enjoyed virtual monopoly in the production of dyed, painted and printed textiles for a long time. Till very recently, all hand-printed techniques included the usage of natural dyes only. Block printing and Tie-Dye techniques were the first hand-printing techniques to emerge in India. The various print motifs gained popularity abroad.  For instance, block printed resist dyed textile from Gujarat and Deccan were popular in Europe from 15th to 19th century.
Different Styles & Making

Since hand-printing comes from natural dyes, the dyes are obtained from plants which are boiled to produce the same. Indigo produces the blue dye used, and Alizarin (red) comes from the root of the Indian Madder tree. Mordants such as wood ash were traditionally used to fix the color.
One of the diversely applied prints is the Tie & Dye technique,  further divided into two styles known as Bandhani & Leheriya. The term Bandhani is derived from the term 'Banda' which translates as 'tying' in Sanskrit. Also called Bandhej and Bandana in different regions, this art has thrived since over years, has its origins in the states of Rajasthan & Gujarat. Leheriya, another form of the Tie & Dye technique is recognized by the usage of vibrant colors, with dotted print patterns of different sizes spread across the fabric.
'Ajrakh' is the traditional method of printing on to cotton fabric which has its origins in the Sindh civilization, eventually gaining prominence in Kutch and Western Rajasthan. Ajrakh literally means 'keep it today'. Ajrakh printing comprises fourteen steps which finally lead to the completion of the printing process.
Batik is another popular print motif which may have its origins in South East Asia. It refers to the process of dyeing fabric by making use of a resist technique, covering patches of fabric with dye-resistant substance to prevent them from absorbing colors. Nature inspired motifs like flowers & animals are a feature of Batik prints.
Another one to add to the list is the 'Bagru' print which again has its origins in Rajasthan. Natural dyes and block printing technique is used to adorn fabrics with motifs that include flowers, leaves, geometric patterns, dots, and other modern designs as well which caters to a large spectrum of buyers.
Yet another Rajasthani print which is a classic hit with saris is the Sanganeri print. The print is recognized by its floral motifs, printed using vegetable dyes, on off-white or pastel backgrounds in Mughal inspired motifs.
Block printing is another fascinating print amidst the medley of Indian prints. It is recognized by floral prints.
Indian printing techniques are diverse. In a nutshell they include: Bagru, Bandhani, Dhabu, Kalamkari, Khadi printing (that simulates the look of rich brocade), Leheriya, Sanganeri, and Batik.
Present Day Scenario & Innovations

Designer draw their inspiration from Indian prints, painting them on modern silhouettes. Hardcore Indian ethnic prints like Bandhani, Block printing, Hand dyeing have become common print motifs in the global scenario. Agnimitra Paul,  is one of Kolkata's most loved fashion designers and has a varied and exciting repertoire. Her Indowestern outfits like maxi dresses have Batik, Bandhni or Kalamkari prints and her saris with subtle embroidery are teamed with retro blouses. The designer's latest collection is inspired by the Madhubani paintings of Bihar. A novel way of using Bandhani, Block and Bagru prints is their application to pure Georgette saris which are compatible with a wide range of hues.
Personalization & Accessorizing
These marvelous Indian prints are available in a variety of apparels and accessories. Batik print Kurti for instance, make for perfect casual attire, whereas tribal prints and digital print sarees. Printed outfits go best with wooden & beaded jewelry.
Maintenance
Printed attires or home decor items like bedsheets, should be washed in cold water, separate from other outfits so that the dye residue does not stain the other outfits.
References
Categories: Motifs & Embroideries