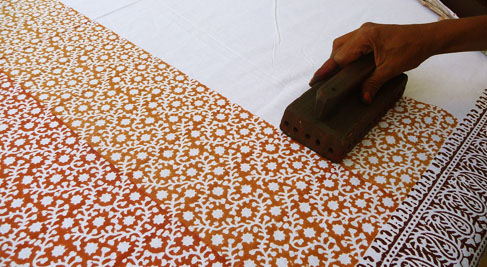 Gamthi Print
Gamthi print is a style of block print that dates back to the medieval ages in India. The word 'Gaam' means village and 'Gamthi' refers to the fact that this art originates from the villages of Gujarat and Rajasthan. Originally, before western dyes were available to indigenous villagers, parts of plants, as well as metal, would be used to create over 27 different types of colors. This type of block printing was originally used for decorating their accessories such as the dupattas / chunaris and the turbans and they later came to be known as Saudagari prints. These prints usually have a repetitive motif that is used throughout the fabric.
History
Originating from the villages of Gujarat and Rajasthan, the Gamthi Print was not born in the royal courthouses like many of its other contemporary prints and outfits and has its roots with the people of these states themselves. Due to this, they were considered a cherished art even back then and were sold in large numbers during the weekly fares held in the markets. Fabrics adorned with this style of block printing were sold to members of the royal families as well as people from all across the Indian subcontinent and, eventually, the world as well. As they were mostly sold by Saudagars, or traders, this was also called Saudagari print. However, the name Gamthi print is used more prominently.
Sources of Inspiration
Some of the main characteristics of Gamthi print include the use of vibrant and bold colors as well as extremely varied and intricate patterns in its entire works. This is mainly due to the fact that elements used in this print were widely influenced by nature. The colors used were also made through nature. For instance, yellow was created with the help of turmeric and black was created with the help of rusting iron.
The Making of Gamthi Printing
Block printing such as Gamthi Print is achieved by engraving delicate patterns on blocks of wood and then filling them with color. These patterns are then pressed onto the fabric to create the desired look. Craftsmen who work in block printing tend to only use teak wood mainly because this type of wood has the perfect base of carving because it is extremely strong and does not get affected by external elements such as water. As a result, a single block can be reused as many times as a craftsman may desire.
To start the process, the block of wood is first painted white before any patterns are carved on it. This helps the craftsmen grasp a better understanding of the contrasts that will be created once the print is used. Various tools such as drills, bows and chisels are used to create the pattern.
Style and variety
Gamthi print is available in a variety of attires or accessories. This style of printing is used to make a host of Indian ethnic attire such as kurtis, chunris, men's kurtas, dhotis, turbans and even shawls.
Present day scenario
Gamthi print is an extremely popular and widely used style that has been prevalent in the fashion world for the last 300 years. However, due to various modern innovations, the number of people employed in this art has been suffering a steady decline over the last few decades. Pethapur village of Gujarat is considered a hub of block printing and Gamthi print as this is one of the areas where the wooden blocks used to create this print were created. However, while at one point there were over 500 skilled craftsmen working on this craft for centuries per generation, there are now only a handful of them left as members of the younger generation prefer moving on to more contemporary styles as well as other businesses.
Globally, crafts shops that carry Indian products are known to have Gamthi printed clothes and artifacts in abundance as this is one form of printing that is globally associated with India.
Innovations
Apart from being used in the fashion world, Gamthi print is now being used in a variety of fields such as creating items for home décor like textured wallpapers, cushion covers, bed spreads and even upholstery. It is considered extremely fashionable to pair an ethnic print such as this with modern or contemporary furniture to create an interesting fusion of sorts.
Innovations in fashion include having indo-western wear as well as regular t-shirts that have been created by using this style of printing. While this has been seen on the runway a few times, it is not an extremely popular trend.
Wearing the work
When wearing Gamthi print, women tend to prefer to keep the accessories relatively simple as the orint in itself is fairly busy. Ideally, Indian jewelry such as kundan sets, meenakari sets or even polki sets tend to look extremely elegant with this print.
When worn as a salwar kameez set, women choose between flat shoes and heels as both types of footwear look equally elegant so it really becomes a matter of personal opinion. On the other hand, when this is worn as a saree, women prefer high heeled shoes as it complements the fall of the fabric.
Maintenance
The maintenance of this print depends solely on the fabric. As this is done more often than not on cotton, it is not very hard to maintain as cotton can be washed safely by hand or by a washing machine without the fear of ruining the fabric.
Interesting facts and comparisons
The block used for Gamthi Print can be as small as 1 inch and still be intricately carved
Craftsmen that create the blocks for this print are known to use chisels as thin as 1 millimeter successfully
Paisley is one of the most common style of motifs used during block printing, followed by geometrical shapes
Reference
Categories: Motifs & Embroideries