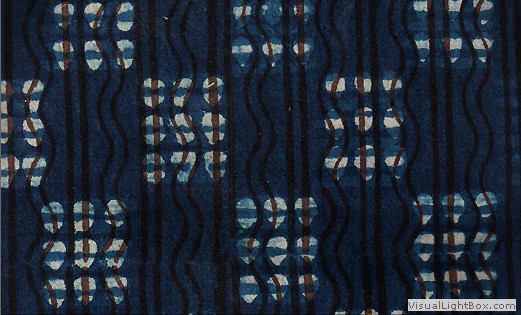 Daboo Print
Dabu or daboo is an ancient mud resist hand block printing technique from Rajasthan. The practice almost died out in the last century but was revived and is today a flourishing business in many villages of Rajasthan. Dabu printing is very labor intensive and involves several stages of printing and dyeing; the end result is therefore very unique and beautiful. Dabu printed fabrics display a subtle and extraordinary beauty and depth which is appreciated around the world. It has captured the imagination of modern day designers. Daboo is today frequently used to decorate many Indian and Indo-western clothes and home décor items.
Origin & History
The art of hand block printing is an ancient one which is said to have originated in China. Over the years it traveled to India, with the state of Rajasthan becoming the most prolific producer of hand block printed fabrics. Mud resist printing is a special variation, the origins of which can be traced to about 675 A.D.  Today it is commonly acknowledged that the village of Akola, in the Chittorgarh district of Rajasthan, is the originator of the unique Daboo printing style which uses mud resists.
Daboo printing is often grouped together with other Rajasthani hand block prints like Sanganeri and Bagru, but is in fact quite distinct in terms of its look and method. The designs are said to be very similar to 'Batik' though the techniques used to produce the two are quite different.
Sources of Inspiration
Traditional Daboo designs and motifs are very similar to the motifs used in all traditional Rajasthani textiles, since the 'blocks' used for printing are common to most of these techniques. They tend to be nature inspired designs of plants, birds, flowers, fruits as well as artistic ethnic motifs.
Faces behind the Fabric
Daboo printing is essentially a village handicraft, which is now practiced in many rural areas of Rajasthan. For many, it has become a family business, with the older generation passing on the secrets of the craft to the next. These artisans tend to produce the more traditional and classic varieties of prints which are obviously considered the most authentic.
On the other hand, many new-age designers and craftsmen are also making a business out of producing unique Daboo printed fabrics. They learn the technique from the regional artisans and then add their own unique twist. The fact is, Daboo printing has become a source of inspiration for many artists and fashion lovers across the world, which is why many people have taken to producing fabrics with this ancient mud resist technique of printing.
The Making
The process of Daboo printing is quite complicated, involving many workers and multiple stages of printing, washing and dyeing. First, the plain fabric received from the mills is carefully washed to remove any impurities which may interfere with the dyeing process. Then, designs are meticulously and painstakingly hand printed on to the fabric using blocks which are dipped into fast dyes. The next and crucial step involves the use of the mud resist which makes this print so unique. Ingredients like mud, gum, lime and waste wheat chaff are combined to make the 'dhabu' or mud resist paste which is then patted over certain parts of the design.  The paste is dried with sprinkled sawdust. This covering essentially protects these parts of the fabric from the dye used later on, creating a unique and colorful effect.
After this process of printing, the fabric is spread out in the sun where it completely dries out. It is then dipped into a vat of dye, dried again and finally given a thorough washing to remove the paste and any excess dye. The dyes used are typically natural vegetable dyes and pastes. Thus the unprotected parts of the fabric catch the color while the dhabu covered bits remain plain. The fabric may be dyed more than once in different colors to give each part of the design a different hue.
Style & Variety
Daboo printing is used to create a lot of different designs and patterns.  This includes varieties of colors and motifs:
Colors and dyes: Traditional daboo prints are made with natural dyes like kashish (grey-brown) and indigo (blue), as well as yellows and reds derived from fruits like pomegranate. Today a lot more color options are available to artisans since they are no longer restricted to vegetable dyes and can use synthetic dyes as well.  Fabrics can also be dyed more than once, creating the double dabu and triple dabu effect with a richer, more colorful look.
Motifs and designs:  The typical motifs used are nature-inspired ones of peacocks, mangoes, leaves, cornstalks (called boota), sunflower (surajmukhi) and animal figures. Geometric shapes, dots and wavy lines may also be used. The designs thus created are repeated over and over again all over the fabric. Sometimes, the mud paste cracks and leaks, creating a distinctive vein like effect similar to Batik.
Daboo printing is used to create all types of Indian garments, from sarees and salwar kameez to shirts, tunics and kurtas. Scarves, stoles and shawls printed with daboo designs are also very common, as well as accessories like totes and jhola bags.  Daboo printing is also used to decorate linens, bedsheets, bed covers, cushions and curtains.
Present Day Scenario & Global Influence
Today Daboo prints have become famous the world over, much loved for their vibrant and unique designs and colors. While earlier, they were almost exclusively used to decorate high-end sarees made of fine cotton fabrics like Maheshwari cotton, nowadays they are used for all types of garments and in all kinds of fabrics. In particular, silk, crepe and georgette have become very popular amongst Daboo artisans, mainly because they hold the designs and colors very well. However, absorbent and resilient cotton fabrics remain the most commonly used for Daboo printing.
Innovations
This technique has slowly and steadily gained a loyal and admiring customer base across the world, and this has encouraged the craftsmen to produce new types of designs and patterns to appeal to their more modern, westernized consumers. Thus, in addition to the ethnic motifs, modern designs of geometric waves, pop culture graphics and artistic shapes are often used. The color base has also expanded to unconventional combinations of red, black and green.
Wearing the Work
Perhaps the most iconic look incorporating Daboo prints is the ethnic artistic one. This distinctive look is worn by high brow literati, artists and society ladies who love wearing sophisticated yet ethnic garments like printed sarees. To pull of such a look, a one of a kind daboo printed sari is essential, along with antique metal necklaces and/or tribal wooden or clay jewelry.
Hand prints like Daboo also fit in well with the bohemian dressing style, especially when used for a dramatic effect with western clothes.
Maintenance
Fabrics with daboo prints should be first washed by hand to check the fastness of the colors, after which they can be machine washed in cool water. It is best to air dry these fabrics to avoid ruining the brightness of the color. Natural and vegetable dyes tend to be very fast and take a long time to fade, though repeated machine washes may speed up the process.
Interesting Facts
Daboo comes from the Hindi work 'Dabana' which means 'to press'.
Families in the village of Akola that have been practicing the technique for generations keep the exact recipe of the original mud resist (the 'dhabu') a closely guarded secret.
Along with many other traditional techniques, Daboo printing almost died out in the era before independence, because of the influx of cheap machine printed alternatives in the market. Interest in this craft was revived along with the renewed interest in ethnic textiles in the 21st
Video of Daboo Dyeing
References
Categories: Motifs & Embroideries