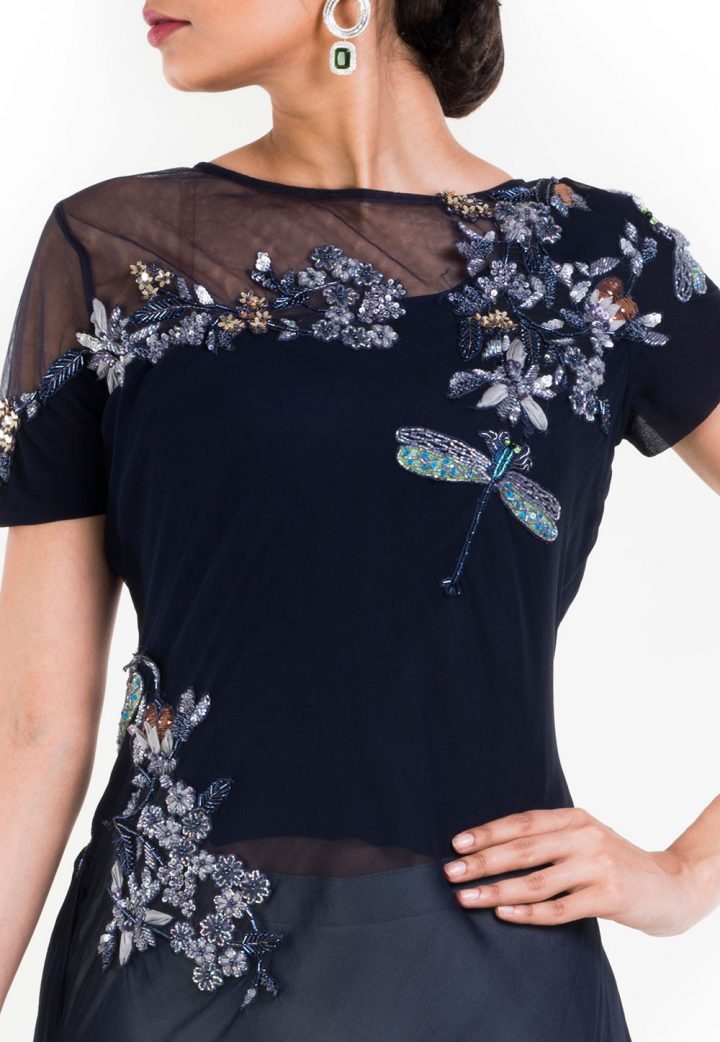 Cutdana Work
Cutdana work refers to using stones that have been cut at specific angles in order to facilitate the reflection of light. These stones are sewn into the fabric with thin threads to create different kinds of patterns and designs. Cutdana work, due to the intricate detailing that goes into creating the outfit, is usually worn for more formal occasions as the work is considered to be rich and heavy. This is why most outfits with this style of embroidery on them is considered to be formal wear and is priced slightly higher than an average outfit.
Origin
Cutdana embroidery originated in the royal homes of India's various kings and queens who lived lavish lifestyles. The very idea of sewing stones onto clothes was a means to differentiate between those belonging to royal or affluent homes from those belonging to the middle and lower classes who wore plainer clothes with hardly any embellishments. This style of embroidery was popular throughout all the kingdoms of India and has found its place in contemporary fashion as well.
Sources of Inspiration
Cutdana embroidery has two types of recurring patterns or motifs. The first is derived from nature so patterns pertaining to the same fall under this category. This includes symbols drawn from flora such as leaves, vines, creepers, flowers and even trees as well as symbols drawn from fauna such as peacocks, hummingbirds, animals and so on. The second type is derived from geometrical patterns and abstract shapes that are created to suit a particular garment. While the latter is favored highly over the former, both coexist in contemporary fashion and are lauded.
The Making of Cutdana
In earlier times, cutdana embroidery was made by sewing the stones onto the fabric by hand, which made it an extremely time consuming process. However, with innovations in technology, this type of embroidery is now accomplished with the help of machines that specialize in creating the desired patterns and designs. A piston in this machine springs in and out of the fabric, affectively sewing the stones on to it. This process needs to be supervised in order to have greater control over the overall outcome of the piece.
Style & Variety
Due to the intricate nature of this style of embroidery, it is predominantly found in wedding attire. Bridal lehengas as well as bridal sarees are most often decorated with stones that are meant to sparkle and set off light during the wedding ceremony. These clothes are also known for being extremely heavy, not just in terms of the nature of the work done on them but also in terms of the overall weight of the garment. It is customary for a bride to wear garments that are physically heavy as that highlights the expense and value of the garment itself and, as a cultural symbol, is meant to allude to the prosperity being brought into the new family by the bride.
As wedding wear, cutdana sarees are highly preferred by women as they are considered to be highly chic and formal. Wedding guests usually wear glittering cutdana sarees, lehengas and even designer suits with varying amounts of work done on them. Depending on the closeness of the guest to the family, it is customary to wear heavily embroidered, elegant clothing, which is why cutdana is the most popular choice during these events.
Present day scenario
Cutdana work is used on a large scale by designers throughout India. Almost every garment seen on the runway sports this form of embroidery and due to the fact that the wedding industry in India is a thriving and ever evolving, this style of embroidery has not lost its charm since its inception.
Gowns and dresses with stone work on them are a common sight on the red carpet abroad. The stone work in their case, however, does not always follow a set pattern or a set of rules in terms of the motif and is usually abstract, focusing on highlighting the garment itself as opposed to bringing a lot of attention on the stone work.
Innovations 
Cutdana embroidery is, in the context of contemporary fashion, not just limited to bridal garments or wedding garments anymore. In an effort to spread this style of embroidery across a broader spectrum, designers in India are creating not only casual Indian attire such as salwar kameez sets or indo western attire such as tunics with this style of embroidery but are also expanding into creating western garments with this embroidery done on them. The result is an interesting fusion of west and east and a fashion forward idea.
Wearing Cutdana
Cutdana embroidery is, as mentioned above, extremely intricate and most suitable for weddings and other related ceremonies. Young brides from all across India prefer pairing this embroidery with kundan jewelry because it complements the garment extremely well. For brides, it is customary to wear jewelry on each accessorizable part of the body at once which means apart from the necklaces, items like mang tikkas, earrings, nose rings or studs, bangles, anklets and, at times, kamarbands, are worn accompanying the garment. Bridal lehengas with cutdana work have intricate detailing on the skirt and the dupatta as these are the most visible aspects of the garment, with slightly lesser, albeit heavily detailed, embroidery on the blouse. As a result, long necklaces are preferred over shorter chokers.
Footwear, though an aesthetic choice, comes usually in the form of high-heeled shoes in order to compliment the fall of the skirt. These days, one can even find cutdana shoes and cutdana work handbags to go along with the garment.
Maintenance
As cutdana work is comprised of small stones that are sewn onto the garment, hand washing the garment or machine washing the garment must be strictly avoided as they can lead to damage in the form of missing stones. Dry cleaning is a safe way to clean and maintain this embroidery.
Interesting facts
Cutdana work can be done on extremely delicate fabrics as well, such as net fabrics and silk.
In certain cultures in India, brides wearing bridal garments that are not heavy are considered to have bad fashion sense.
The most commonly paired style of jewelry with this embroidery is kundan, followed closely by meenakari work.
Cutdana has been recently innovated to fit the requirements of designing a handbag as well.
Categories: Motifs & Embroideries