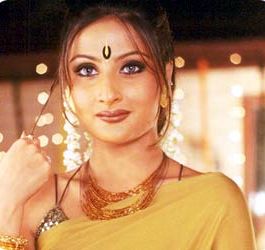 Komolika: The Iconic Femme Fatale of Indian Soaps
Komolika is the name of the main antagonist in the popular Indian soap opera Kasautii Zingagii Kay (The Tests of Life). The part of Komolika was played by Urvashi Dholakia throughout the run of the show, from 2001 to 2008. She was arguably the most popular and well-known television show antagonist in her time and has since become an iconic Indian soap opera villain; a representative of the kind of over-the-top dramatics that marked Indian television in that period.
Urvashi Dholakia is best remembered today as Komolika for her distinctive fashion sense that inspired many trends. From her changing hair styles to her love of sensual sarees, daring saree blouses, loud make-up and elaborate jewelry, every aspect of her look caught the imagination of the public.
Background
The character of Komolika was a 'vamp', a term used for villainous female antagonists in Indian television. Vamps tend to be sly, beautiful, vindictive, greedy and 'modern', in stark contrast with the moralistic protagonist against whom they battle. Kasautii Zindagii Kay was produced by Ekta Kapoor, who single-handedly revolutionized Indian soap operas. Her TV series were often melodramatic, loud and garish, with characters at extreme ends of the moral spectrum. This was reflected in their fashion sense as well, which was largely ethnic. As Komolika was the main antagonist of the show, a lot of time and money was spent on ensuring that her on-screen presence was as grand and imposing as possible, with a uniquely modern ethnic fashion style and catchy background music.
Sources of Inspiration
Urvashi Dholakia's look as Komolika was an expression of her character's sensibilities, in that she wanted to 'have it all'. Therefore, she is always dressed up in sarees, one of the most traditional garments in India, but paired them up with daring blouses and dramatic jewelry to express her modern and ambitious side. Since her character's main motivation (in the first few years of the show) was to seduce the hero, she wore sexy clothes that bared a lot of skin.
The makers were inspired by the nascent trends of experimenting with ethnic fashion but took it to the next level by choosing items that had rarely been seen before on the small screen. Her character hailed from West Bengal and this directly influenced many aspects of her look like her eye make-up and her bindi styles.
Over the years, her look evolved to match the changes in her circumstances. For instance, as the character became older and more mature, her saree fabrics shifted from chiffon and satin to the more dignified cotton-silk and khadi-silk.
Style and Variety
The iconic Komolika look was about achieving an overall intimidating style that was defined as much by the garments as by her bindi and bangles. These are the key aspects of her look:
Sarees
Throughout her run on the show, Urvashi Dholakia donned a huge variety of sarees. She popularized the use of sensuous fabrics like chiffon and satin. Her favorite look was a plain or minimally embroidered saree draped tightly with a flowing pallu left loose over one arm. Later on in the show, she also used other fabrics like cotton silk, khadi silk and georgette, with more elaborate embroidery. On the whole, her sarees were distinguished by the flow of the fabric and the drape rather than the rich embellishments, which put her in stark contrast with the more 'traditional' saree looks on the show.
Blouses
One of the most innovative and beloved aspects of Komolika's style were her blouses. The western-style cuts used, brought in an element of modernity while bold patterns emphasized her sensuality. One of the first styles she popularized was the halter-neck blouse, worn several times on-screen, sometimes with innovations like a collar. She also wore a lot of strapless, spaghetti straps, sleeveless and deep neck blouses. The pairing up of a richly embroidered and embellished blouse with a satin or chiffon saree was another signature element of the Komolika look.
Make-up and Hairstyle
Komolika was known for her extremely bold make-up in golden shades. Thick golden brown lipstick, tanned and bronzed skin, bold and dramatic black eyeliner with eye-shadow; these were staples. Another key aspect of her make-up was her choice of bindis. Her character went with very elaborate and artistic bindis, often incorporating stones, sequins and colors. From twisting snake-like designs to pretty floral or geometric shapes, the audience looked forward to what new bindi style each episode would bring. Her hairstyles also became iconic, from her first knee-length ornamented plait to her short, blonde pixie cut.
Accessories
The factor that really pulled the look together and simultaneously put it over the top was the accessorizing. Komolika was often seen wearing elaborate, fusion-styled accessories that perfectly matched her outfits. From choker necklaces to over-sized hoop earrings, she popularized a lot of hitherto unknown jewelry styles. The character's look, in sync with the storyline, often wore many accessories to complement the saree including a large necklace, over-sized earrings, rings, a thick set of bangles, an arm bracelet or baajuband and naths or nose-ring. The accessories would generally match the color of the saree and even though some styles were more modern, they utilized glittering ornate Indian designs. The purse and shoes also matched the outfit perfectly.
Influence of the Look
The character of Komolika enjoyed immediate and widespread popularity despite her status as a 'vamp', with many women donning sarees and blouses just like Dholakia's character. Designers and fashion houses began making garments which emulated the 'sexy Indian woman' vibe she introduced and perfected.
Komolika has inspired innumerable trends, both short-term and long-term. In the latter category, she brought ethnic fashion back into style and made it appealing for modern women. She introduced the idea that one could adorn traditional garments and accessories yet be glamorous and sensuous. The unshakeable confidence with which the actress carried off the sometimes outlandish combinations was the main reason for her popularity. She also specifically inspired major trends like the halter neck blouse, artistic bindis, choker necklaces, satin sarees and much more.
Facts and Trivia
According to producer Ekta Kapoor, the character of Komolika was based on a real woman, a friend of her father Jeetendra, who she claimed had all the mannerisms and style associated with Komolika.
According to Dholakia, it is her Bharatnatyam training that helped her perfect the expressive facial expressions her character was known for.
References
Categories: The TV Show