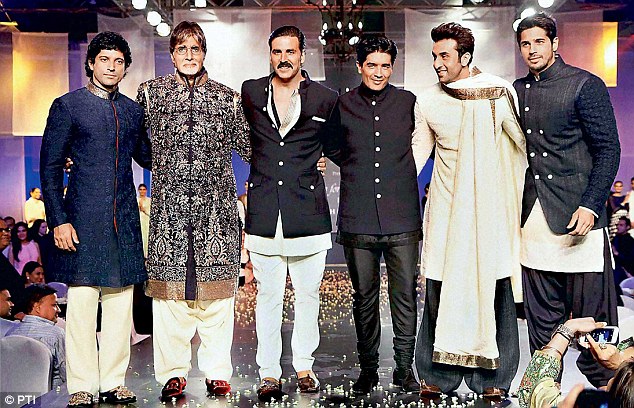 Achkan
Achkan is a knee-­length traditional men's jacket, similar to a Sherwani. What makes it different from the other styles of Sherwani is its light fabric. It is a long-­sleeved Rajasthani jacket with a breast pocket on the left hand side, reaching down to the knees & buttoned in front, up to the neck. It is worn in northern parts of India and Pakistan.
Originated in Northern India, it was frequently worn by the men of royal family but these days it is worn by the Sikhs, Marathas and the Rajputs by the grooms in the marriage ceremonies. It also gave birth to the now known Nehru Jacket, which is a curtailed (shortened) form of the the s.
Origin & History
It originated in Central Asia. It was essential court apparel of nobles of Persian & Turkish origin in Delhi Sultanate and the Mughal Empire, before it was adopted in the late 18th century. Initially, when it came into existence, it was a fusion of two traditional attires­ – the Indo Persian Chapkan, and Chogha with the British frock. By and by, the native Indian aristocracy began wearing this style.
Style
Lighter fabrics make Achkan an admirable attire to be worn during the summer season.  It is mostly unlined, blended with the royal Indian embroidery work of Swarovski, crystal work, stone work and zari.
Innovations
Keeping the traditional & cultural look intact, many fashion designers and style experts have enhanced the look of this attire all the more. Achkan was originally designed for men but now­a­days even women have started wearing Achkan jackets for a classic style statement. The same has been featured often at fashion events in the recent years.
Occasion & Accessorizing

An Achkan exhibits a ceremonial and regal aura. It is generally worn to weddings but can make a splendid style statement for occasions like parties, social banquet gatherings, and even fashion shows. Also, if wearing it, one can team the outfit with various accessories to complement the attire. A pearl necklace is worn to enhance the look of an Achkan. In addition to this, one can wear a bracelet or a 'Kara', or a finger ring, or a designer watch to complete the look.
Interesting Facts and Comparisons
Achkan has always resembled a Sherwani, as it provides similar looks and quality properties.
Bollywood actor Saif Ali Khan, popularly known as the 'Chote Nawaab', had sported an Achkan attire during his wedding reception. Interestingly even his father, late Mansoor Ali Khan Pataudi had sported an Achkan outfit on his wedding.
Reference
Categories: Attires, Clothing Styles & Drapes