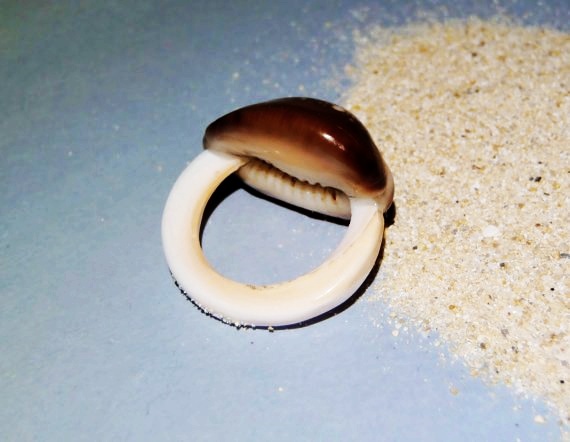 Cowry Shells
Cowries have been used as jewelry for centuries. Colorfully patterned and egg- shaped length range from minute five mm to a rough twenty cm. These shells have been used as charms, currency, trinkets and other similar objects for a long time. Cowrie shells have been used as charms, currency, fashionable trinkets and other similar objects since times immemorial. They carry a very different appeal from what jazzy gemstones and metallic jewelry exude.
Background
Cowry shells are the external part of the Cypraeidae molluscs, native to the Indian and Pacific oceans, especially the waters around the Maldives. They have been found with holes etched in Stone Age caves above the Indian Ocean dating back to seventy-five thousand years ago. Over three thousand years back the Chinese used cowry shells as currency. It was a popular means of trade and exchange in many countries such as India, Africa, North America, Japan and West Papua. Cowry shells were regarded as a symbol of womanhood, fertility, and birth. In Japan, one of the names for a cowry shell translates to 'the easy delivery shell'. Japanese women held cowry shells while giving birth believing it ensures a successful delivery.
African masks found covered with rows of cowry shells symbolized great wealth, and attire which was covered with these shells indicated royalty. Excavation of dead bodies of Chinese royalty evidenced cowry shells in their mouths, echoing the sentiment the Chinese believed; that the dead too required currency. In Indonesia, the cowry shell is still used as a form of currency in the remote regions alongside with the Rupiah. Even today, cowry shells serve a significant role in acquiring a bride as part of the price in certain communities.
Cowry shells are sometimes used as dice, as in board games or in divination (foretelling the future or gaining occult knowledge). These shells are used by the Kaniyar Panicker astrologers in Kerala. Women in West Papua were cowry necklaces as jewelry. Cowry shells still feature as ornaments among tribes from Bastar (Madhya Pradesh), Odisha and some other parts of India.
The Making
Sewn into clothing, woven into hair and crafted into various pieces of jewelry, they have been an adornment as well as a symbol of status and wealth. By piercing the posterior or anterior part of the shell it could be worn as a pendant suspended from a cord.
Variety
The cowry shell masks are an important part of African crafts and is much sought after as an item of interior décor. Cowry shells have been used to make pendants, necklaces, chokers, bracelets, hair ornaments, earrings, decorative waist belts, anklets and more. Its use in interior décor is versatile. Cowry shells are an attractive attribute in door frames, photo frames, cushion covers. Rows of these shells stitched together or in singles in doorways as curtains; cowry shells enhance jewelry cases, gift boxes, belts, aprons and shawls. Furniture embellished with cowry shells are very pleasing to look at. Coffee tables, glass topped tables inlaid with cowry shells, paper weights, bags, purses, candle holders are a few other items in which cowrie shells are used as adornments.
Present Day Scenario
The use of cowry shells in the making of festive wear ghagras, dupattas and cholis is extremely popular. These shells stitched on kurtas, cotton tops, shirts, and stoles completely alter the look of a simple outfit or accessory, and come in an array of patterns.
Innovations
African masks are considered to be a symbol of luck. Kandiya armbands made with coins and cowry shells are a beautiful example of the craft from the Banjara tribes of Gujarat. A fabric base is used to stitch the old coins, glass beads and cowry shells and it is fashioned into an armband or a bracelet. Elastic inside the base fabric can make this piece of jewelry more versatile. Cowry shell rattles are smooth and fit comfortably in one's hands. No two rattles sound the same; the sounds soft and gentle. Cowry shells have been and are still used as buttons. Recently due to the availability of more material, these buttons are available in more variations in design and color. Cowry shells are used on cell phone covers, friendship bands for youth, jewelry for kids and footwear too.
Personalization
Cowry shells have been crafted into various kinds of attractive jewelry which is fit for casual and formal occasions. Cowry shells as a central part of a gold choker or as a pendant with semi-precious stones can be worn for special events, festive occasions and for an evening gathering too. The waist belts, earrings, pendants, and bracelets can be worn with ethnic attire such as salwar suits and saris. For Western wear like denim jeans and a crisp cotton shirt in a single color, earrings in sober shades of grey, or black, teamed with a vibrant colored neckpiece works great. Cowry shell jewelry combined with silver or gold offer a wonderful compliment to sarees in silk, chiffon and Georgette which have a graceful flow.
Accessorizing
Cowry shells have been made into attractive earrings by combining them with semi-precious stones such as amethysts, jade, coral, turquoise, onyx, agate, red jasper and many more. They have been combined with beads and made into patches for application on a host of objects such as bags, denim jeans, wall hangings, and belts.
Suitability
Cowry shell jewelry are another of the many alternatives to options other than the bling of heavy of metallic jewelry. Also, they can be worn with Indian ethnic wear, Westerns, formals and Indowesterns too. For instance, with formal wear, one can opt for dark shades of browns, or go for a maroon, beige or pink, to make a subtle fashion statement.
Maintenance
Cowry shell like any other shell is delicate and can break easily. Hence care should be taken not to drop it. A mild soap solution can be used to clean cowry shells. The ghagra and saris that have cowry shells embellished need to be dry cleaned and stored away from moisture and direct sunlight.
References
Categories: Attires, Costume Accessories