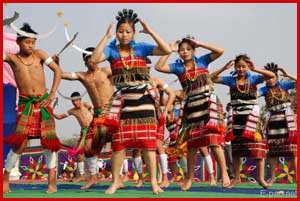 Manipur Festivals
The costumes of this state carry with itself a uniqueness and charisma that showcase the exuberant face of India all in one. Manipuri costumes are hassle free and easy to don at any occasion. The long established and basic costume for women include a shawl called Innaphi, a Phanek and a wrap around skirt called sarong, while the men wear a dhoti, a jacket and a turban.
The best feature of Manipuri festivals is their bright colors and their vast array of costumes, each different and unique in style and color combination. The Potlois and Kumins are the most common costumes worn during the Rasa Leela festival. Other dresses like the Koks, and Phurits are worn during the dance related events. Other dress forms also include the Lmaphie, Saijounba, Ningthoupee and Phiranji. Manipur has been the heart of fashion and style and till date continues to reign in its splendid cultural and historical wealth.
Origin and History
In Manipur, handloom weaving was an intrinsic part of each Manipuri family and was a way in which different tribes bonded with each other. Weaving was taken as a part of their domestic chores. In some of the tribes of Manipur it is believed that the weaving of textile appears as a replica of the cosmic process. Manipuri royalty also went onto favor these crafts and in particular king loyamba who patronized weaving to a large extent and made it a popular form of Manipuri culture.
Style
Manipuri people use elaborate costumes for their ceremonial dances. The rasa leela is one of the most beautiful and graceful dance with a particularly beautiful form and structure. The Potloi kumin is the lower garment styled on the Phanek. It is beautifully decorated with items like beads, mirrors and motifs. It is brightly colored and represents different gods. It is usually covered with Satin and embellished with different pieces of Brass.
Kok is another traditional ornament used which is made with glittering ribbon, ghirni in an elaborated head gear that constitutes the kok. Its components have a pendant over the forehead (jhapa), bands that extend from the ear to the temple to the tip of the ears. A broad braid at the nape to add to the whole look. Phurit is also adorned by the women, which is a blouse like garment made of Velvet and is styled with chamki chank in a variety of patterns and designs over the trunk and arm.
Some other dress forms used by different tribes in Manipur are Lmaphie, Saijounba, Ningthoupee and Phiranji.
Influences over the years
Over the years, with the spread of western education, people in Manipur have become greatly aware of their dressing sense in a global and stylized world. However, they still flaunt their traditional attires and have modified it as per their styles and modern variations. Just like the Innaphis worn by the Manipuri women has close resemblance with the modern day wrap around skirt. Innaphis are nowadays made with different materials from Cotton to Silk rather than the thick textured material that was used in the yesteryear's.
Innovations
Over the years, the craftsmen produced superior and durable textiles in varied patterns and workmanship. The craftsmen improved their skills, experimenting with vegetable dyes and different kinds of yarns and patterns. Different color schemes are now used and are not just traditionally bound.
Global Influence
Elements of the Manipuri designs and textiles are vividly used by many designers, and its tribal culture and influences have been incorporated in the recent fashion collections. The patterns, motifs, embellishments and loud colors are its trademark and established names in the Indian fashion industry are promoting the same.
On a worldwide platform, these traditional outfits have been customized with the changing trends but are still very much rooted in the soil of tradition.
Chronicles of the Future Foretold
Due to great advancement in technology, working on a handloom seems more strenuous and time-consuming. However, the artisans in Manipur who feel passionately about their craft have not stopped taking pride in what they conceive despite the odds being against them, and would continue to make their weaving skills and techniques flourish in a greatly modernized world.
Interesting Facts and Comparisons
Some of the designs used in weaving are at times copied from Sarees or suits

Majority of the weavers are between the ages 26-35

In Manipur, handloom was considered as part of dowry
References
Categories: Attires, Clothing Styles & Drapes