Introduction 
'Solah Singaar' is usually referred to the sixteen pieces of jewelry adorned by women that completes their look. Toe rings happen to be an intrinsic part of this singaar. Hence, there is an ornament and adornment for each part of the body. The same goes for a woman's feet – considered elegant as they are, therefore every piece of jewellery that can be worn on the feet are meant to enhance its beauty. Toe rings essentially signify the marital status of a woman in India, but with time this accessory has evolved and changed to a large extent.
Different types of toe rings culturally signify different things in a woman's life. The white mashed ones signify the widowed status of a woman, while the dual rings on a single toe reflect the dual role of a woman: as a wife and sister. Today, toe rings are more or less a gorgeous foot accessory. Most women flaunt toe rings during summers with flip flops or open toed sandals and shoes.
BACKGROUND
Origin & History
According to certain historical facts, the origin of toe rings can be traced back to ancient historical times in India. According to the great epic Ramayana, when goddess Sita was kidnapped, she threw her toe ring as a mark of identification. There is another scientific relevance to wearing a toe ring. The toe ring is generally worn by married women in pairs on the second toe of the feet. Toe rings also help regularize the menstrual cycle and thus help women conceive better.
Generally, toe rings worn on special occasions are made of silver. This is because it is a good conductor and helps maintain productivity of various organs especially the reproductive ones of the body. Gold is considered to be symbolic of the goddess of wealth and, hence is not adorned by women below the waist. Toe rings are ornamental pieces of jewellery, which enhance the feet's beauty.
Style
A great way to adorn the feet is by sporting small, intricately designed toe rings. Toe rings seem to have lost their significance in the modern times where women tend to wear them on a single toe. The traditional rings are few in number and worn only on elaborate occasions such as weddings, while the simple kind are trending more in today's day and age. Toe rings these days are simple round trinkets with very intricate designs, and less detailing.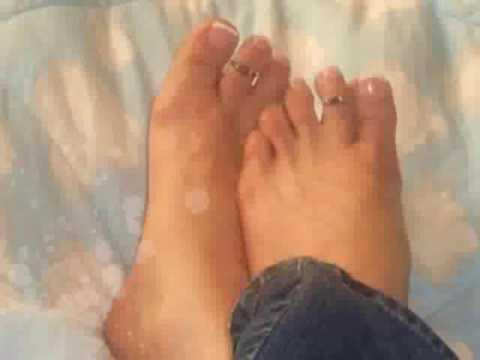 Influence over the Years
Toe rings have originated in India but have found their place in several cultures and tribes. Some traces of Egyptian culture can be found in the toe rings as it is said that women of Egypt too used to wear them at some point. The West had adopted this piece of jewellery in the late 20th century when the hippie culture was prominent. A lot of hippie influence is also seen in this jewelry. Though the traditional elements have not been let off the toe rings, it has definitely been influenced by many cultures and origins.
Innovations
The traditional toe rings were made of pure silver and were simple in design. These rings were generally worn in pairs by the women. In recent times, several metals except gold are being used for toe rings. The tradition of wearing toe rings in pair is also long lost as women now wear single toe rings on either foot. In spite of several innovations, the traditional toe rings have not lost their charm in present times.
Occasion Dressing
Toe rings were initially worn by the bride to signify marital status. In today's times women wear toe rings even on casual occasions. The casual look of toe rings has enabled women to wear them on a regular basis. Be it for casual wear, or as a fashion accessory for special occasions, toe rings can be teamed with ethnic wear, Indo – Westerns and casual wear too.
Global Influence
It traveled from the East to the West only to be passed on to the East again. Toe rings have an Indian origin, but have been largely stylized by the West. The casual toe ring of the modern era has been influenced by the global culture, especially the Americans. A lot of modern day celebrities who have a youth following like Kim Kardashian, Britney Spears besides others have sported these time and again thereby popularizing this accessory.
References