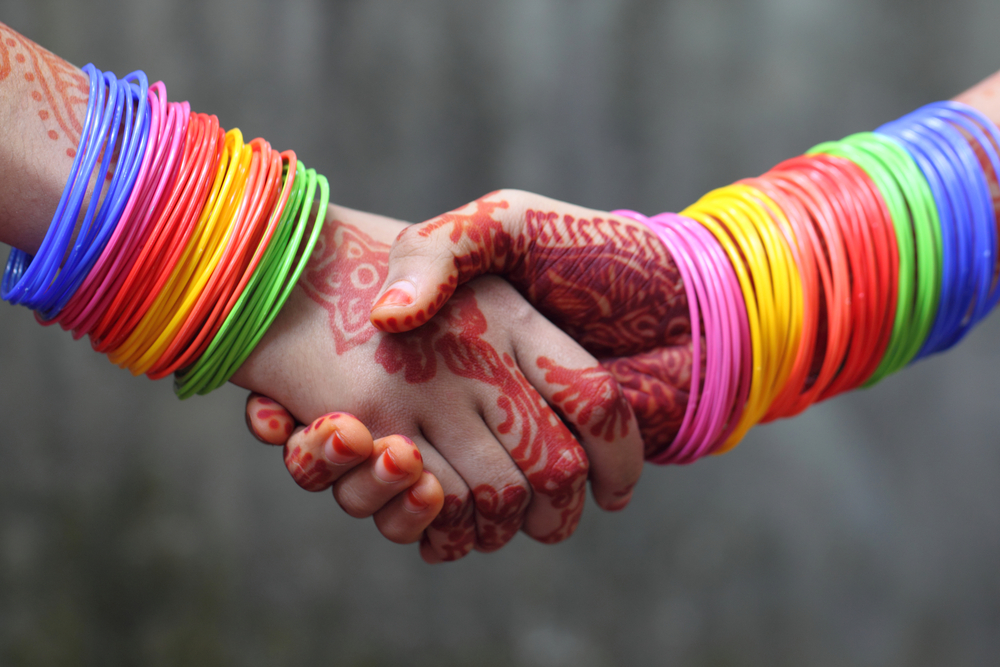 Running for centuries in the Indian culture, bangles have been an inseparable part of the Indian tradition. Be it the vibrant colors, glittering designs, or the ornamental appeal, their musical tinkle or the traditional value, bangles have been an important part of a woman's jewelry box since forever. Known as Kangan, Kangana or Chudi popularly, bangles are called by different names in various languages, like Valayal in Tamil, and Bale in Kannada. Bangles, today have refashioned tradition and are trending as an evolved, chic fashion accessory.  From traditional glass bangles, to its contemporary avatars of metallic chunky fashion bracelets, these jeweled marvels have come a long way.
Red Bangles beholding Tradition
From the red colored chooda worn by Punjabis in the North to the white conch shell and red lac bangles worn by Bengali brides, every colored bangle narrates a unique story that holds a strong cultural influence. Delve deeper into the traditional rituals and you'll realize that in India, a woman's Karwa Chauth look is incomplete without having adorned her wrists with red glass bangles. These marvels are no less than what the Sindoor and Mangalsutra is for a married Indian woman.
The ritualistic significance associated with bangles pronounce it as one of the essential ornaments worn by the Indian bride. Adding an element of mischief and fun, the clinking sound of bangles with a little hand movement, grabs the attention of every Indian Ethnic Fashion junkie.
A Glassy Affair with Colorful Bangles
Fascinated by these glassy treasures? Discovering the ancient Lac Bazaar in Alwar, one come across myriad designs of glass bangles, and is spellbound by the spectrum of colors. Aesthetically designed and fabulously handcrafted, the bangles create an aura of ethnic glamor and outline the charm of bangles. From lac bangles embellished with gemstones, pearl bangles and colorful plastic bangles, there are countless patterns to pick from. Not just these, while walking through the busy alleys, one  also encounters mobile bangle shops where  bangle sellers carrying a basket or two of glass bangles were seen going door to door, selling bangles and assisting the eager shoppers in wearing these traditional marvels.
Amidst the group of women giggling, smiling and shying away from my camera lens, I found an elderly lady wearing ivory bangles up till her arms. "Chori zara roki ja, maara pallu theek kari se (wait a moment, let me arrange my pallu) was what she told me, when I asked if I could click her photo.
Bangles: Stack it up & show your Wrist Love
Gone are the days when only one bangle out of the pair was worn in each hand. Moving on from the cultural significance of bangles, nowadays wearing an edgy mix of bangles is the latest fashion trend.  So, show your wrist love and adorn your wrists with stacked bangles because 'more is better'. Chunky fashion bangles made of plastic, metals and beads are swiftly replacing the traditional glass bangles. Knitted bangles in the form of clothed couture, pearly treasures to color coded bangles and stacked bangles in metallic hues, will leave anyone spoilt for choices.
As a style tip, it would be a classic match to wear gold and white colored bangles. For a boho-chic look, pick a mix of bright neon hued bangles with metallic oxidized bangles. While sporting a gothic look, amp up by stacking together black colored bangles with rustic silver bangles. So, there aren't any rules to outdo this trend, just style it up as per your like and add a bold kick to your look.
Categories: Ethnic Alley, Street De Jewels